This house is designed as a One bedroom (1 BHK), twin residency home for a plot size of plot of 20 feet X 40 feet. Offsets are not considered in the design. So while using this plan for construction, one should take into account of the local applicable offsets.
About Layout:
Each floor in this layout has an independent house with Kitchen, living, dining, bedroom and a bathroom. The ground floor has a parking space to accommodate 1 big car. Both the ground floor and first floor toilets are attached to the living rooms and not with the bedrooms directly. Both the bedrooms (ground and first floor) has a open terrace attached to it.
Vastu Compliance:
The floor plan is ideal for a East Facing Plot area.
The kitchen will be ideally located in South-East corner of the house (which is the Agni corner)
Bedroom (both on ground and first floor) will be in the South-West Corner of the Building which is the ideal position as per vastu
Living room is in the north east corner – ideal as per vastu.
Beds in both ground and first floor are positioned facing head south – ideal as per vastu
Each floor has a 4 doors (Even number – Ideal)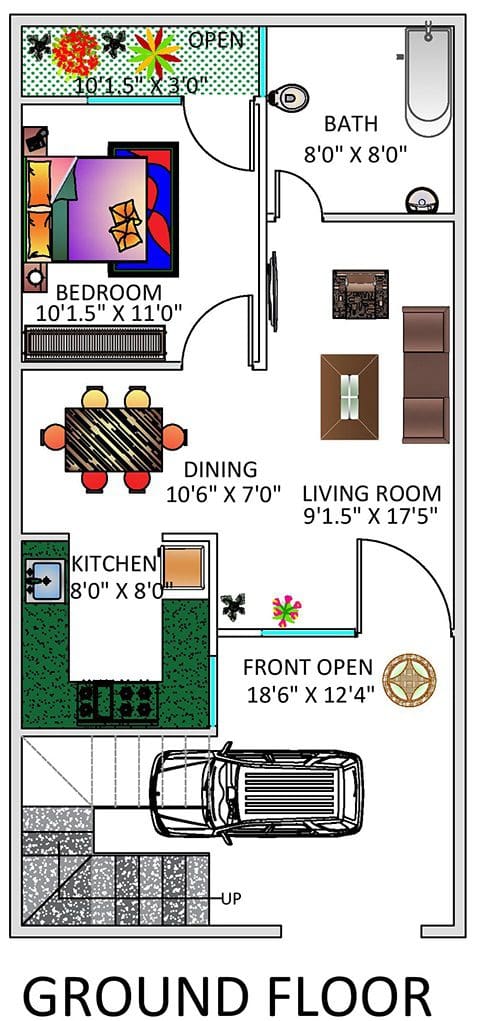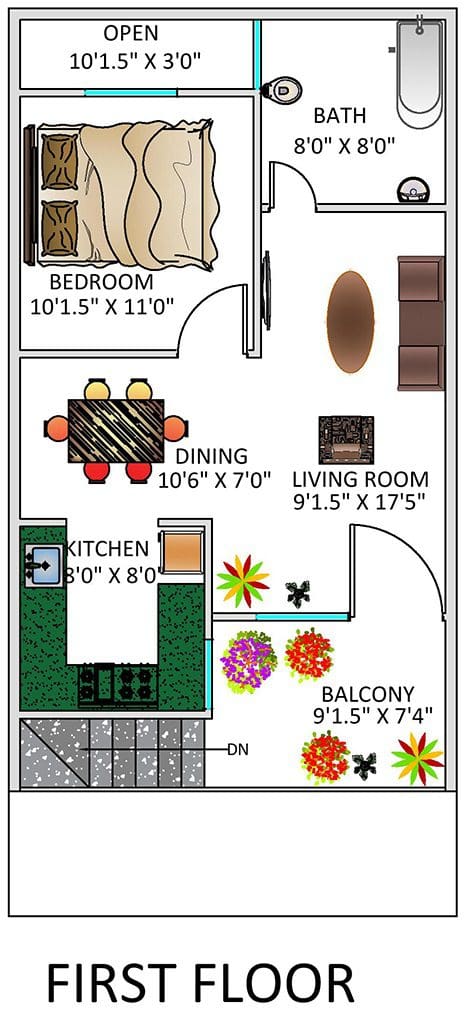 Description:
Ground Floor
Front Open : 18′-6″X10′-0″
Living Room : 9′-0″X16′-4.25″
Kitchen : 9′-0″X8′-0″
Bedroom : 11′-0″X10′-0″
Dresser : 7′-0″X5′-0″
Bath : 7′-0″X6′-0″
Open : 11′-0″X5′-0″
First Floor
Living Room : 9′-0″X16′-4.25″
Kitchen : 9′-0″X8′-0″
Bedroom : 11′-0″X10′-0″
Dresser : 7′-0″X5′-0″
Bath : 7′-0″X6′-0″
Pricing Guide: