Our world has become a place which has no virtual frontiers or barriers. Nowadays people have instant access to almost every imaginable service or information which made this trivial world into a truly global and encompassing village. In spite after so much advancement in accessibility and connectivity, it is unfortunate that in reality some barriers still exist. There are a number of people with physical barriers such as permanent disabilities, temporary disability etc. These barriers result in restricting these people from their full participation, making them dependent on others and eventually culminating them from the society.
The barriers are not only restricted to differently abled people but also to many other sections of the society such as elderly, children, pregnant ladies and people with temporary deficiencies. Therefore in today's world every home should be barrier free. A barrier-free home not only maximizes a physically disabled person's independence, but, non-disabled family members also discover unexpected benefits such as enhanced levels of safety or easier chores due to wider spaces.
So here are a few essential areas that should be considered for a barrier free living.
Electrical sockets and switches
Kitchen
Bathroom
Bedroom
Living room
But before starting the study the image given below. This figure will give you a basic understanding of easy reach for a physically challenged person.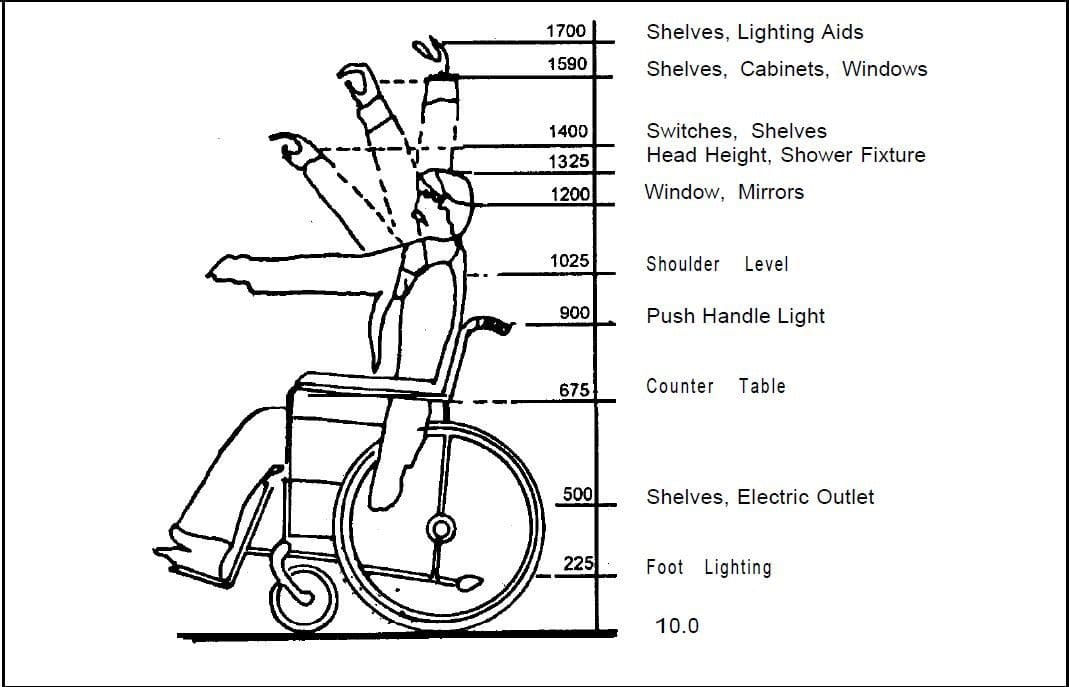 1. Ideal Height of Electrical Switches and Switch Boards for Disabled and elderly
The figure below lists out the maximum heights for the placement of electrical fixtures such as outlet points, switches and lighting aids etc. which would help you in getting a foresite about their placements.
2. Barrier Free Kitchen for elderly
Food is something which is required almost throughout the day which makes physically challenged people more dependent on others but if a kitchen is designed such that it allows easy access to these people then, they will be able to cook their own food without depending on others.
Here are a few points that should be kept in mind for a barrier free kitchen-
The floor space should allow easy wheelchair movement especially for places such as worktop, sink, and cooking stove.
The height of the worktop should be within the reachable limit. (780mm – 800mm)
A minimum width of 1500 mm must be provided between the counter and the opposite wall.
A knee room with a height of 700 mm must be provided under the sink.
A storage space must be provided below the work top. Avoid use of hinged door and fixed shelves instead you can use pull out drawers for storage purpose.
The shelves can be placed at a maximum height of 1200
3. Barrier free Bathroom for elderly
For this part of the house one cannot be dependent on somebody else. Whether a person is physically challenged or an elderly person one has to take care of their daily routine by themselves so to make convenient access to such spaces following guidelines must be followed:
The basin should be installed at a height of 700 – 800 mm
Appropriate knee clearance space must be provided under the basin.
Shower cubicles should have seats so that a wheelchair user can easily move from the wheelchair to the seat.
The shower cubicles should be fitted with handrails for easy gripping by a wheelchair user.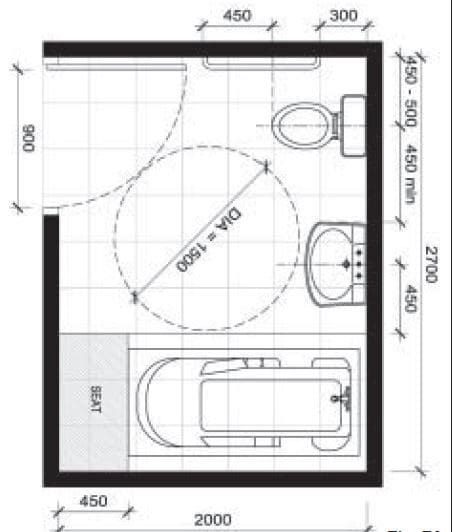 Shower cubicles can be fixed with call buttons or any other devices for signals in case of emergency.
Shower doors should be such that it can be opened from outside in case of emergency. They can either be sliding or opening towards outside
The W/C should provide enough floor space for a wheelchair user and its position should be such that it allows convenient access to the same.
Support bars and handrail should be provided at appropriate places to ensure easy transfer and support.
Fittings such as switches, soap dispensers, hand dryers, mirrors should be at an appropriate height according to a wheelchair user.
Floor should not be slippery.
4. Barrier free Living Room and Bedroom
A minimum turning space of 1500mm must be provided in and around the living area.
Bedrooms need more floor area for the circulation of wheelchair.
The bed should not be stuck to the wall, a minimum gap of 900 mm must be provided this gap would allow enough space for the wheelchair user to transfer to the bed easily.
A min. gap of 900mm should be provided around the furniture such as dressing table, closet etc.
The closet can be customised according to the need and requirement. Advisable height of hang rods for clothes is 1050mm – 1200mm.
5. Other parts of the home that requires Barrier Free approach
Except for the above mentioned areas there are many other parts of the house that must be taken care of during the construction of a barrier free house.
Instead of using stairways for the entrance ramps shall be used. The maximum slope gradient shall be 1:12 for easy wheelchair movement. The ramp shall be fixed with 900 mm high hand rail along with non-slip flooring material.
2. Entrance and exit Doors
Any sort of door whether its sliding, hinged or folding should have a minimum clear opening of 900 mm. Minimum movement space should be provided towards the latch side not less than 600 mm on the pull side and 300 mm on the push side for easy access of wheelchairs. For two-way swing doors, a minimum of 300 mm to be provided on both sides.
Auxiliary hardware such as blinds and locking devices for shutters must be placed between a heights of 900mm – 1200mm. If any window is placed below the 900mm then it must be non – open able.
Elevators shall be self-levelling for the ease of the wheelchair user as well as any other passenger. Call buttons in the lift lobby and controls inside the elevators shall be centred between 900mm and 1200mm. The standard area of a wheelchair friendly lift should be 1300mmx900mm.