Kids room has to be the most happy and wonderful space in the house just like the KIDS! If you are planning to have a kids room at your home, you must firstly know about the choice, preferences and mood of your children, though all kids are generally happy go luck, notorious and sometime sweet but they in general can be different specially where there are both boys and girls their choices will also differ. So, we must try to make a sustainable and happy design which can work for both of them.
Here we will know about some ideas and strategies that can play a major role in choosing all the elements for your kids' room to building it like a happy place. So, let us go and see some interesting ideas: –
Different Elements in a Kids room that needs to be taken care of
No doubt that colours play a major role in any space specially kids room. Because colours are something which attracts them and make them happy, you need to choose all the bright and happy colours like orange, yellow, pink, purple, blue and not some dull colours like blacks and greys as they will not enhance and excite their mood.
So, whether it is walls, floor or furniture, choose happy and bright colours only. To make it more interesting you can make combinations of different colours.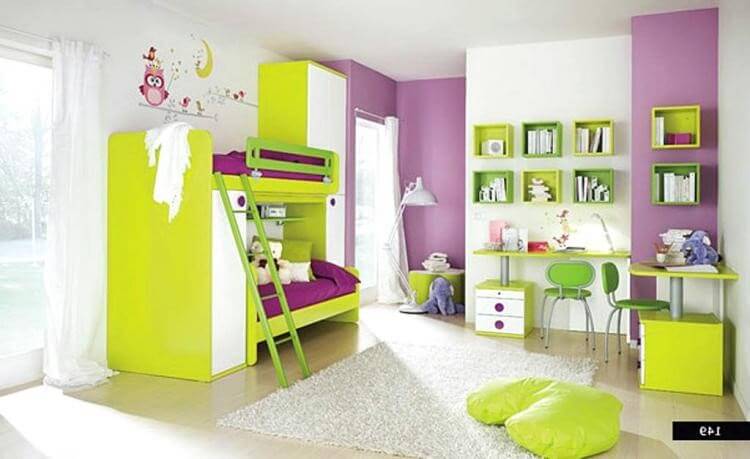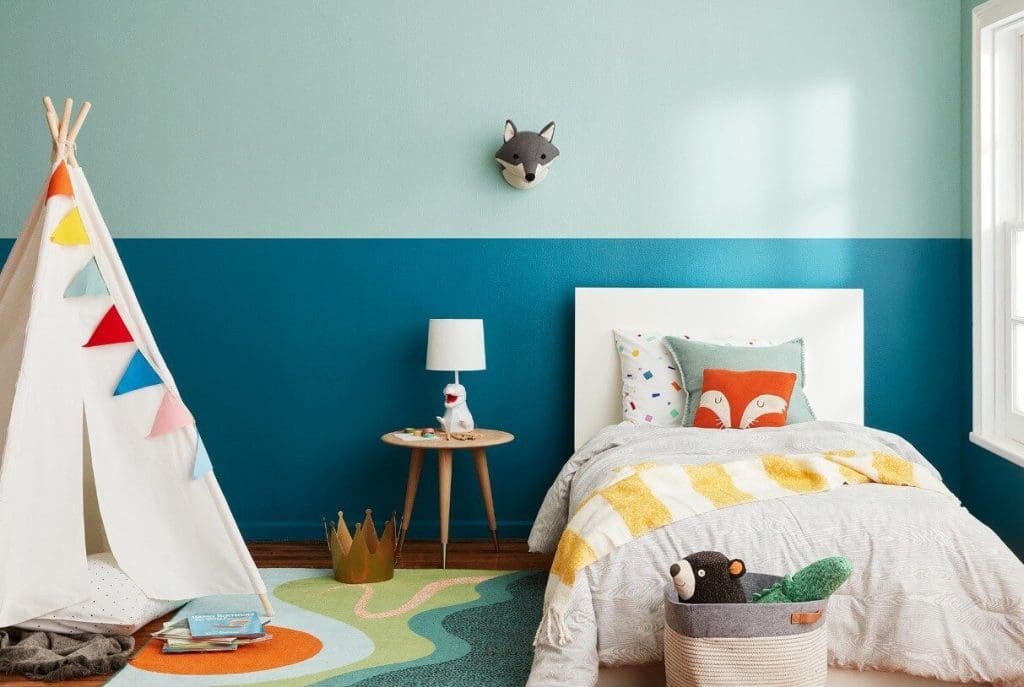 For a kid's room, choose a soft flooring options like a soft wood, or wooden laminates so that kids don't get hurt while playing and having their time.

Cork is another good option for a kid's room as they are soft yet strong. If your kid like to have a lot of playing time in the room then you can also go for a rubber flooring of different colours.

Last but not the least you can even have a normal flooring but put a big or several small coloured carpets in a kid's room as it can also act as a fun element. Just do not use very hard or bare flooring like stone or marble.
Furniture planning is the most challenging but most fun part as kids definitely needs a lot of furniture but at the same time. We should maintain a lot of space for them in the room to play, do craft work etc. as furniture can fill up the room. Here are some tricks: –
Kids need small sized bed mostly single though if you have a very big room then you can definitely have a double bed also. But for average spaces use single beds only.

And always try to place bed in the corner for the kids room so that they all the space for them to play and have fun.
For saving more space and adding more interest you can use bunk beds, or poster beds this will not only save some space but kids will love to play around them specially if you have two siblings of the same age group bunk bed is the best option.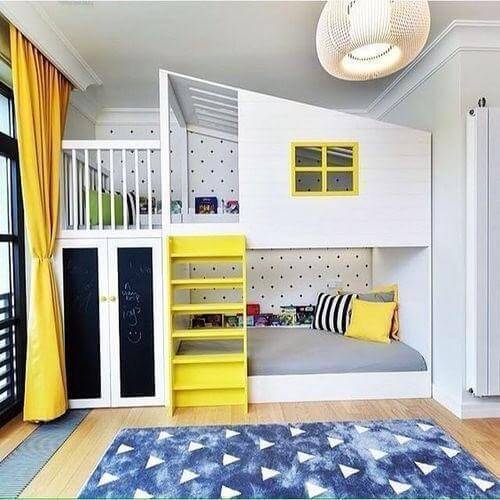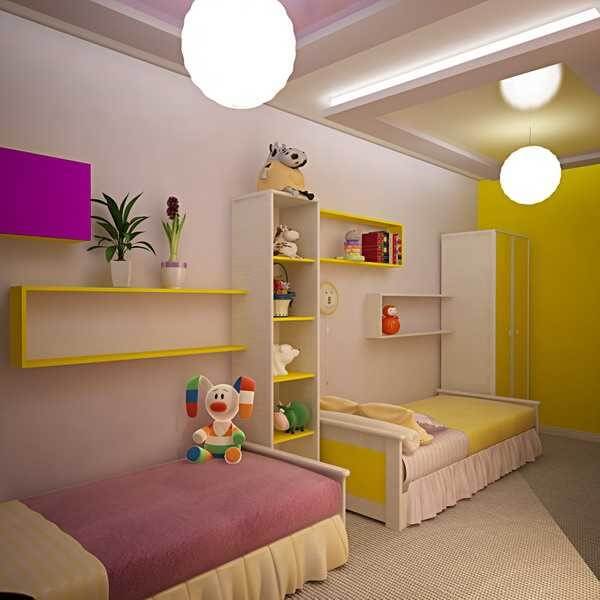 For creating a proper and disciplined plan for your kids it is important for them to study on study table so that they maintain a proper posture for studying. Do not have heavy study table it will make the room look dull. Add a simple white table with a contrasting coloured chair like orange or blue.
Make sure the table has proper leg space and two simple drawers to keep the stationary. If you have two kids living in the same room you can have an extended table with two chairs with a middle partition wood. Or you can have two separate table at two different corners as well. Try to add these study tables beside the windows so that during they time they can to learn under the sun.
C. Storage Shelves and Cupboards
You can have simple cupboards open door or sliding door with interesting coloured finish of laminates or veneer on them or patterns or just simple white cupboards.

Apart from the cupboards there is always a need to create a space which can store their other stuffs like toys, stationary, books or anything else they own.

You can create interesting open and closed shelfs where in the open part they can keep a toy and in the closed they can store something. You can customize this unit in any size depending on the stuffs you want to keep them. This can be an interesting element in their room.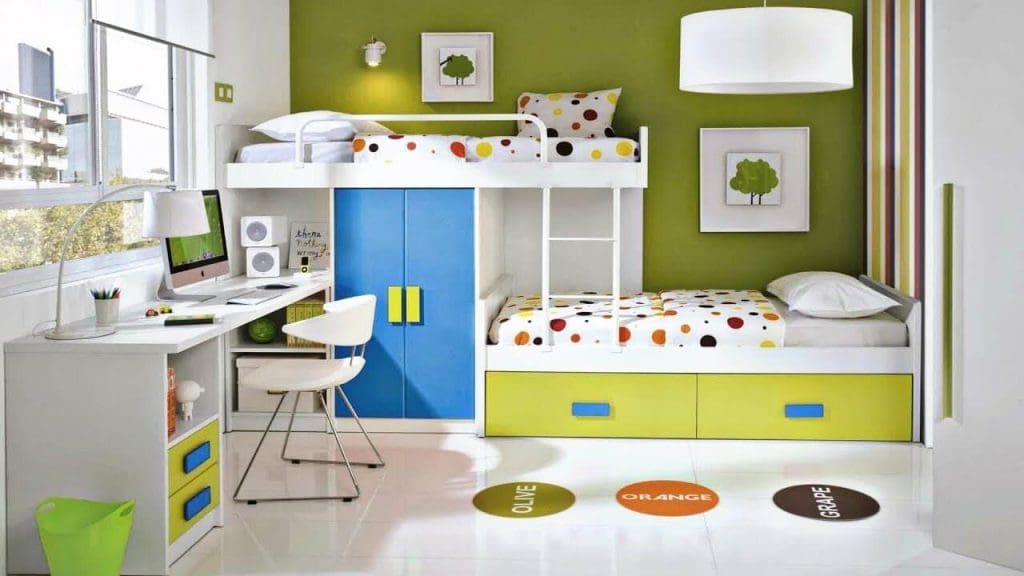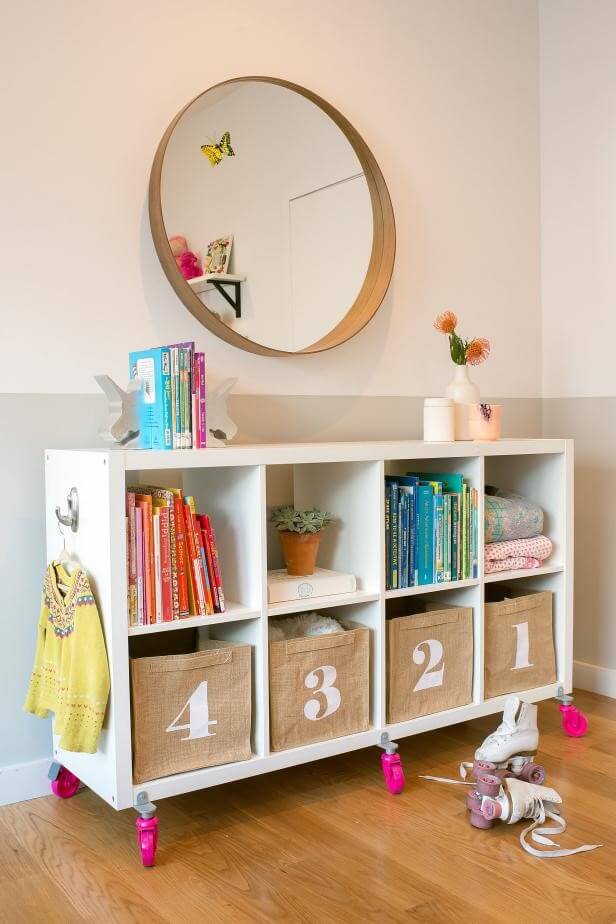 Prints can play a very interesting role in the whole room. You can add prints on the walls like using wallpapers with your kid's pictures or use something that your kid loves like a famous cartoon or a game like chess. You can get these prints customize depending on the kids likes.

You can also add prints of different quotes that you believe in for them. You can even have prints on the furniture finished like customizing a laminate or veneer can be a good idea. Just add elements to have more fun
You can play with the fabrics by adding curtains with interesting prints of cartoons or have just white sheers curtains which are never out of fashion. Although usually there are a lot of toys in kids rooms, you can still add lamps on the study table, add a small mirror at a low height for them, or arrange large stack of toys on the floors to make to look more lively.
So, these were some basic ideas that you can implement for your kids' room, there is nothing extravagant you need to do or buy just the usual things with smart tricks to apply. Architecture depends a lot on understanding psychology so when you will not understand of a kid's mood it can turn down their personality, it might not give them enough space to have fun or be creative so a happy and fun environment for kids is very important for them to grow.