Gone are the days when we had gardens in our houses to grow different plants, to play or just sit in peace. In today's times due to the shortage of space we are bound to live in small or big apartments where garden is too a too far thing to think about all we get is some walls and a balcony. So it depends on us how can we use this enclosed space to create a space for our living friends PLANTS or create a false garden within those enclosed spaces.
Interior landscaping does not mean putting your favorite plants randomly throughout the house but it requires a properly defined space in your house plans as landscaping is not just restricted to just installing plants but putting some pebbles around them , like softscaping  and much more . It is wider and an expensive process.
Here we will discuss some of the ideas which we can use to create a beautiful interior landscape in our spaces as smartly as possible so that it saves our space as well as beautify it at the same time.
Going vertically above is the best thing you can do to save some space and yet achieve that green environment in your space. You can install some dedicated green walls or you can install some planters going high on the wall.
Green wall will give you a feel of a real garden space when it will be just a layer of some greenery added onto your normal wall. It will also help in cooling down the temperature of your house which is an additional benefit.
You just need to make sure this place has ample amount of sunlight like you can create these walls near the windows of your space.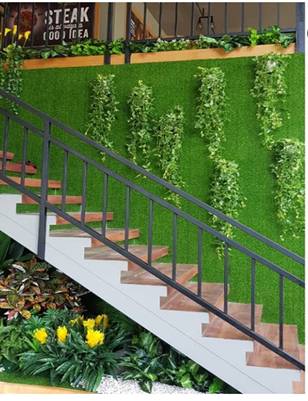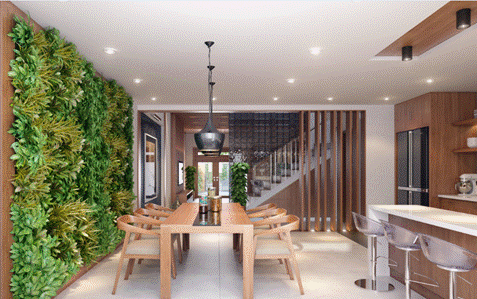 If you are a plant lover I think you wouldn't mind those tiny planters around your house in your wooden shelves which we generally use to put show pieces or some decorative artifacts.
We can actually use them to put our small planters with a proper support so that they can grow easily.
This is also possible because interior plants grow very slowly and you will get a living show piece which will also enhance the positive environment inside your space.
If you are someone who lives in a small apartment then balcony is something that you would love to use as any special purpose as it is the source of connection with the outside world in that enclosed space.
You can design a beautiful green space in your balcony in many ways. Balcony is a space you can get creative with as it allows the plants to grow easily and it also provides ample amount of sunlight throughout.
Installing wall hanging planters.
Creating the balcony floor with pebbles, stones and grass for a perfect garden feel.
Creating small planters in pots on the edges of your balcony
Simplest way is to put different types of planters with your favorite plants around the balcony.
Generally the space under the staircase is left neglected we either put some stuff under it openly or make it storage. We often don't get any idea how would we treat or decorate it so here is the option you can actually creating a small garden under or beside your staircase.
You can make a cut out in this space 2-3 inches below your normal flooring to avoid the water seepage. Now in this place you can put some small stones and pebbles or create a different kind of a paving. You can put some beautiful planters here or you might just have grassy surface to walk on you can even hang some planters on the wall around it.
We can use interior landscape as an art piece in the house , or we can use it as a partition wall , the idea is to use these green spaces inside the house without hampering the house activities and also saving the space as well and the positive energy these green elements brings with it is an additional benefit . Some of the ways where we can create a landscape as decorative elements are:
Kitchen is one of the most used space in the house so why to leave it boring, we can have our very own kitchen garden in which we can grow food related plants at our home, we can even put some planters in beautiful pots of racks on the kitchen window or we can hang them on kitchen walls.
If properly designed bathrooms can be a beautiful space apart from just the influence of tiles and storage we can do much more. Like we can install some walk in comfortable pebble stones in the bathing space put some planters around throughout the bathroom or we can even put some planters near by the wash basin or on the ledge wall.
We can create a temporary partition wall and put some planters in it or we can create a large hanging. We can even install a lot of hanging plants throughout the house hanging plants looks so beautiful and create a perfect feel of home garden.
We can even create these partitions in the form of planter racks filled with small plants and pebble stones. Below are some beautiful examples of them.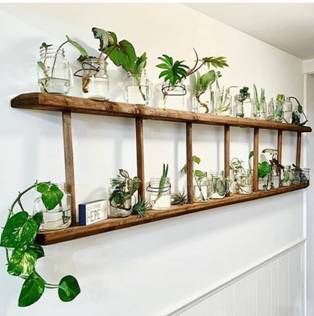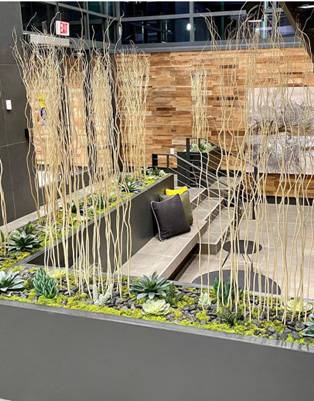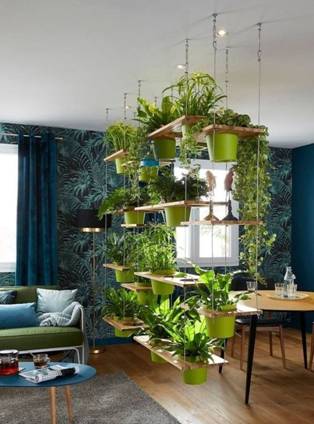 If you have an individual house or an apartment on the last floor you probably can build a skylight on the roof or you can have dedicated courtyard for the same.
While planning your house you can plan a space for this room as well or you can change a small store room into this room my installing glass walls around it. Make sure this room is exposed to some large windows or near a balcony if not open from ceiling.
Skylight will provide natural light to this area and also natural water that is why you can even build actual large trees into these areas as well which will be separated from the house as they will be covered by the glass wall yet connected to the spaces inside. You can customize this pace according to the size and your requirements.