Study table is a setup where all your work related materials are organized together and available in time. Study tables are usually accommodated in living room & bedroom. As a result, it should blend with the home, with a little isolation that maintains the peace & focus, keeping the space little quiet is also essential to give you a proper space for reading & thinking.
Are Study tables necessary? The answer is probably yes, as all your stationary, books, and everything you need while studying is right near you; studying becomes easy, and you can concentrate better..
Similarly, when there is a need, it should be catered with design and innovation. A huge table with two drawers in the old times was all that a study table consisted, but with time one must apply the modern sensibilities, these contemporary-style study tables be more useful and trending.
They're highly functional and economical, with a modern contemporary look and provide you with optimum solution.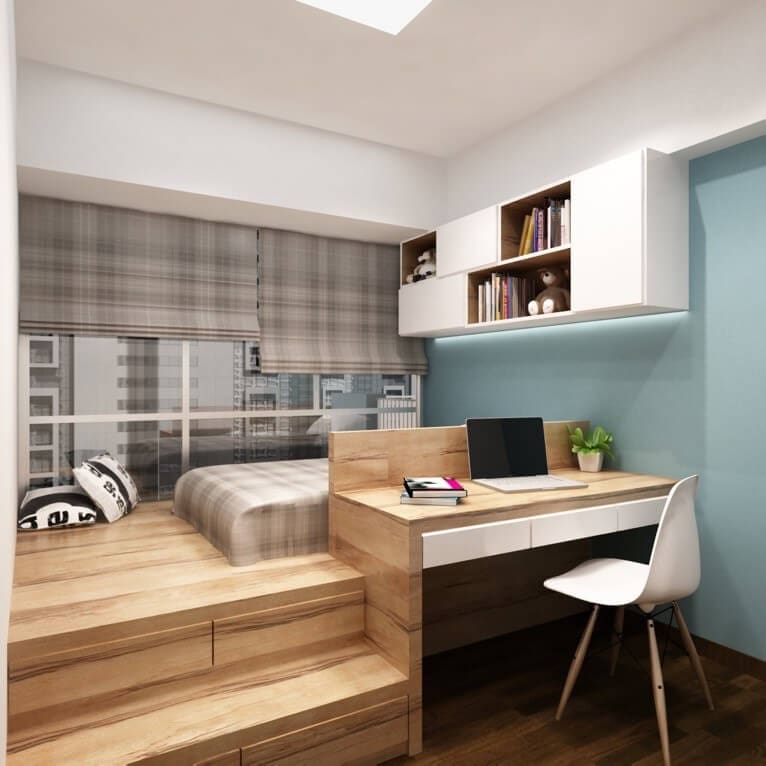 Modern Study Tables You need to Have
1. The Corner pact Study table
Most of the times study tables are designed on the 90 degree corner of the room. Where the study table has to be carefully pact together and make it look less dense. The beauty of this corner is you can provide the cabinets to the complete floor to floor height.
But as it is a corner, to make it look less dense, a sufficient length of table with three shelves with careful blending of materials won't make your room look small and also provide you with a classy study table. The desk is equipped with handy drawers, and the structure fits perfectly into a corner space, making it a cozy and convenient work-from-home option.
2. Simple Minimal & Striking Space
Going minimalistic also caters you with the best setup of a study table. Every time you don't need to place a huge chunk of furniture.
As you can see the above image, the addition of a mirror and plant with the soothing color of the table and chair placed beside the window that infuses in the natural light making a complete solution of a soothing environment.
A perfect space for reading and mini office works. It can be the primary studying table or even act an extension to a studying table in a different corner of the house.
It's truly said, colours have the power to change the mood. It can convert your studying table into bag full of colors. It keeps you positive while handling your work as well as keeps you motivated for that particular working hours.
And when the work is done, you can just relax back on the sofa, or bed and enjoy the view of the studying table. Creating an interesting and awesome space within a space. The only thing matter is to choose the colours wisely.
4. The Multi-Functional & Transformable Study Table
Finally, reading till here might have convinced you how important and necessary a study table is and more important is to have the right one.
Don't have space? You need not worry because for every small space there is a solution to accommodate a transformable unit where it converts into a studying table when in use. Even you can club the study table with a TV unit performing both the functions of entertainment as well as study work. Making the furniture fully efficient and multi-functional. It makes full use of the wall, with shelves for storage, as well as space to house your TV, books, speakers and more.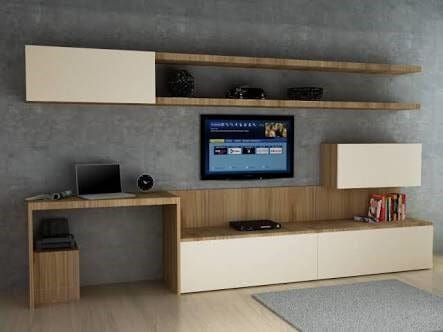 A studying table usage depends on your amount of work and the hours of usability. However, most the times you carry your work from office to home and vice versa. In these conditions you need a study table that has more capacity to accommodate your stationary.
Maybe you will need a small cupboard with more number of shelves. That way you will have your stationery in place, well organized. In short, keeping your work life in a separate zone that won't invade your personal space.