Cladding is the application of one material over another to provide a skin intended to control infiltration of weather elements. However, in present times, cladding is more than just a protective covering, and can be used to create houses with stunning aesthetics, be it contemporary or traditional designing. Here are some cladding materials you can consider for styling the exteriors of your house.
Types of External Wall Cladding Used For Decorating House Elevation
To achieve a feel of natural style and elegance in a building façade, stone is a great natural and eco-friendly material. There are a variety of options available, like granite, slate, marble, sandstone, limestone and kota stone etc.
However, stone can be expensive and more labour intensive than other types of cladding which is why stone veneer is fast becoming popular.
Stone Veneer uses thin layers of natural or simulated stone made from moulds made around natural or cut stone. For a more extravagant look specific stones like Jodhpur stone, Jaisalmer stone etc are also used.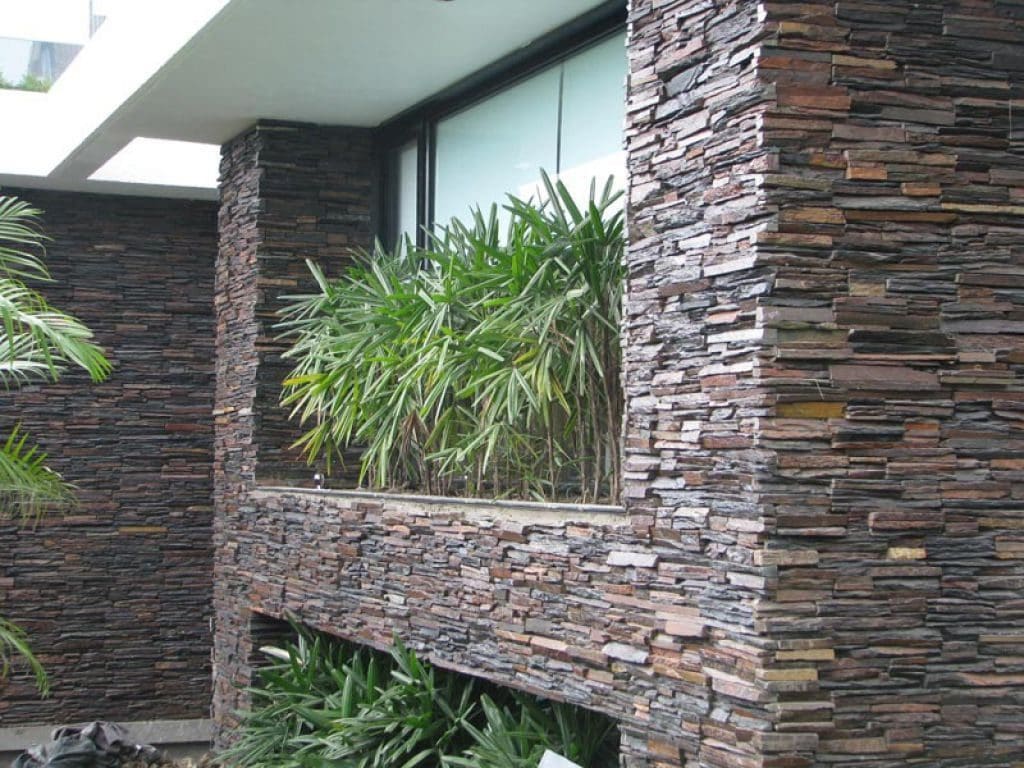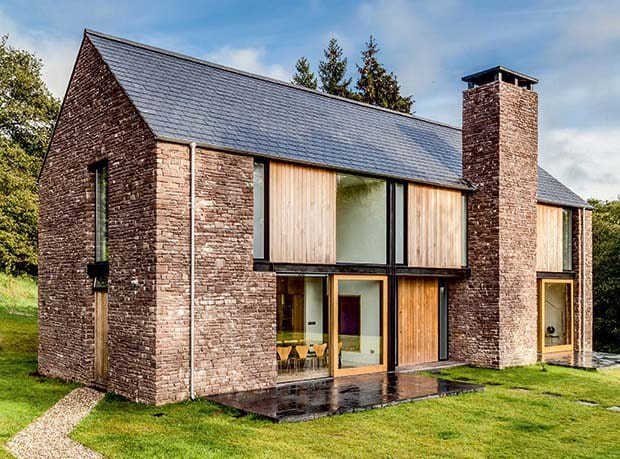 One of the most popularly used cladding types, weatherboarding comprises of series of horizontal or vertical boards, usually of timber, nailed to the exterior of a building. It could also be made of reconstituted hardwood, fibre cement or vinyl.
Weatherboards can easily be fixed to all kinds of substrates. Timber and fibre cement weatherboards need periodic maintenance to keep them looking their best while vinyl weatherboards are require almost no maintenance.
Brick too is one of the most common cladding materials and one of the cheapest options available. Its versatility in generating patterns by different stacking arrangements creates a variety of looks. One can also render over them or simply opt for exposed brickwork to impart a timeless look. Bricks are lightweight, easy to work with and don't need much maintenance if unpainted.
Wooden cladding imparts a very natural, warm and rustic look to any building. Wood is an environmentally friendly cladding choice and it is also a good natural insulator. It could be used in various forms like horizontal boards, shingles or panels; also given that wood looks great painted it provides ample creative freedom to be customised. However, being a natural material, wood demands a fair amount of maintenance and upkeep.
This type of cladding is made by compressing sand, cement and cellulose fiber into sheets. It consists of overlapping boards, and looks similar to wooden siding. However, it has a variety of advantages over wood, being lighter, easier to install and easy to maintain. It is not susceptible to rot and is non-combustible which make it a durable option for external wall cladding.
Vinyl cladding or PVC requires practically no maintenance, suits all kinds of homes and comes in a range of profiles, textures and colours. It can be used to imitate other cladding types and is also very economical. It offers adequate water resistance, insulation benefits and is easy to install, the only downside being its non-environment friendly nature.
Metal cladding can impart a sleek and modern look to the building. Most commonly, either steel or aluminium are used for metal cladding and can be used in a variety of colours and finishes like mirror, textured, perforated designs etc.,
This system is durable, strong, fire-resistant and durable. A range of looks can be created using metal cladding such as sleek flat panels or corrugated looks. Metal cladding is also very low maintenance and highly waterproof.
8. External Foam Cladding
External foam cladding is made from a type of foam, i.e. expanded polystyrene that is reinforced with fibreglass mesh and finished with a render.  It has excellent thermal properties, keeping heat out in summers and keeping it in in winter. It comes in panel form, is easy to install, is extremely tough and weather resistant, and is extremely energy efficient. Since it can be rendered with ease, it gives great flexibility in term of design.
With its ability to be moulded to resemble natural materials and to be customised by casting patterns into it, concrete cladding is fast becoming popular. This type of cladding comes in ready for use panel or tile form. Concrete cladding can be used to create sleek modern looks. It is incredibly strong and durable, provides insulation and requires little in the way of maintenance.