If you have always wondered what to do with the space under the stairs, we have listed down creative and quirky ideas for you to implement and put that negative space to use.
Depending upon where the stairs are located in your house, you can put the space under it to varied use both functional and aesthetical working along these 10 innovative ideas.
Innovative Ways to Use Area Underneath Stairs
1. Converting it into a Study Area
You can create a book nook, a secluded study area or much required little personal study place, depending upon the angle of the flight you can play around the designs of this little personalised study room.
2. Converting it to a Kids Area
Kids love little spaces, it makes them feel it's their because of the small scale, you can create tiny nooks for your children to play, with the correct design you; create a space for them which would not like to leave. Quirky colours and lights can be added to make it more interesting.
Storage is always a hit for spandrel, depending upon what you store would change its design considerably. It can be turned into a closet when the staircase is placed around the bedroom or the bathroom.
When the staircase is placed in or around the living and drawing room, a book Shelf seems to be a great idea. It helps to add homely feeling and also uses the waste space to add the intellect to the decor.
5. Converting it into a Shoe rack
This the perfect choice for steps that are located near the entrance, the spandrel used as a shoe rack is maximised space optimization. Storage can be maximised and customised by further division and roll out cabinets.
6. Converting it into Pantry and Kitchen
If you are low on space or live in studio apartment, the space under the stirs is the perfect place for a tiny kitchen or pantry and the space remaining is used as dining area hence utilising every niche and corner of your house.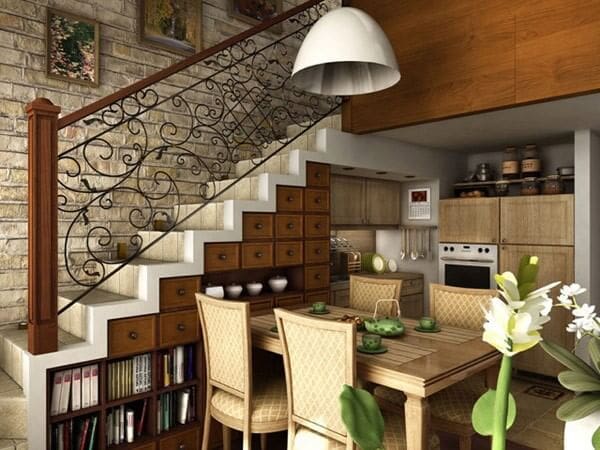 7. Using it for laundry (Washing Machine Area)
Space saving laundry option, best used when staircase lies near utility and service area, it has apt space for washing machines to be placed along with a few storage cabinets.
Who doesn't like a mini bar in the house to stack up their favourites, well if you have been thinking about where to make it, spandrel is a really good option to design it into.
9. Show Case and TV cabinet
If you have a staircase spanning right across your living room, you can convert it into a showcase or a television cabinet, it solves the dual purpose of camouflaging the stirs as well utilise the negative space under It.
10. Make it your pet house
If you don't have an open area where you can place your dog house , the area under your staircase solves the purpose where you can make a cute tiny nook for your pet.
Nooks are personalised corner, why waste space when spandrel can be turned into perfect getaway nooks inside your house.
12. Convert into a Powder Room
Powder room can be placed under the staircase with the correct designing and planning, it helps keeps the privacy division inside the house intact.
Hoping these dozen creative ideas would inspire you to make some edgy and classy changes to the waste space under your staircase and will help you turn it into your favourite spot , its rightly said no space is waste space if designed properly.