Farmhouses serve as the perfect getaway from the bustling cities, to serene and natural landscapes. Maintaining them could be a hassle but, with proper planning and design, they can become a haven of cherishable memories.
One of the first planning questions which arise is, "How much built-up area can be present on the site?".
Most of us have the mindset of utilizing the maximum area of the estate for the superstructure. However, the essence of such homes lies in the untouched environment around them. Therefore the ideal plot coverage percentage would be 30-40 per cent with the rest towards landscaping. After all, being outdoors is a bonus on holidays.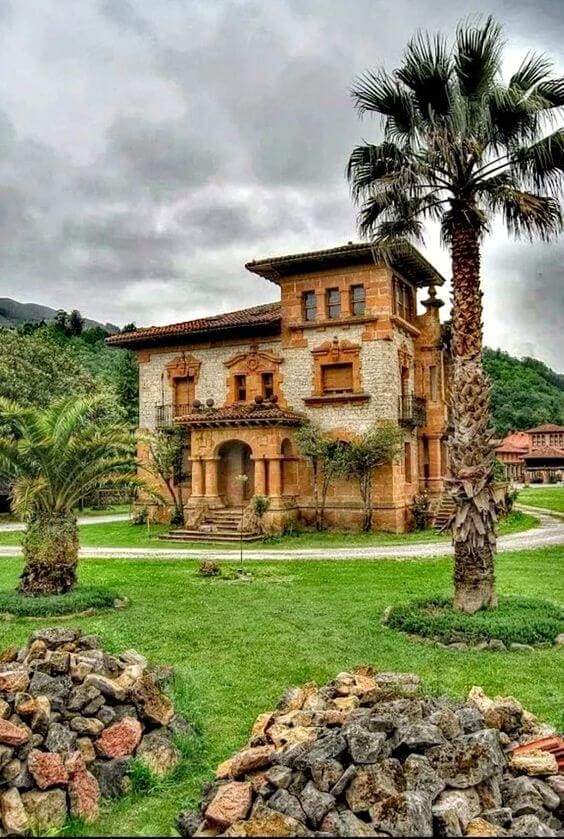 Climate plays a major role in the architecture of the farmhouse. If the location of the house is in hot temperate zones, one can incorporate solar panels. A typical farmhouse plan includes bedrooms, baths, gathering spaces or viewing decks, water features and so on. You can add or subtract rooms according to your personality.
Artrooms and design studios, wine cellars, or perhaps a cosy library are some wonderful spaces to think about. Another space to add some interest in would be the kitchen and dining area. A play of neutral colours, bringing in some warmth and sunshine, paired with indoor plants would be a great option.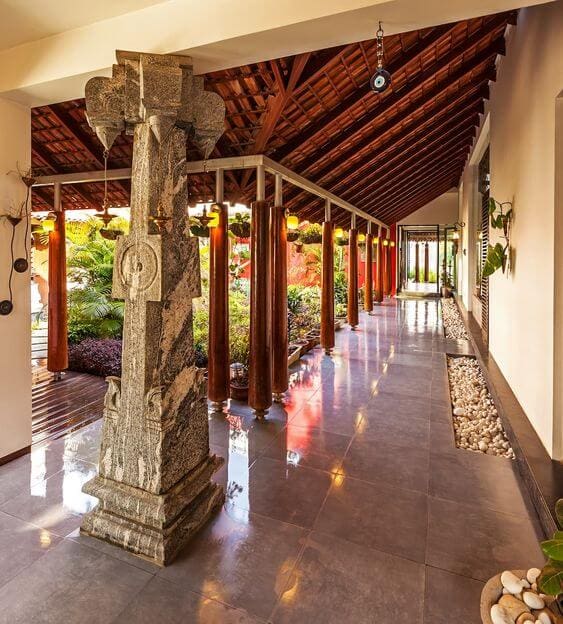 With all the different thought out, one should think about amenities to provide at the farmhouse. Since farmhouses are present in remote locations, it is important to invest in clean storage spaces, for provisions and other items. Some of them include power-backup, security systems like remote cameras, firefighting equipment, guards at the entrance for all-round safety.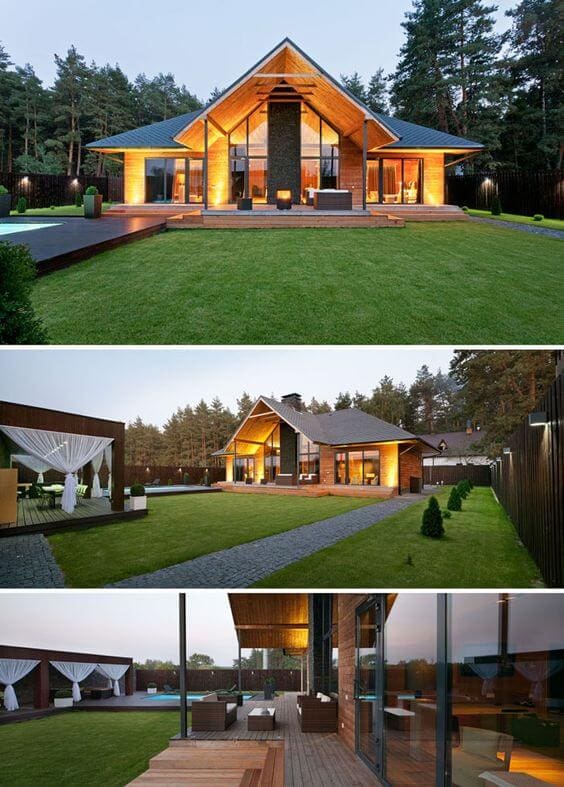 Some tips to keep in mind are as follows.

It's a great practice to start to flow of spaces from a central focus, for example, a tree or a central courtyard.
Have more windows to let the outdoors inside. Natural light makes spaces look better.
Have a style in mind. It could be contemporary or traditional or rustic, perhaps even an amalgamation too. Try to stick to the same aesthetic while buying furniture and upholstery.
Simplicity is key but, your farmhouse does not have to be plain. Therefore, try to find the right balance and eliminate clutter. Semi-open plans are a great start.
Try to reuse or recycle to maintain that old-world charm. It could be an old chandelier or a bookshelf. Almost everything can be repurposed.
Play with textures and patterns, understand your aesthetic and what type of colours or tone make you feel comfortable.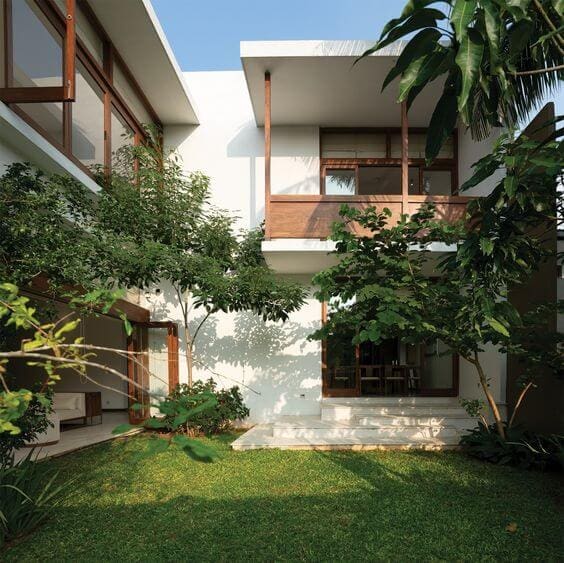 After listing down the types of spaces and having the form of the house in mind, efficient and creative landscaping options should be considered. The entrance is to be perceivable to visitors.
You could add a gate with some ornamentation that matches the vibe of architecture. The spaces surrounding the house must be designed to provide better access and aesthetics to the home.
Landscapes can be divided into two categories, hardscape and softscape. Hardscape comprises paver blocks, pergolas and so on, whereas softscape consists of plants and trees. Unique designs converging both would create beautiful transition spaces alleviating the environment of the house, by using different elements and styles.
Some landscaping ideas include fruit orchards, flower gardens, outdoor seating spaces with pergolas or a deck, small water features for pools and so on.
Most farmhouses are located at remote sites, due to which it gets difficult to monitor and maintain security. It can cause theft and even fire accidents. Today, there are several gadgets to secure our homes. Remote locks, cameras, alarms for both fires and intrusion, all of which can be operated from apps. However, gadgets cannot be completely reliable.
A boundary wall must be constructed around the site with hindrances for people who could climb over the walls. One should also maintain minimum access points from around the site to the indoors.
Larger estates seem difficult to manage and navigate through. Therefore proper lighting is not just in the interior but also on the facade and other walkways are crucial. It makes it easier to access all parts of the estate, especially during emergencies.
 We hope this article gives you much-needed clarity on how to go about planning your farmhouse. Happy designing!