We all have dream houses, don't we? You must have fancied staying in a plush residence, replete with all the amenities of luxurious living and upscale standards.
An apartment in one of the posh areas of your town, with a breathtaking view of the cityscape and delightful interiors – aren't these things you have desired for a long time now? With a penthouse, you can get a house of your dreams.
How? Read on to find out!

A penthouse is an apartment on the upper, generally topmost, floors of the apartment building or hotel, demarcated from other apartments by their luxury and features. Penthouses began as service rooms on rooftop, and their potential convertibility into creative and aesthetic living spaces was soon realised.
They combine the best of both worlds – the safekeeping and setting of an apartment, and the dimensions and design features of a private house.
For a penthouse, a major attribute is its location. Proximity to all medical, commercial, institutional, social and transportation facilities are a must if you wish to draw prospective buyers to your penthouse. A penthouse is an apartment swathed in luxury. Therefore, the interiors and every little detail needs to be carefully designed for a swish living.
What Features to Have in Penthouse?
1. Private Outdoor terrace Space
As we mentioned before, penthouses evolved from service rooms on roofs, with a considerable open space around. For your modern penthouse design, you could well use the same principle with a twist! The penthouses could have setbacks that could act as private terrace spaces, instead of having projected cantilevered balconies.
It could either be an open air terrace space for a garden, replete with wrought iron furniture and potted plants and a turf for the floor, or it could also be designed with a cantilevered roof – either permanent or retractable, to be used as a balcony, adorned with a swing, a few planter beds and beautiful lighting. You could even opt to divide one such space between several apartments, or one apartment could occupy a single floor.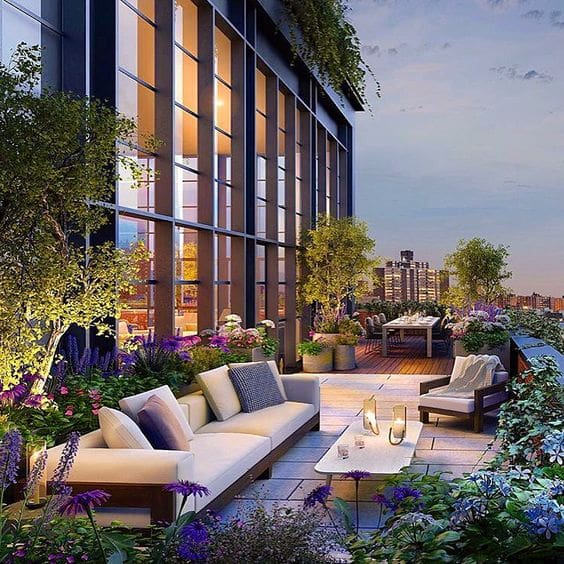 The furniture design of your penthouse apartment could be in total sync with the other elements of the interiors – the walls, floor patterns and the ceiling. Wrought iron furniture for the terrace garden adjacent to your penthouse paired with sophisticated glass table with iron legs sound mesmerizing already.
Sectional sofas are a great idea if you wish to impart a very formal look and function to your penthouse. You could opt to break away from orthogonal structures by choosing curved and semi-circular sofas too. Polished wooden furniture can give your interiors a very classy edge. Not just this, varied shades of burnished wood would work wonders as well! If the penthouse is relatively small, opt for lesser furniture.
3. Colors that create a Plush aura
Colour plays an important colour. You can keep your furniture and your wall colours contrasted – lighter walls would call for darker coloured sofas – blues, browns and greys. Go for neutral colours for a more sophisticated look; the choice to decorate next is a two-fold alternative
You could either stick to the same colour scheme – have a monochrome, or neutral colour scheme throughout, including furniture, walls, floor, ceiling and furnishings.
Else, you could choose to go for neutral earth tones for the walls and ceiling. The floors or the furniture or the furnishing could be lent contrasting colours – though not all the three together.
You may choose not to have an adjacent terrace' instead one above your apartment, accessed by a beautiful winding staircase from your living room itself. Winding staircases are a thing of beauty – and they can come in a multitude of designs, colour schemes and materials.
5. Lighting to accentuate
A penthouse is all about luxury. Avoid going for light that do not go well with the interiors. You could choose to hang pendant lights from the ceiling, or have them incorporated with false ceilings in an array of beautiful white lights. Lighting designs in a penthouse can get as innovative as you want them to. Dangling lights are another interesting alternative to swear by.
For bedrooms, use lamps for side tables, in innovative and exquisite designs. For bathrooms, sconces in simple geometrical shapes around the dressing area would do well. Remember to keep a very modern touch in every lighting design. The balconies or terraces could be lit up with strings apart from ceiling pendants. The smart placement of lights would lend a glossy and well-lit finish.
6. Frameless windows and Door
Frameless windows that run almost from the floor to the ceiling are a great way to add the requisite amount of luxury to your penthouse. Besides making rooms look a lot more lavish and large, such windows would provide a mesmerizing scenic view of the cityscape.
For the doors, we recommend you to go for single leaf doors. Abstain from using bright colours – try going more neutral or camouflage with the interior walls. You can use glass doors for the entrance.
You can choose to place couches along windows for the creation of a personal space for relaxation and some me-time. Planter beds can be beautifully added along the window sills on the outside for a pleasant exterior.
Penthouses are all about being minimalist when it comes to decor and furniture. The included elements itself must be lavish enough to evade requirements of other necessities. There is a lot of room for customization in penthouses.
Embellished floors and matching ceilings for living spaces, panelled walls for bathrooms, monochromatic themes for bedrooms, glamorous and high-end appliances, decks and patios, arched ceilings and planked floorings  – these are all a matter of choice as per the taste of the individual and according to the look he demands for. Penthouses are all about luxurious living.