A POOJA ROOM or a 'MANDIR' – is a special space in your house meant for the worship of the deities you believe in. People from all religions have this sacred space in their homes, and it is in this corner where the idol-worshippers place the idols of deities, while the others use it for placing their holy scriptures.
Today, interior designers focus on every nook and corner of your home.
POOJA ROOM, though considered very conventional and unrelated to design concepts, they too can be given unique outlooks.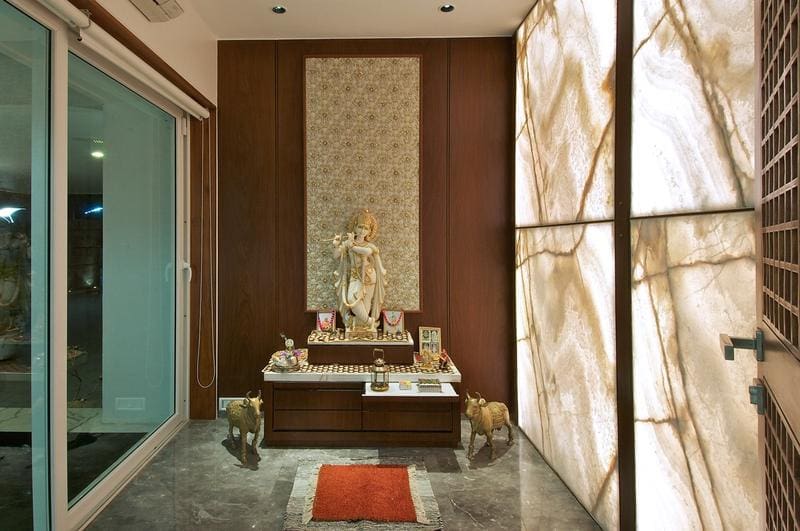 If you are blessed with lavish spaces in your front, side or rear yards, an outdoor POOJA ROOM is a befitting choice for you. Outdoor spaces are blessed with the elegance of nature – the softness of breezes, the aroma of the raindrops and the first rays of the morning sun.
Recreate your POOJA ROOM as a mini temple dedicated to your deities, complete with ornately decorated pillars, a spire at the top, translucent curtains, traditional elements such as the 'kalash' and a few steps to place the puja on a higher level than the ground.
Landscaping is a must –include potted plants, climbers, the tulsi, and flowers. The flooring should not be a highly polished one, and also remember since this is an open-to-sky space, drainage is an important factor.
Do not go for materials that are difficult to clean and maintain, or that are easy to stain and scratch. Introduce seating, if you please. A source of water supply is a must-have. Use dim lights and avoid overhead lamps.
2. POOJA ROOM At the entrance of your house
There's nothing more auspicious than bowing before the Almighty every time you enter your leave your home. So locating your POOJA ROOM immediately as you enter your house is a great idea. How can you do that? Well, there is more than one option in front of you.
One idea is to provide a wall partition right next to your entrance door. The partition should not be all solid. Beautifully carved metal partitions are a good alternative. Clever and aesthetic-oriented use of wall cladding and lighting design would do well for this little alcove.
For the flooring, it could be the same as the rest of your entrance foyer – marble or vitrified tile or even granite. Dark flooring would look good if used in contrast with the light-coloured interiors and deity idols.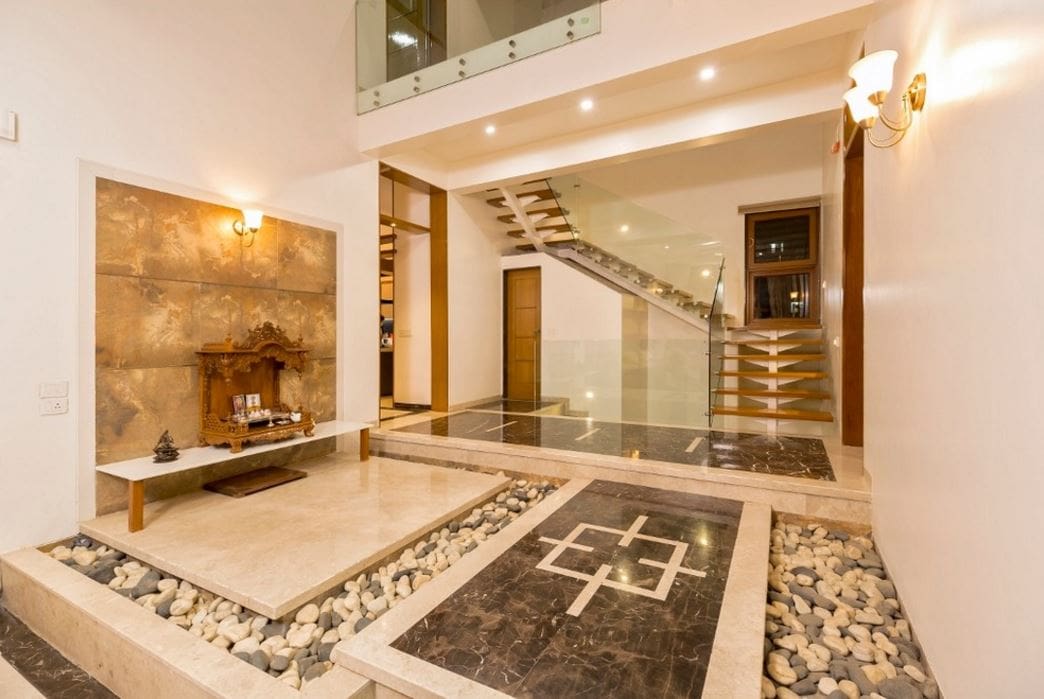 A second option to go for would be placing a wooden or metallic POOJA stand on one side of the entrance foyer. You are not providing any form of enclosure to your POOJA SPACE, and people entering or leaving your house can gracefully bow before the deity. Visual and physical access is better than the previous, and the privacy of the mandir is a tad reduced.
The interior design of the space calls for harmony. Marble flooring does well – and you could introduce gravels for an added touch. We would also recommend going for interior landscaping to some extent, to liven up the space and lend it a softer touch.
Another alternative would be the introduction of water elements – a small lily pool on either side of the POOJA SPACE, or an attractive fountain if you've got enough space. The main idea is to allow fluidity to exist in simultaneity with the worship zone.
3. Brightening up the corners OF POOJA ROOM
If you reside in an apartment building and cannot devote much space for worship due to constraints, this idea might just suit you. Put to good use the corners of your house – those of your living room, verandas, bedrooms, or even foyers.
A stepped stand, with a back cover for the wall, for placing your idols does not occupy much space and is a go-to suggestion for nooks. It may be covered or uncovered on the top. Triangular, semi-circular, arced or polygonal – any befitting shape goes with the member.
If space constraints are a factor you could also go for a readymade marble or wooden mandir – they look best polished and adorned with lighting. Patterns would do well too. Use materials and colours that complement your walls and floors, so that the POOJA ROOM zone almost merges with the rest of the space. Accentuate the feel of the space with temple bells for a more serene vibe.
4. POOJA ROOM In Corridor
You could also choose to adorn a particular hallway of your house as your POOJA SPACE. In this way, it acts like a semi-enclosed space – walls on three sides, and room for gathering, seating and worshipping on the other. The rear wall must be attractive; you could use interesting 3D cladding, beautifully lit niches, a water wall, or any kind of attention-arresting wall treatment and decor.
The idols and scriptures could be placed on a stand or a shelf that stands in colour contrast with the wall behind. Use some form of landscaping to accentuate the soft aura of the room.
The flooring is a matter of choice – only remember to stick to the colour scheme maintained. Drawers for storing of the items related to worship is a good idea. Make sure the door to the passageway is sufficiently away from the POOJA SPACE.
5. Blending Traditions with modernity
This is for those who want their pooja zone to blend with the modern interiors of your house. There's no such rule that asks you to stick to the traditional antiquity in terms of appearance of your pooja room.
You could in fact give it a very modern look. Beiges and browns are a regal combination with bronze and golden coloured idols.
The pooja stand could be given the form of a beautiful showcase with ample height for the placement of the idol. Keep the pictures and idols to a bare minimum.
For lighting, use both beautiful 'kuber diyas' and also modern artistic lamps.
Drawers, again, are a must to hide away all extra requirements, such as incense sticks, sacred water, lamp wicks, oil, and the like. Lend your wall some abstractness in the form of catchy wallpaper. Stick to an earthy colour scheme.
6.pooja room On your terrace
Instead of building a store room or a toilet on your terrace, use it to create a space for worship. Worship the early morning sun everyday wile at your prayers, while at the same being able to utilise the openness of your terrace and its views.
You would have to enclose the pooja for sure, for reasons of security, but with the use of glazing you could invite the exteriors within. Keep the flooring to polished vitrified tiles, and use cladding for walls too.
Choose lighter colours for the scheme because you want to make the space look bright and cheery. The use of drawers remains the same.