Flying between the ground and ceiling, mezzanine floors are extra bonus spaces. They are used in larges spaces with more room height & even smaller spaces where it adds to an extra room, making every space count. Not only for rooms but It can be tweaked in very creative ways blending it with unique ideas. So come lets walk upstairs and reveal 7 ways of creativity.
7 Ways in Which Mezzanine can be used in a House
1. A Cozy & Lovely Library
A mezzanine that converts into a lovely, sweet library adding a privacy touch with vertical connectivity. What makes a library is the ambience and the space around it, & lots of books. Reading a book always involve a space of silence and a sense of escape from reality.
Where reality can be escaped by just walking few steps and reaching your own height that welcomes you to a cozy and lovely library. It not only provides you with a library but also provides you with enough storage for your books.
2. An additional Bedroom of Comfort
Instead of using your mezzanine for just a storage space. It can be converted into a beautiful bedroom, a bedroom overlooking a living room with enough natural ventilation. With a glazing partition that limits the void yet provides with the sense of infinity connecting it with other spaces. A space that is separate yet together.
3. An Office Space Work Mode
Most of the times, your house is a mess when you carry out our business from home. You always end up searching for the things.
Constructing a mezzanine for office space is always a great idea to move on, as it takes you from a calm and resting space to a space that changes your mood into work mode leading to proper segregation of things as well as human mood and mind.
Again, a great example of separate but together. The idea can also be vice versa, where you have an office space and you construct a mezzanine with a residential feel, where all design features make you feel at home.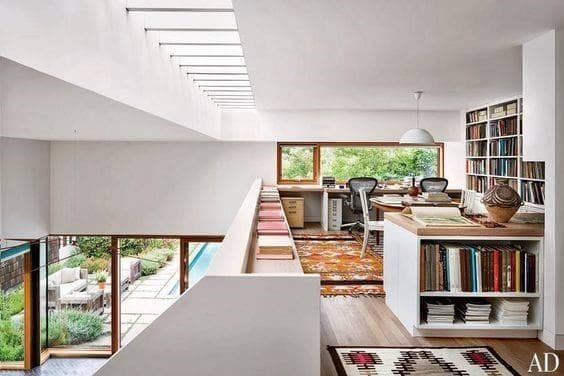 A space to let go off, where studying is next to playing. A mezzanine that has a strong net where kids can have fun indoors. All the rooms have a particular discipline to follow; this space is a strict no rules zone, where kids can jump, sleep, read books, and play.
Though a mezzanine, the net doesn't make the space compact below it. Skylight above the mezzanine is a add on, where the sunlight dissolves in the interiors, passes through the net and creates a play of light and shadow below it. At night the same space can be used to gaze at the beautiful sky conquered by the stars and moon.
"Mezzanine takes a lot of space" this sentence has eaten up a lot of minds and has created a bad image of mezzanine as a space. One should know it is not necessary to delicate a entire roomful of space to mezzanines. One can also dedicate just corridor of space to the mezzanine.
Using space in an interesting way. The corridor is a great example of vertical interaction between spaces. It solves the purpose of storage and can be used in efficient way just how it is used for a library and a seating in the above image.
6. A fitness Gym in House
Being fit is nowadays next to being happy. Most of the times you are lazy to go to the gym. So why not convert your mezzanine into a fitness world. Just decide the space that has a view and throw in machines.
The only critical thing is to construct the mezzanine accordingly keeping in mind the load of machines. Blending of moods and change of space within the interiors of the house.
7. A Garden in my Mezzanine
Sustainable and passive designs are the answer to today's loss of connectivity between people and nature. Be it a office space or a residential space, one can design and club the mezzanine with a indoor garden of plantations that connect you with the nature.
Making the space healthier and fresh to live in. It doesn't require much maintenance and has an D.I.Y factor to an high extent.
Mezzanines are the answer to shortage of space and are a bowl of ideas that can be applied to the larger spaces as well. It is a liquid solution where all the creativity can be dissolved and blend with the interiors.
The above 07 ideas can be clubbed together and be used in and at the same time can be used individually to enjoy the smaller gifts of life. One can go ahead with one and slowly other ideas will walk in.