Imagine a tool to shape your thoughts and that too without restricting your creativity. Architects, Designers and Engineers have a physical element in the form of a metal to recreate the design in worldwide construction.
Aluminium is a lightweight metal but a strong option which is not prone to corrosion. It is durable and non-toxic in nature, adding it can be shaped in any desired design and shape. Thus making it self sufficient to create structures that are not possible from wood, steel or plastic.    
At the early stages of evolution, Aluminium was unused and under-utilised in construction because it was too expensive and lacked mass productivity. But after electrolysis and processing was introduced, Aluminium Pricing was dropped by 80% thereby increasing its usage in the construction industry.
The Metal became highly popular for wall panels, roofing solutions like finished roofs and domed structures, drains, fenestration casings and decorative purposes.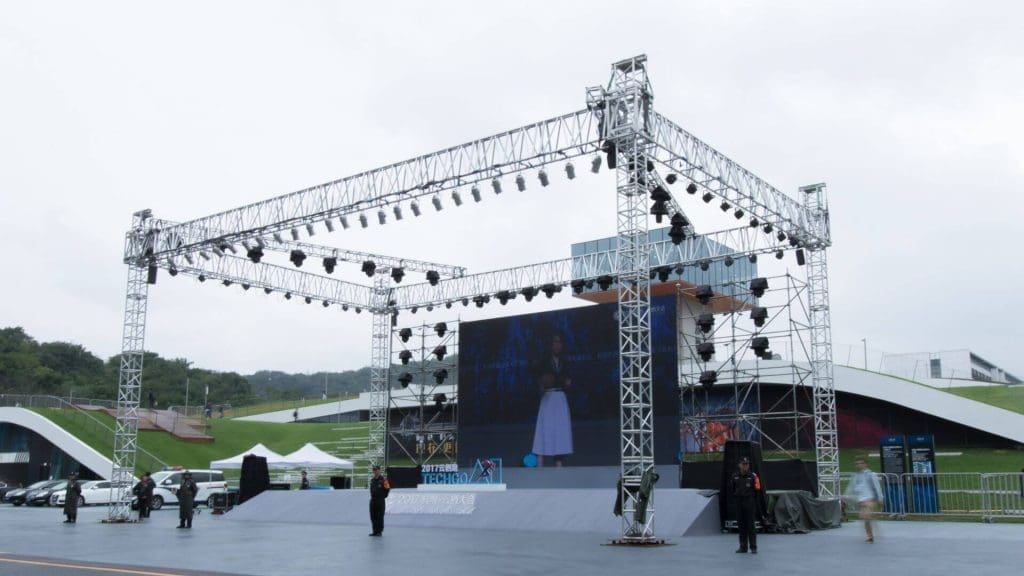 Aluminium is used in aviation industry thus it is named as 'Winged Metal'. The service life of Aluminium structures is 80 years approx. The metal is slightly prone to damage in fire and extreme heat, but the metal becomes even stronger at low temperatures.
Applications of Aluminum in Building Construction
Aluminium can be extruded, rolled or cast to form commonly used products in the construction industry. These can be customised based on design needs through die-extrusion processes or machine treated on existing profiles for design purposes.
Common products and applications of aluminium are stated as follows:
1. Fenestration (Windows and Openings) Casing Profiles
The major usage of aluminium can be observed in building fenestration casings like door and window frame profiles. These are easy to extrude sections and execute on-site and are readily available as per requirement.
One of the major reasons to use aluminium sections for such profiles is that they are light in weight, yet strong. These are rigid in composition but flexible enough to use for design executions. They are available in various finishes like anodised colours, raw mill finishes with different hardness according to the alloy used in the extrusion process.
2. Facade Cladding (Aluminium Composite Panels- ACP)
Exterior facades are prone to weather hazards and Building designs are now preferably shifted towards added aesthetics on a major part. Aluminium cladding is the most used type of cladding for building exteriors for economical, functional and aesthetical reasons.
Aluminium composite Panels (A.C.P.) are widely used because of variable colour option and ease of installation with low maintenance.
3. Structural Glazing and Curtain Walls
Building designs in the corporate world have turned to glazed facades dominantly. These glazings provide a sleek look to the design with extremely low heat-gain coefficient through glazing solutions.
Curtain wall systems are typically designed with aluminium framing members; these frames are infilled with glass for pleasing finishes and better daylighting effect.
4. Light Weight Partitions
Building plans can be altered on the blink of decision when open planning is considered, Thus easy to alter options are a viable option. Aluminium Section profiles can create partitions that are easy to alter and are functionally considerable.
They are better options for designing partitions at low cost and better aesthetics. They can be customised on-site and is readily available in different section profiles for different infill options like glazing, net or solid panels of acrylic.
5. Architectural Hardware and Shop Fittings
It is a cost-effective solution when compared to wood and steel with similar strength and lesser strength to weight ratio. Architectural fittings like handles, knobs, clamps, holding fixtures are easy to produce in aluminium and are light weighted option. Thus they can be produced in larger quantities in similar weight productions.
6. Aluminum Shutters for Cladding
Aluminium shutters can be considered as a viable long term investment as they don't require frequent servicing and does not require replacing regularly.
These are durable and are fairly resistant to possible impacts. These can be sturdy, strong and rigid structures with variable available colour option to choose with your choice of colour scheme.
Other Applications of Aluminum in Construction Industry
Use of aluminium in large-span structures is useful and effective. These large-span structures are light-weight when constructed in aluminium composition.  
Generally, Halls and auditoriums that require clear spaces of large spans can opt for aluminium bracing and frames for structural form. Complex structures of large spans can be divided into simpler units in aluminium sections for construction purposes.
2. Electrical Transmission Towers
Electrical transmission Structures that are constructed at inaccessible places where transportation is tough, simpler units of aluminium are transported through air and assembled. Aluminium is used for reduced weight construction in such construction processes.
3. Structures in Corrosive Environment
Built structures near Corrosive or humid environments, namely the swimming pools sheds/ shacks, offshore structures, bridges and hydraulic structures are prone to corrosion. Aluminium is best suited for such conditions and requirements as it is non-corrosive.
4. Kinetic Section Structures
Structures that require motion and kinetic movement should be of lightweight for better ease of functioning. Kinetic Bridges that fold on regular intervals and have folding or moving sections are preferred to be constructed of lighter metals that don't require excessive maintenance.
5. Limited Maintenance Structures (like Antenna towers, Masts etc.,)
Aluminium requires lesser maintenance and is suitable for structures which do not have access for maintenance or the limited access such as the antenna towers, lighting towers or the masts.
6. Ladders, Scaffoldings and Mezzanine Frames
Aluminium ladders, scaffoldings are stable and secure options when produced in adequate diameters. It is easy to mantle and dismantle. These are light-weight than all other available options.
Aluminium is a viable option here than wood or steel because it needs less maintenance.