The bathroom is mostly the smallest area of space but it is one of the most important as well, so for it to look and feel good and for you to comfortably use it is important to use the best materials for it to work the best. There are high chances of seepage getting into other areas through the bathroom so you need to keep it water and heat-resistant as well. 
 Bathroom ceilings are generally not given that much importance than other ceilings in the space but for the bathroom to look good as well as function properly is it important to use the best possible ceilings according to your climate and the budget. So here we will see some of the best options from the many options available for the bathroom ceiling in the market. 
Types of Bathroom Ceiling
This is one the common or most known material as it looks good, is affordable and provides a clean finish with an easy installation process. 
Gypsum boards are usually 8 feet by 4 feet rectangular boards made out of plaster of Paris (POP) they can be directly fixed to the ceiling or get installed in an aluminum frame. 
They also absorb the heat really well so they can be used in case your bathroom gets heated up a lot.
LED or panel lights can be fixed easily on them for a more luxurious look.
These are best for areas with wet and humid climates that have rainfall very often as this prevents moisture from damaging the ceiling.
As these are made from cement under heavy pressure they are very strong and durable.
These are water and heat-resistant as well as termite-resistant.
They are available from 6mm to 12 mm for ceiling boards.
This gives a simple and minimalistic look to the ceiling.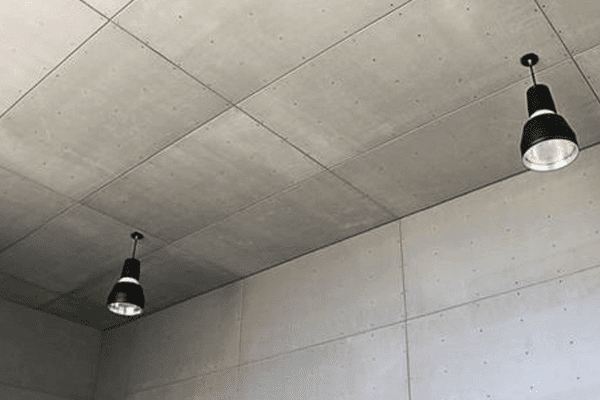 This is one of the most preferred ceiling materials for designers these days as these have many varieties apart from looking good.
You have many options in this material as they have unlimited color options, thickness options.
They come in sheets with options as opaque and transparent as well, if you want a lot of sunlight in your bathroom you can choose the transparent option, though for a hot and dry region with excessive heat opaque should be preferred more.
These do not have much water and heat resistance power.
These are fixed with a 1-inch aluminum strip to the ceiling.
These are available in different sizes like 8 by 4 feet to 10 by 4 feet in various thicknesses ranging from 4mm to 8mm.
These are also very light in weight so can be easily removed in case of any electrical maintenance. 
High-end customized decorative options are also available in the acrylic ceilings though they are expensive so you can use them in smaller areas of the bathroom or as highlighters on the ceiling.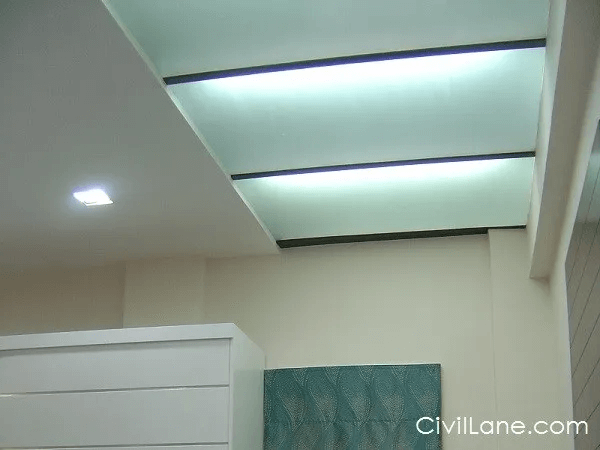 Yes you can install tiles on your ceiling as well because they are one of the most safest and affordable materials to be used in interior design.
These are available in different sizes, colors, and textures so with tiles you can achieve almost any look you want for your bathroom.
They are water and heat resistant which will protect your bathroom from excessive heat and seepage issues.
They are easy to clean and maintain as well as noise reluctant.
These should be more preferred for low heightened ceilings.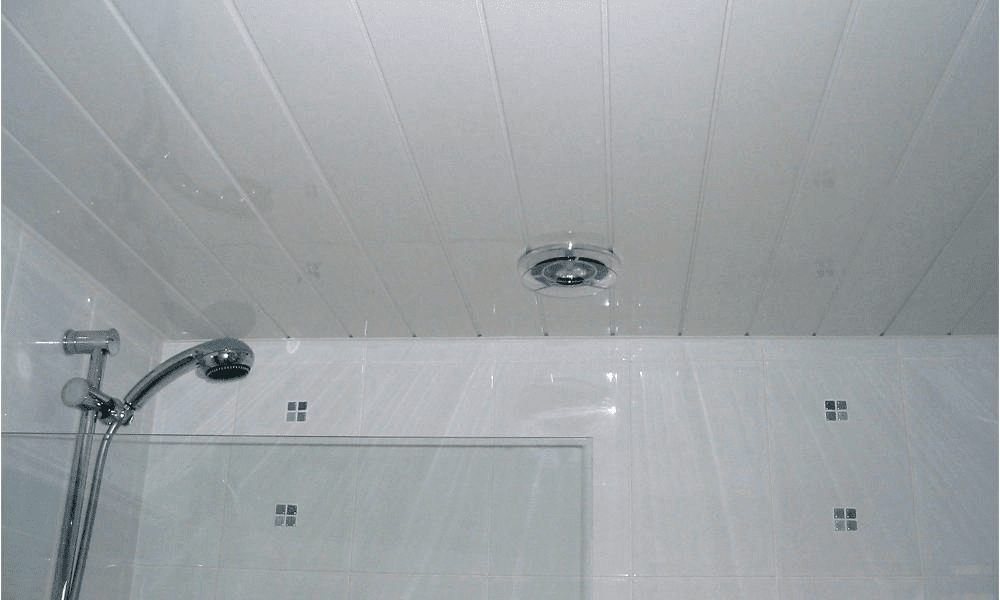 Though this is not a regularly used material for ceiling especially as a bathroom ceiling you can use it in case you desire a luxurious look in the bathroom.
If you do not have any openings in your bathroom, a glass ceiling is a great way to achieve some light and open feeling in the bathroom.
You can use general opaque or transparent glass or even stained or textured glass depending on the look you desire.
These can prove to be water-resistant but not heat-resistant for the normal scenario.
You can also get your glass customized for the ceiling with water and heatproof coating though that would be much more expensive. 
There are also some non-crystalline options of glass available in the market which also acts as great insulators.