Ever seen those overwhelming bathrooms in magazines and let out a sigh? Ever wondered what it takes to lend a splendid setting to this little utilitarian area tucked away in your home? If yes, this article is a must-read for you. Bathrooms are private dens, where we are logically expected to lock ourselves inside. This implies that converting the purposeful refuge into a luxurious haven is one smart investment. Have a look at these nine fabulous ideas to up the wow-quotient of your washroom interiors, and thank us later.
Things to take care of to Improve your bathroom's Look & feel
Every colour has a story to tell, and a distinct air to offer. Want a more elegant, calm setting? You could choose from whites, beiges, greys, browns, and creams. Or do you want to rev up your kid's washroom? Bright-coloured themed wall paints and wallpapers are good options in this case. A lot depends on how you wish the place to feel. If monotony is not your thing, you can choose to add colourful well-placed decals for an added effect. Plan out, consult your family and decide what kind of a mood you wish to engross yourself in when you are at one of the most frequented spots of your home. A customised colour canvas shall serve to do just that.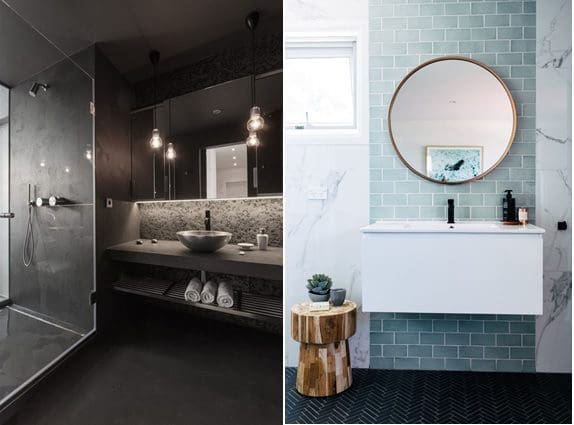 The floor of your bathroom is very vital in setting a mood to it, whether you realise this or not. Cheap monotonous ugly flooring is the easiest way to destroy all those vibes you wished for. Instead, a welcoming look to the floor and your bathroom's got a makeover. You could choose the safer marble floor finish, or you could opt for playing with patterns and textures. The flooring could be in harmony with the colour theme of the walls and bathroom furniture, or you could go for some attractive contrasts out there in the name of adventure.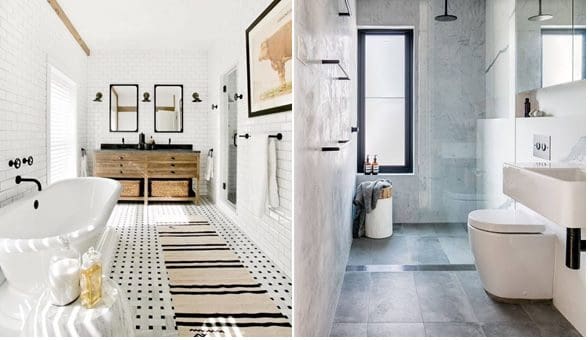 Break away from the conventions of bathroom racks and stands – there are so many options out there to explore. Stacking floating shelves and ladders in novel permutations can lend that touch of style to your private space. Cabinets, one of the most crucial considerations for the decor, are interesting to work with. You could choose a wooden cabinet with washbasins atop it, or a cabinet that has been painted to camouflage with the walls. Larger cabinets would suit a lavish dressing area within the bathroom, while smaller cabinets are preferable for requisite storage and as sink skirts. Also, if you've got a spacious bathroom to work on, customising it with quirky, out-of-the-way furniture would really up the trend.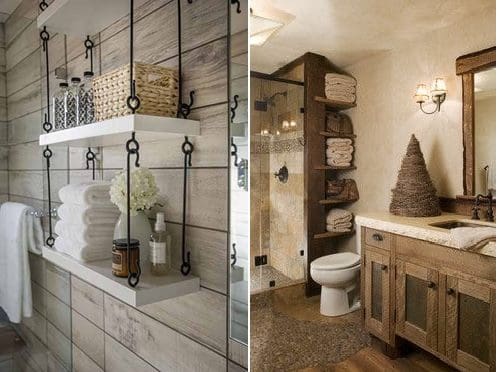 Why go for the same old type of washbasin, that plain looking commode, or that dull shower? Why do your taps have to look old and repetitive? A little hard work in browsing through bathroom fixtures, and voila! A space of your dreams is ready for use.
The washbasin could be built-in with your cabinet or a floating piece of interesting geometry. Surf a few galleries for commodes, and you'd figure out which shape, form and style precisely fits in. Shower cubicles are a personal choice too, for each one adds a different touch with their comfort and aesthetics.
Wish to go for a bath tub instead? The process is the same. Invest some time. Invest some effort. Invest some money.
5. Adding Interior Landscaping
You'd be lying if you haven't fancied all those nature spas. The bliss of relaxing amidst bubbles, wrapped in your favourite aroma, glancing at the greens around you, and all that stress just melts away in the cool waters – feel relaxed already, eh? What if we suggest you to create a mini spa for yourself, in your own home? Interior landscaping is a trend today, and bathrooms haven't remained untouched.
You could choose to hang fresh flower baskets in beautiful arrangements from the walls, or adorn your floating shelves with some greenery. Eucalyptus 'bath bouquets' are earning loads of attention these days. The boring cabinet suddenly gets touched with a spell of beauty when you place that orchid-laden vase on it. Your bath seems fresher and sweet-smelling with 'shower plants' around. Climbers, orchids, gladioli, leaves, twig – landscaping your bathroom is just a pinch of creativity away.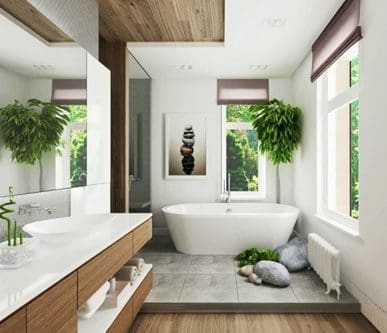 Yes, our bathrooms do not need to be airy and cool. Yes, there are privacy issues to consider. Yes, we do not need a huge door for this room of the house. No, the doors and windows actually are an important factor for the look and feel of the bathroom. A skylight above your shower adds much to the aesthetical beauty of your personal den, at the same time admitting ample light, not breaching privacy, and giving you those spa vibes.
Window frames could be captivatingly worked on, be it colour, design or material. Why not show your flair for art on the door? Why not use attention-grabbing hangers or stickers on it? Why not lend it a rustic feel? Maybe you could try a sliding door instead? How about a full-length mirror on the inside of the door? Could you play with translucency? Does it have to be rectangular, why not arched? Why not make it stand out? Routine is really not in.
Choose Accessories That Enrich
There's absolutely no need to feel guilty of spending hours to decide on that unique soap case, or those pretty rugs. You know what works wonders for decor? Details. You could choose to splash some colour with exquisite robes and towels, or could customize your walls in the richness of monochrome.
Consider giving the shower area a cool twist by using materials for flooring or walls that are different from the rest of the bathroom.
You could play a lot with mirrors – their sizes, frames, shapes and positions. Choose between a full-length rectangular mirror for the dressing and drying area or a smaller oval one with an intricate frame. Playing with rich beautiful hues of turquoise, yellows and smooth greens lends it all a different touch altogether.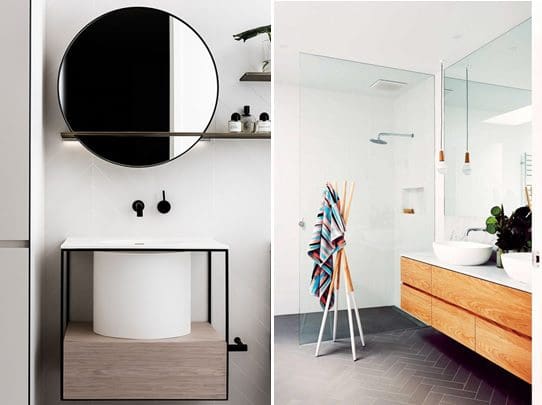 One of the deciding factors when it comes to designing a space is the kind of ambience you can create with lighting, for a well-lit bathroom can make you feel better about yourself. "Proper task lighting at the mirror is important", says designer Randall Whitehead. A pair of sconces would do well for your requirements of shaving, brushing your teeth and applying makeup. Accent lighting could be used if you wish to focus on that exotic bath tub, or that striking dressing.
How about placing those scented candles on finer days to gift you with a regal experience?  Ceiling-mounted lights are a great idea to light up the whole area while still furbishing gorgeous embellishment. Chandeliers would give you an edge over the habitual lighting. You could implement ambient light along the borders to serve both ornamentation and feel. What is important, indeed, is that the shower, sink and tub are well illuminated.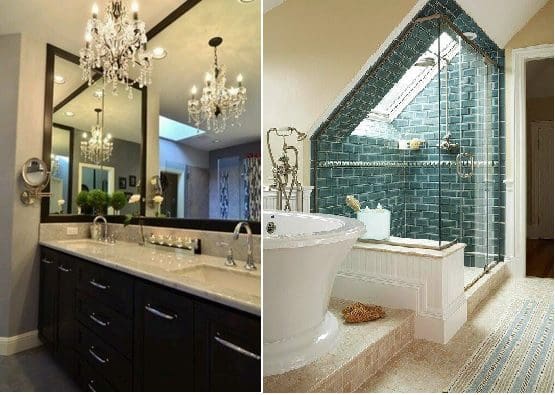 Small changes can have big results, agreed? Tiles, for your bathroom, are one of the most affordable changes to go for, and they can really revamp your bath like no other. Tiles do not play a mere decorative role, though. They serve greater functions in areas of dampness.
Tiles are applicable to both floors and walls. Hence, it will be wise to choose the appropriate height up to which you want those tiles. Sticking on to the colour scheme, which you have already decided, is a must, unless and until you want a particular portion of your den to stand out.
Whether you favour bold bright patterns, or wish to stick to glossy neutrals, with the correct tiling you will not remain away from a spa-like retreat.
Hexagonal patterns are one such option where you could go for a number of permutations, and they could add a lot of drama to your luxury. Other patterns to go for could be one of circular, honeycomb, checkerboard, interesting motifs, floral, zigzag, stripes and many more.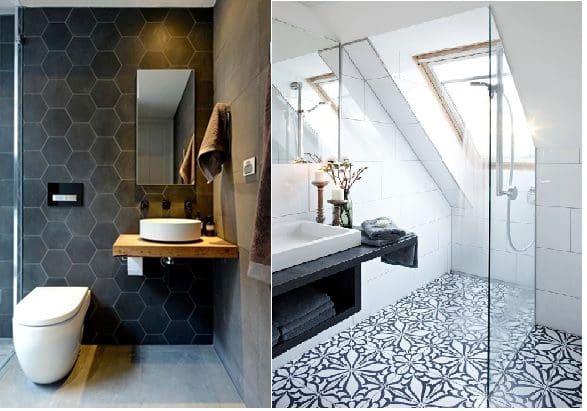 Designing a bath retreat is all about personalisation. You need to realise whether you wish to go for those straight patterns in beiges and greys to stick to a soft simplicity, or if you wish to have perky wallpapers with a touch of kitsch and colour. Go on, and begin imagining the vibes you desire in this delicate haven of yours. The key is simple: Browse, Buy, Bathe, Bliss.