Bookshelves can come in different styles – some commonplace and some unique. They might vary in size, shape and their location, and each of these factors is not just a personal choice, but also decided by the space and functional requirements. We bring before a few unique and creative bookshelf ideas to get inspired from – read along to find out if you too wish to have something like this for your house!
Unique Bookshelf Ideas and Shapes for your home
Polygons can be played with to reproduce several innovative forms in design. The same goes for a bookshelf, where you can deviate from the traditional horizontal and vertical racks and partitions by gaming up with some differently shaped compartments for storing your books.
One such way is using hexagons – six sided polygons – as shelves for books. These hexagons, if repeated in a manner such that two hexagons share a common edge, will result in a honeycomb structure. Such a piece of furniture is sure to outshine in your living room space, or in your private den.
2. Floor to Ceiling Bookshelf
Very often we are in a dilemma as to how to decorate our blank walls, mostly in the living rooms, under the scrutinising gaze of visitors and guests. Besides, for bookworms like you, who own a marvellous collection of books – whether fiction, autobiographies, school text books or classic novels – you must always be in a fix trying to find an appropriate solution for the storage of such a large number of books.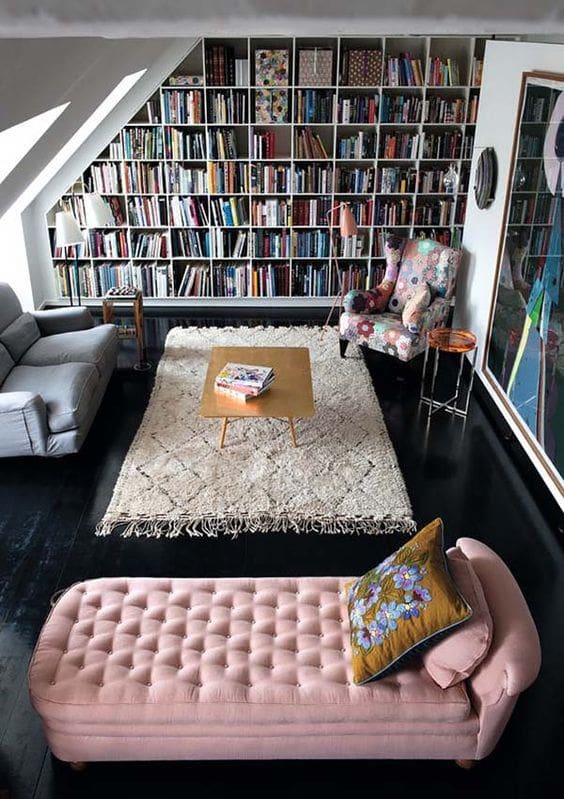 What if we say there is actually a solution, for both of these problems. Yes, what about combining the best of both worlds and having a bookshelf that runs from the floor to the ceiling in all! In this way, you achieve a huge storage capacity, along with having an entire wall dedicated to being a library of sorts.
If you design this for one of the walls in your living space, you can design the entire zone as a peaceful retreat. Add round sofas for a unique look. Go for a grey or white furry rug, and neutral coloured cushions. Next, have a large window on the adjacent wall, for a scenic view while gorging at your book. Have some subtle pots of greens on either side of the magnificent bookshelf.
You do not need to worry about any accessories, such as clocks. What you could do instead is to introduce statement pieces, such as a designer vase or showpiece, in a few racks of your bookshelf. Minimalism is the key to this modern approach of your design.
3. Resembling Branches of a Tree
Bring nature to your own house with this piece of furniture that speaks of exclusivity and innovation in every curve and element. Make use of textured or painted wooden boards or plywood of different dimensions and tapering sections to create a slight zigzag pattern for the main trunk of your tree. 
The limbs of your tree branching out from the main trunk, then serve as racks for books, each tilted at different angles from the horizontal.
These branches may be subdivided further and so on to create dendrite like offsets lending a very unique and modernistic look to the bookshelf. Be sure not to provide an angle greater than 180 degrees, for obvious reasons. 
These wooden pieces can be assembled all at once, before installation, or can be mounted one after another, as an ongoing process. Keep reducing the lengths of the offsets as you go up to create an illusion of tree branches that decrease in size while upward ascent.
4. Bookshelf Partition Walls
Each of you must have visited a library at some point or the other, whether in school or college, or even while at work.
The cupboards for keeping books in libraries apart from being placed along the walls are also spread out across the floors of the library, leaving spaces for circulation and movement around them for prospective readers.
They may seem to jut out from the walls and run to about a few metres, at the same time dividing the whole space into partitioned blocks for various categories of books.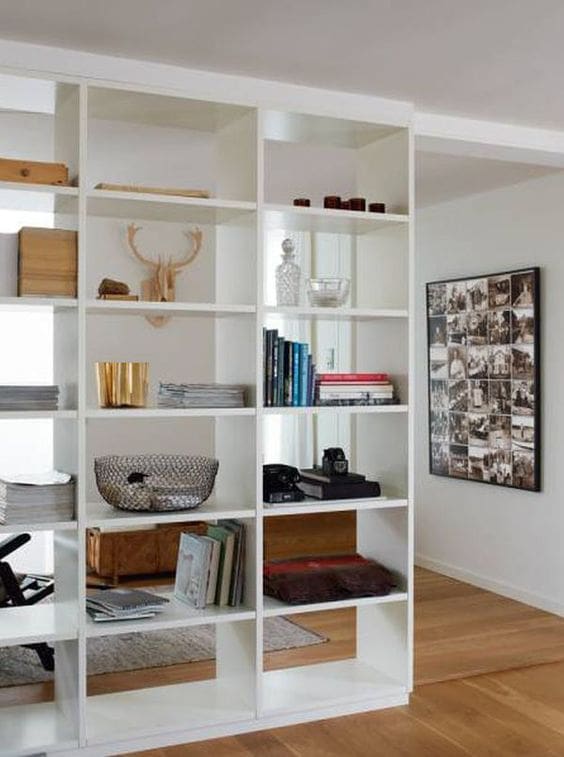 Taking a cue from these library layouts, you can have a similar bookshelf at home, which actually acts as a partition wall between two spaces. Refrain from using a cupboard here; go for a bookshelf, preferably white in colour, with compartments of the same or different sizes, which run only along about half the distance from one wall to another in your room. Such a bookshelf in a living room demarcates the sitting or dining area from a more serene ambience of the study. The same goes if it is placed in your bedroom.
Staircases have been a topic of constant innovation and creativity since time immemorial. With limitless ideas in terms of their plans, dimensions, curves and lines, functions and materials, we would like to acknowledge yet another brilliant idea – staircase bookshelves.
The underside of our stairwells often goes poorly designed and is not used to its full potential. With a staircase bookshelf this area is put to good use. Just by adding few wooden or metal racks underneath you could create a storage space for books as well as accessories such as vases and art. 
You may or may not opt for compartmentalising within and also whether to cover this space with glass or wooden sliding doors or hinged ones or to leave it fully open – tangibly and visually.
6. Bookshelves with unique Geometries
In case you really wish all eyes to focus on your bookshelf, it needs to look attractive first. Besides landscaping or adding unique and beautiful furnishing in and around the bookshelf, another idea to achieve the same consequence would be to have a bookshelf that is single-handedly attractive in its form and shape.
There can be many ways to do this with the help of geometry. We are accustomed to employing bookshelves with rectangular or square compartments and stacking our books on them either horizontally or vertically. What if you think of rotating these squares by a certain angle to get what is known as a rhombus?
The idea is the same – stacking of books in compartments. Only we go for a new shape which changes the appearance overall. It might act as a statement piece for your home decor as well. The list of such innovations is endless!
7. Bookshelf above Bed Headrest
You may be an avid reader who loves to sleep every night. We suggest having a bookcase right above the headrest, on the wall behind the bed. This bookshelf could vary in height – you might prefer to have the entire wall swathed in the bookcase, or you might choose to restrict it to a particular height above the side tables and up to a comfortable arm reach length.
The colour of the shelf as well as its material depends a lot on the other elements of interior within your bedroom – go for a wooden one if you have wooden chairs and tables or a wooden floor or ceiling. Stick to darker colours if the other walls and ceiling are dark too. Go for white for any other combinations.
8. The invisible Bookshelf
We have saved the best for the last! Invisible bookshelves are sure to take anyone by surprise because in such bookshelves the books seem to be floating, or stuck out from the walls. The racks or the case on which books are meant or kept are invisible!
The rack actually screws directly into a wall stud. It can hold up to 15 pounds of books, and the maximum stack height allowable is 16 inches. All you need to mount it on your wall is a screwdriver. Innovated by Miron Lior, this bookshelf has won several awards already.