Classic and timeless, marble is one of the most popular and recognizable materials for home design, especially for flooring.
The contrasting color lines running throughout the surface of its tiles are called veining. Veining varies from being heavy and pronounced or delicate and barely noticeable.
Marble is one of the finest examples of luxurious material. There are hundreds of different types of marbles around the globe. Each one of them has its own color, patterns, and charm. However, marble is just as expensive as it is beautiful.
Covering all the spaces in the house including living rooms, bedrooms, foyers, kitchens, and outdoor areas with marble may not be feasible for everyone. 
Regardless, there are alternative materials available to have the sophisticated look of marbles. Though these materials cannot have the exact same look and feel, they can imitate marble in a satisfactory way. Here are four cheaper alternatives to marble flooring.
Alternatives to Marble Flooring
Being one of the most popular types of flooring in India certainly has its perks. There is a large variety of designs, colors, prints, and textures of vitrified tiles available in the market.
They can easily simulate natural materials such as wood or natural stone such as marble.
These tiles are available in several finishes as well, including glossy, matte, and anti-skid finishes.
It is one of the most affordable types of flooring available in India.
It is suitable for both interior and exterior use. 
Vitrified tiles are created using the process of vitrification. So, all the tiles are scratch and stain resistant on top of being extremely durable. 
It is easy to lay and maintain. 
Suitable for high-traffic areas.
Unless it's an anti-skid vitrified tile, the floor can be a bit slippery.
It is not an eco-friendly option since the manufacturing of these tiles creates a huge expenditure of energy and carbon dioxide. 
The installation process can be a bit expensive as it requires the assistance of a professional. 
In case a tile is damaged, it has to be removed by cutting the grout lines on the sides. However, the problem is that while doing so, there is a high probability that the nearby tiles can be damaged. 
Even if you do want to replace the damaged tile while keeping the risks in mind, there is very little chance that you will find the same tile after a few years.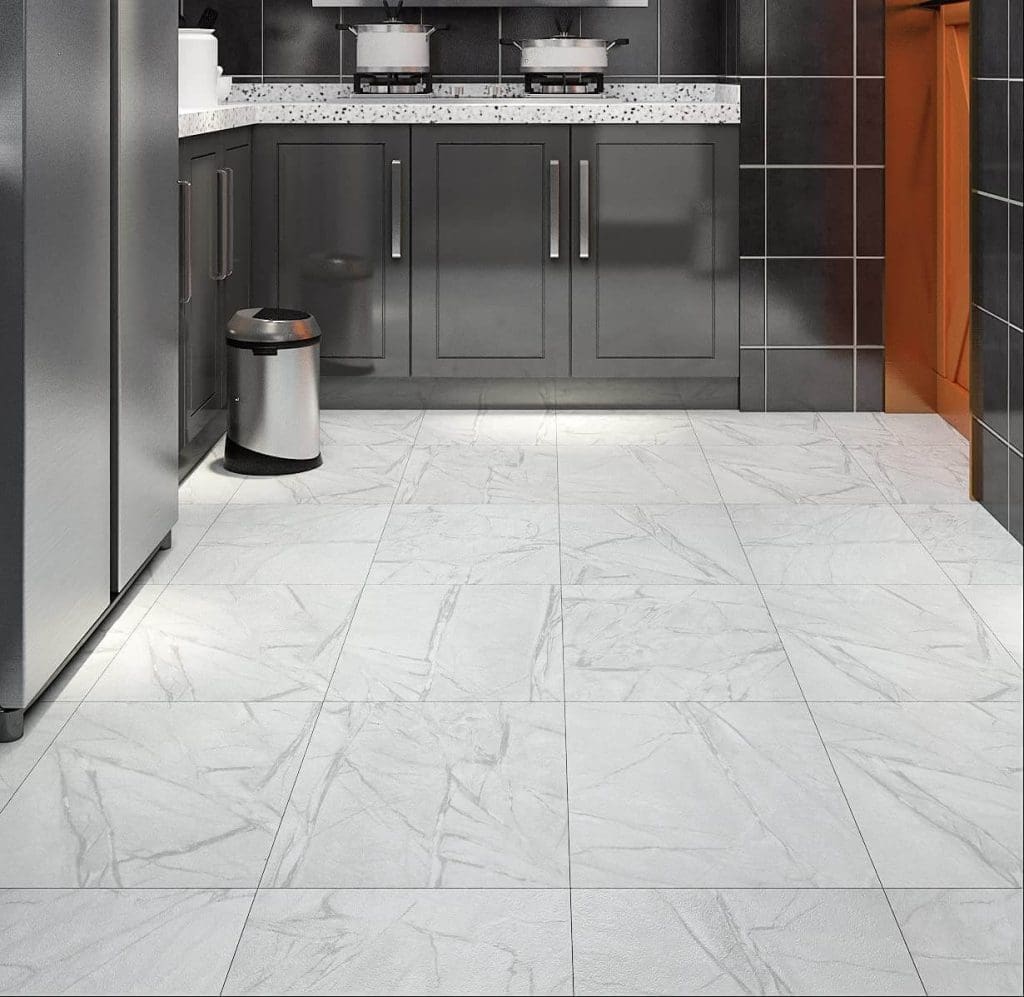 Considering its versatility and functionality, it's no wonder that vinyl flooring has come a long way since the start of the century.
Like vitrified tile, it can also simulate wood and natural stone. However, these tiles are slightly more expensive than vitrified tiles.
Vinyl tiles work best for people looking for a warm material that visually replicates the appearance of cold materials such as natural stone. 
If anything, vinyl flooring is widely known for its resilience. This means that it is water-resistant and low maintenance with long-lasting durability.
Compared to materials such as hardwood or natural stone, vinyl flooring has a softer feeling underfoot. This is all thanks to the layered composition that insulates and helps the floor maintain a consistent temperature no matter the season. 
It also has soundproofing qualities due to the layers that help reduce both noise and echo in any room.
Although vinyl flooring can be slightly more expensive than other marble alternatives, the installation process is quite simple and cheap. You can easily DIY the installation without much effort.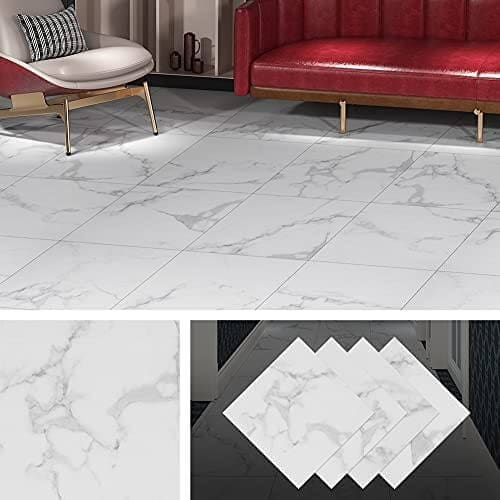 If the floor is damaged, then the affected areas or the entire floor must be fully replaced. This is especially true in low-quality vinyl.
Good quality flooring can be one of the factors when calculating the resale value of the house. Unfortunately, that is not the case in vinyl flooring. In fact, low-quality vinyl tiles may even decrease the value of the house. 
Manufacturing vinyl flooring requires the use of several toxic chemicals. Even after installation, vinyl floors emit VOCs that affect health without windows or ventilation.
Ceramic tile is another popular alternative to real marble. It is in fact the most regular material used in making faux marble tiles and flooring. High-quality ceramic tiles can mimic the look of marble in an elegant stylish way.
Unlike vinyl flooring, ceramic is extremely hard and most often used in high-traffic areas such as foyers, mudrooms, and staircases. These tiles are also very common in kitchens and bathrooms.
It is super strong, long-lasting, water-resistant, and abrasion-resistant. Ceramic tiles can last up to 20 years if maintained properly.
Even if one of the tiles gets damaged, it is easy to repair at a low price.
Any type of stain, dirt, or liquid will simply sit on top of the tile, instead of being absorbed. This makes it very easy to clean and maintain.
It does not absorb or retain heat effectively, thus turning the entire space chilly in the winter. 
Ceramic tiles are heavy, making them difficult to install on upper floors. You must ensure that there is no additional stress being subjected to the building that it is unable to bear. 
Because of its hard surface, standing on it for a long can be unpleasing. The tile impact can be mitigated by placing soft rugs on floors. 
Porcelain is one of the best alternatives for marble available in the market.
Some porcelain tiles can even look exactly like marbles. This marble look-alike comes within an array of styles such as wood, concrete, and of course natural stone.
So, the difference between marble and porcelain comes down to the manufacturing process.
Porcelain is not only cheaper than marble but also requires less maintenance. 
It is highly resistant to wear and tends to last better over the years than standard ceramic tile does. 
Porcelain tiles are durable and can last a good few years.
It is easy to clean and suitable for high-traffic areas such as kitchens, entryways, and mudrooms. 
It is suitable for both inside and outside areas including high traffic areas and humid environments.
Since porcelain tiles are extremely durable, they are difficult to cut or drill. They require stronger and special tools to be cut into any desired shape. 
They are difficult to fix onto mortar as they need extra pressure to be forced into place.
Considering these factors, you may want to switch to these cheaper alternatives instead of buying the heavy and bulky marble tiles.
Although these alternatives may not be as good as the real deal, they have their own set of advantages so that you won't regret installing them in your house.
The key is to choose the right patterns and never settle for low-quality products.
BY-TULISHA SRIVASTAVA