Bathrooms have been the 'No Compromise Zones' of design scheme for Clients and Designers. Elegant decors for bathroom spaces must be on the bucket list. Also, it would be great to be benefited from a durable, classy, and worthy choice of Door to enclose these spaces.
When choosing bathroom doors for a home, you should consider the following factors:
Durable i.e. Resistant to long exposure to humid environment and water splashes.
Themed with Interior Décor Scheme.
Cost-Efficient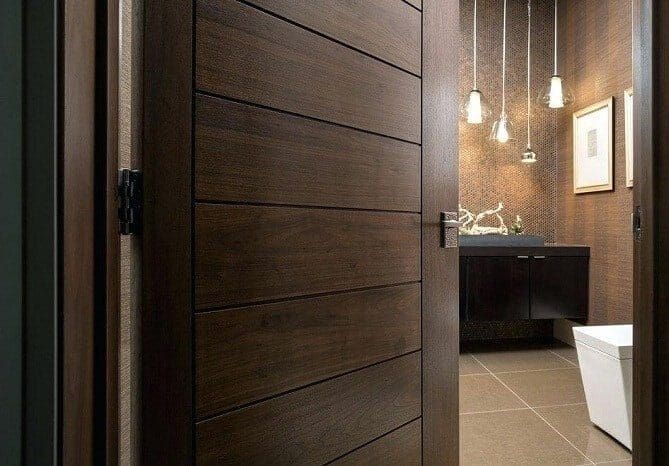 The right choice of material for the Bathroom door depends on factors like:
Size and Scale of the Door: This determines the weight and bulk of the Shutter. Materials with heavy density may require additional supports or weight distribution for the working mechanism.
Location of Water Prone Areas w.r.t. Door: The vulnerability of water for bathroom doors is common but direct splashes and prolonged exposure can be corrosive in some cases.
Material for Door-Shutter and Door-Frame: Commonly the door-frames are more prone to wet exposures from seeping walls. Thus, Using water-resistant materials for door-frames is advisable.
The available choices of material for bathroom doors vary from conventional solid wooden doors to a range of PVC to Metal Grades. However, a list of materials that are generally used for Bathroom Doors are as follows:
Materials That can be used for Bathroom construction
Wooden doors are prime classics when taken into considerations. Even wood as a material has varied distinctions to be used as a material for the door. Likely cases to be followed are:
Solid Wood Door Frame with Solid Wood Shutter: This seems elegant in the finish but is prone to puffing and damages due to water exposure.
Solid Wood Door Frame with Laminate Finish on Engineered Wood (M.D.F.): In this case, the Shutter remains protected from direct splashes due to the laminate sheet. However, prolonged exposure to moisture can affect the door frame and shutter over a long period.
M.D.F. Frame with Laminated Finish and Overlapped Skirting: This case allows the user to spend less as compared to natural solid wood. Also, It reduces the vulnerability of water exposure to seep up from ground surfaces through skirting protection.
Polyurethane Doors: These types of doors are protected through P.U. Finish coating which resists water permeability on a surface. Thus these can sustain long exposures of water immersion in some cases too.
P.V.C. Protective: M.D.F. Door Shutters can be protected through PVC protective films that are available in a thickness range of 0.9mm-1mm. These are efficient to sustain the water splash and resist the hazard.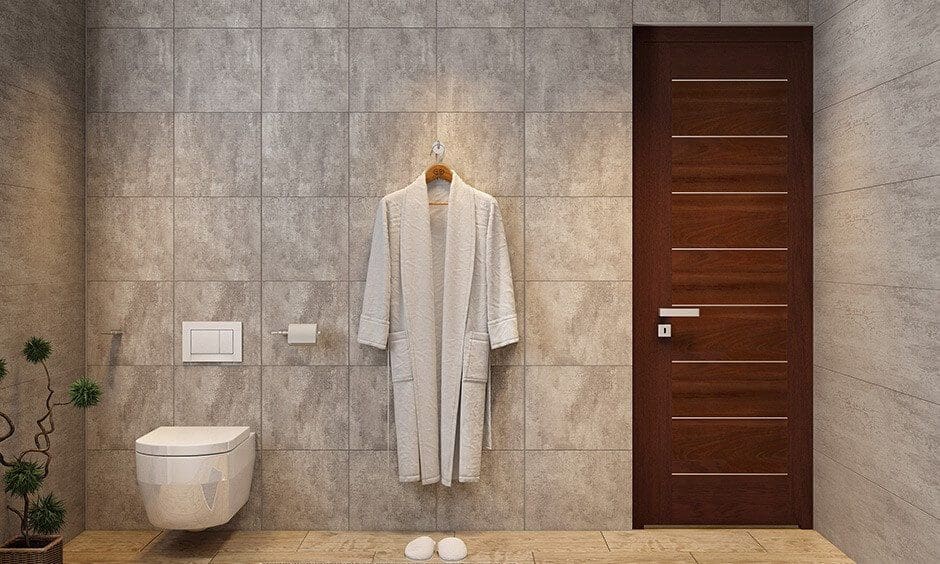 PVC, or polyvinyl chloride, is a great material to use for bathroom doors. These sophisticated, man-made doors help you save time and money by reducing the amount of labor you have to perform.
PVC doors have the appearance of painted wooden doors, but without the need for the absorbent, natural fibers of wood to be maintained. PVC as a material does not rot, warp, or fade even on long exposures.
Unplasticized PVC doors have been used as sliding, folding, and sway or swing shutters. These are available in various colors and surface finishes. With their resistivity to water, it is mainly used for places that have direct exposure to external weather hazards. However, its application in bathroom spaces is feasible.
4. Wood Plastic Composites (w.P.C)
Wood Plastic Composite has been the trend of the market as water-resistant material. Clients have been opting for WPC Door Frames due to their efficacy in water-prone areas. Also, It has been a cheaper option than natural wood.
WPC Door Shutters are moisture-proof, Waterproof, anti-corrosive, and pest resistant too. They are available in various finishes and models.
WPC has been an alternative for wood as an environmentally friendly option that offers more internal strength.
Aluminum Doors are highly customizable and Durable. These shutters provide a better return of investment as compared to wood due to their low maintenance cost. These are moisture resistant.
Aluminum Door frames and Shutters are a perfect choice for small bathroom spaces due to their sleek yet strong profile.
Metal Composites even after being prone to have been used in some Bathroom spaces with due protective measures. You can witness metal been used as material for doors as follows:
Metal Angles as Door Frames
Metal Profiles used as Door Frame and Shutters
Metal Profiles used as casing for incorporating Glass or latticework
Glass has been a premium range of material. Glass Doors have been used in Bathroom Shower Enclosures, Frosted and Fluted Glass Panels can be used incorporated in metal profiles for Bathroom Shutters.
Glass is commonly used material for enclosures of shower and is readily available by many Brands.
Productions of Doors in different Plywood grades are effectively in use. Manufacturers have been readily using these for the production of Shutters. A list of Grades of Boards has been listed in decreasing order of strength and Water Resistivity:
HDHMR stands for 'High-Density High Moisture Resistant'. Inheriting the desirable properties viz. sturdiness, durability, and novel application The "HDHMR Door" is the greatest alternative to Flush Doors and Traditional Doors currently available.
BWP stands for 'Boiling Water Proof'. It is the preferred choice of material for making those pieces of furniture that are likely to get wet. It's also more expensive than MR and BWR grade ply. BWP grade plywood is superior in strength and quality to both MR and BWR grades of plywood.
The acronym BWR stands for 'Boiling Water Resistant'. It's interior-grade plywood, which is superior to MR plywood. It's utilized to make furnishings for the home. It's more expensive than MR-grade plywood.
MR stands for 'Moisture Resistant' plywood. It is also known as Commercial plywood and is the most often used material for creating a home and business furniture. It's an Interior grade, which means it'll be utilized to make furniture for indoor usage.
A generalized costing comparison in terms of material for Bathroom Door Frames and Shutter has been stated:
Aluminium < Metal L Angle Profile for Frame + Metal Shutter < Metal Section Profile for Frame + Metal Shutter < WPC Frame+Shutter ≤ Seasoned Wood Frame+ Shutter < uPVC Door+Shutter