While installing the services in a building or a space, be it MEP services or HVAC services, a lot of time undergoes in deciding if the services are to be kept visible or hidden from the viewer. The programs and the functions too play an important role in deciding the visibility of the services.
Running through basics, exposed services signify leaving the services such as pipes, and ducts exposed to the viewers eyes. This type is preferred in spaces that are under continuous motion and loading like the industrial buildings, warehouses etc. In spaces like these, aesthetics of services do not matter.
On the other hand, concealed services denote the kind of services that require a covering or a shield, making the services not visible to the viewers' eyes. This type is preferred for buildings which are dependent on exterior aesthetics like residential buildings, malls etc.
Exposed services in a workplace not just adds on to the aesthetics but also enhances the functions of the space
Concealed services help define a space without any hindrance or visible obstacle. These are available in innumerable materials and patterns and added features
With evolving times, the rules and regulations for choosing and preferring the format of viewing services in a structure have declined. Now, it's purely based on clients' needs and their interpretation of aesthetics and additional form of services on their structure.
Exposed services in a workplace not just adds on to the aesthetics but also enhances the functions of the space.
Concealed services help define a space without any hindrance or visible obstacle. These are available in innumerable materials and patterns and added features.
The aesthetic appeal of structures with exposed services, in which the structure and sub-elements of structure becomes the architecture, can result in very expressive buildings.
Services continue both on the exterior (façade) and the interior (ceilings, interior walls) surfaces of the structure and there are different compelling reasons why one may prefer exposed services for their premises.
With proper installation and designing of exposed services, additional aesthetics can be reckoned on the structure, making it an architectural masterpiece
Advantages of Exposed Services
One of the primary advantages of exposed services is that adjustments to the structure or space can be made without necessarily demolishing or adjusting the services
An obvious advantage of exposed services is reduced construction costs which makes this option economical.
Materials required are lesser compared to the ones utilised for compacting services. Here since they are exposed, the only concern is their support and not their cover.
Since the services are exposed, maintenance and repairing of wires, pipes etc. is easier since they are easily accessible.
The open thermal mass of the structure, constructed due to exposed services is yet another advantage. The exposure of the services makes it possible to add supplementary features and services like air-conditioning, ventilation, visual effects for interiors etc.
It also allows free flow of air throughout the structure, due to no obstructions created.
Though there are a number of advantages that might want one to choose exposed services, there exist several drawbacks to that might help one identify if exposed services are efficient enough for their projects.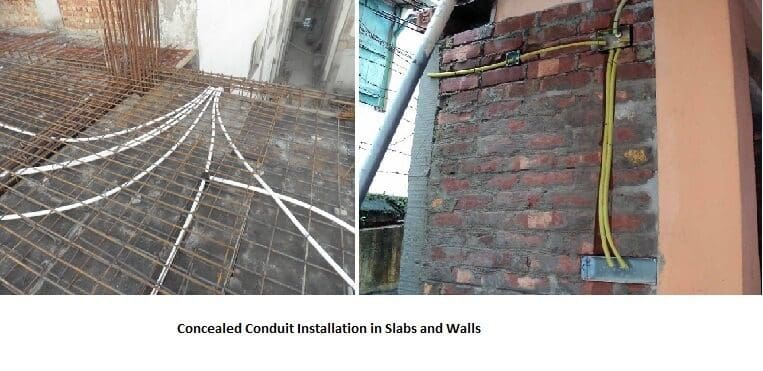 Disadvantages of Exposed Services
Poor designing and installation does not just lead to poor appearance but also poor performance in terms of ventilation, distribution of air within a space
Some category of services require and occupy larger spaces and are more prone to damages compared to concealed services.
The material used for exposed services would be resistant to rust and other natural chemical processes; some materials include fibre with low noise reduction coefficient (NRC), this might also affect the acoustics of the rooms, lowering the acoustical properties if the space.
Over the years, people have opted for concealed services as it is considered to be a safe option that shows the design and the façade of a building or a space as it is, avoiding the visible hindrance caused due to service pipes, ducts and wirings. Concealed services has many types under it which are applicable not only on the exteriors in terms of polymer/ glass/ textured panels, metal or wood louvers but also in the interiors and the most common form being the false ceilings, concealed conduit wiring etc.
advantages of Concealed Services
Concealed suspended ceiling system, carrying interior services, are suitable for seismic applications. This system is completely fire-proof avoiding hazardous situations.
Concealing the services adds on to the importance of design and intent of the building or space, since there is no hindrance coming from the visibility of wires and pipes.
There is provision for channels and rails within the concealed part, allowing advanced services to be fitted within.
The whole system is water-proof, hence there is no possible danger imposed against wirings.
Disadvantages of concealed services
Skilled workmanship is required for installation of services and for capping or concealing of services.
Concealing of services, takes extra space, hence decreasing the total space available. For example, in case of installation of false ceiling, the overall head-height decrease by 150mm to 600 mm depending on the type of services you choose to pass through.
Maintenance and servicing becomes difficult since one has to deal with the concealed surface first. This makes the process expensive and tedious, since it might take more time.
If not constructed adequately, there can be a chance of leakage or breakage of pipes or wirings, which might result into a hazardous situation.
Recommendation on Concealed vs exposed services in House construction
Although a lot depends on how well you incorporate exposed services both aesthetically and functionally with the design of your building, We generally recommend you to go with concealed service lines. Concealed service lines are much safer as compared to the exposed services. Using casing for concealing system  or using new technologies like PEP piping etc., will help in easing the maintenance or replacement of these services if required.
Note: You always need to plan and design the house and its appliances better inorder to provide provisions for future services also and avoid any rework incase of concealed services.