It goes without saying that our four legged friends who wag their tales when we get back home and who are diligent enough to obey us in very matter are much better and loyal friends that we seek. Life without them seems incomplete to so many of us!
Dogs are not just pets; they become a part of our own family. Some of us even go to the extent of gifting our beloved pets with our own surnames to denote how integral they are to our families.
A home of someone who is so ardently fond of his dog should certainly be designed keeping this little member of his family in regard. We don't mean allotting a meagre corner to your favourite bud – designing your home dedicating bits and pieces to your best friend is such a delightful and considerate thing to do!
Interior Design Tips for Dog Onwers
Your dog certainly loves to play or maybe he just idles away his time gnawing at play stuff, running about, or sleeping. In any case, it is important to assign a special dog zone in your house, which may be a mudroom, the laundry, the patio, the kid's room or the garage.
It is ordinary also to provide your dog with a kennel, which is a separate little house for him in the lawn or backyard or even home interiors. What is important is that after you have assigned a particular place for the pet, revamp the space with all the stuff you need for your doggie – his bowls and meals, his play paraphernalia, items for cleaning him up and so on.
Devote a special bath zone for him, if you can, so that you do not have to carry him so muddy all the way back into the other rooms to clean him up.
2. Choose Anti-Slip and Durable floorings
Your dog might do everything from pawing to piddling. It is therefore important to go for durable floors such as those of painted concrete, stone, laminates or ceramic tiles, which are easy to maintain and not very costly. Floors which are able to remain cooler during hot summers and retain some warmth during cold winters are an important consideration.
Be sure not to have slippery floors, otherwise your pet may end up hurting itself. You might even add slip-proof rugs, which might double up as protection to the floors against dents and scratches. Having patterned colourful rugs can also deviate the guests' attention away from any nuisances like pet hair or stains.
3. Go for Furnishings that require less maintenance
Go for rugs and carpets that save time in maintenance for you. An active dog is likely to explore all areas of your home, except places where he is ordered and trained not to visit.
Your living room, kid's room and even your bedroom might be places he frequently visits, while the kitchen, bathroom and puja room might be places you abstain him from entering. Be careful with the furnishings and furniture of the respective spaces.
If you are someone who shares his bed with his furry friend, go for duvet covers instead of normal bed spreads. All chairs, tables and sofas should be guided in their material and fabrics while keeping in mind your active friend. This is elaborated further under the next subheading.
4. Use Dog friendly Fabrics
It goes without saying that for a dog lover's home, the fabrics need to be chosen very wisely. You want to have fabrics which do not lead to cumbersome maintenance. Tweedy textures are to be kept at bay. 
Velvet, for example, is a big no-no for dog hair and other germs.
Chenille for sofas and chairs must be strictly avoided.
Silk, if desired to be used, should be zoned out for spaces that are either out of reach of your dog, or are less frequented by it.
Playing with patterns is totally recommended when choosing upholstery fabrics. Patterns are a clever way of concealing all those stains your dog might land the fabric up in.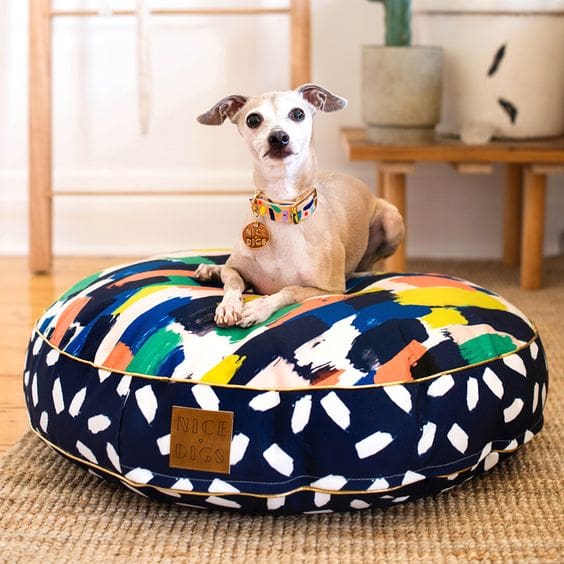 Leather fabrics are an ideal choice. It is odour-resistant. It does not attract dog hair and can be wiped clean at all times.
The only issue left is scratches from your paw-friend. The solution is to go for distressed leather fabrics to camouflage any scratches and stretches.
Synthetic fibres like denim, canvas and Crypton are good enough because they are sturdy. Microfibers like Ultrasuede provide you with the best of both worlds by their resistant properties topped with their amazing finish.
6. Washable paints on Walls and Stick no to Expensive Wallpapers
Patterns are equally important for walls, because dogs might love to rub against them or drool over them. Try avoiding very attractive and expensive wallpapers in rooms where your dog often visits. Keep these reserved for more private arenas.
The idea is to paint walls in bright and vivid patterns with wall paints that can be swiftly cleaned with a cloth. There are various types of paints available in the market for different needs and finishes.
Semi-gloss paints, for example, are a great choice for rooms where your dog is going to be the most active.
Washable matte paints are your go-to choice if you don't prefer a liquid finish but need a choice for a room where your dog is likely to play around.
Satin finish and eggshell finish must be chosen for the more attractive living and dining areas.