Interior design is an amalgamation of both an art and a science. It needs an eye ideal for aesthetics still as sensible at understanding the practical aspects of structural and functional arrangements required for an indoor space.
The process of designing the interior of a space includes a certain protocol or a set of guidelines and this protocol is carried out by an Interior Designer subjectively or flexibly. This process involves a vision or a perception of a client that has to be met by an Interior designer following the design by the Architect.
Interior Designers plan the spatial and functional quality of a designated space through architectural interventions while considering the technical aspects like lighting scheme, acoustical influence, and optimization of circulation functionality through furniture placement and design ideologies. They are also responsible for establishing the color palette, furnishing, and adorning the space with decorative items to implement a particular style or mood. However Interior decorators, conversely, focus only on the aesthetics.
Clients somehow lack the vocabulary for defining the description of the Interior Style that is required by them. The guidance to decide the best that suits the décor is been described in the form of different typologies of Interior Styles.
Basic procedure implies the need to Inform about the style definitions and their comprehensive repository locations. Clients decide their choice-making by visual frames of the Décor styles, Interior Style Inspirations should be blended in the mind frame of the client and designers. Designer communicates the ideas to the client for empowering stylization of the space through Interior design.
Different Typologies that you can encounter in Interior Design
1. Minimalist Interior Design
Minimalist Interior style is Clutter-free stylization in a décor with only essentials functional fixtures are displayed. It mainly features simplicity and effortless beauty. It focuses on the natural appeal of the material rather than extra details over it.
Spatial arrangements in minimalistic interior are subdued and neutral with majorly a monochromatic scheme. Minimalism appreciates the value of any spatial void or lack of ornamented décor. Furnishings and spaces are plain, hidden, and revealing in nature and reflect simplicity.
Key Features to include in a scheme for the minimalist style of interior:
Follow "less is more" quote featuring airy spaces.
Simplistic designs
Unfussy and low-key elements
Nothing flamboyant or gaudy, just clear streamlined sleek artifacts
Stick to essentials only with bare minimum furnishing
2. Modern Interior Design
Modern Interior style came into consideration during the 20th century. It promotes the use of neutral spaces with bold color schemes in art and furnishing in a minimal scheme. The main objective in modern Interior Style was to use Art as a Décor.
Furnishings are formulated through clean sleek lines and smooth surfaces with designers using metal, chrome, and glass as favorite choices.
Key Features to include in a scheme for a modern style of interior:
No Clutter or chaotic arrangement
Art rather than accessories
Open floor plans
Intentional use of asymmetric arrangement
Geometric patterns or plain scheme of soft furnishing
Neutral color palette with primary colors as bold contrast
3. Abstract Interior Design
Artists and Painters define abstract art as an expression of a unique design or a frame of focus for design. Abstract Interior style uses unique architectural elements such as furnishings with asymmetrical contrasting elements; abstract style cannot be defined as per guidelines. It incorporates chaos for fresh appeal and unique stylization.
Furnishings are expressions of an art form and lighting Ideas used in abstract Interior feature simple modern forms and imagery as a tool of perception. A bold expression of contrasting elements and colors are represented in the modern abstract design style.
4. Eclectic Interior Design
An Eclectic design emphasizes on the usage of different style combinations and permutations. A mix and match of materials and texture palettes can be observed. A bit of contrasting side of Minimalistic design can be seen in Eclectic Interior Style, it is likely to have vintage crockery, sculptures of modern art.
Despite having elements, it does not fall in the haphazard category with fuss. A sense of Belonging is attached to the Décor style with a connection of subtle varied yet cohesive theme.
Eclectic Designs are describing and diverse in nature with balance within assorted motifs and themes. Designers must understand the language of Sorted aesthetically pleasing designs cohesive with elements.
Key Features to include in a scheme for Eclectic style of interior:
Contrasting and Varied Elements
Cohering different elements through a single entity like paint, finish, furnishing
Neutral scheme with varied template of elements
Creative Freedom of high energy Décor
Blend of old and new accessories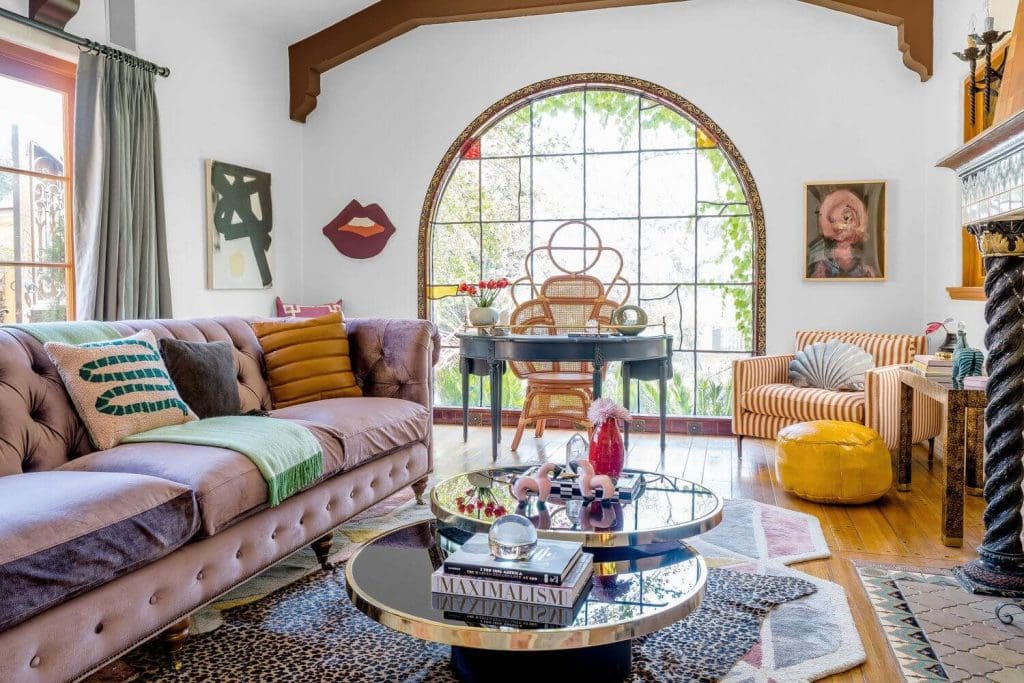 5. Industrial Interior Design
Industrial Interiors are general reflections of unfinished and raw theme. Usual representations conceived by the designers for such spaces are drawn from Factory, Warehouse Themes with subdued and cool color palettes.
 Interiors in this theme give a cool and modern feel that blends in with inventory of repurposed items in combination of modern and vintage scheme. Users tend to choose this style when a rustic old building vibe is required with exposed materials and lofted volumes.
Key Features to include in a scheme for Industrial style of interior:
Raw Finishes like Timber, Concrete and Rough Metal
Abstract of art as an idea
High ceilings creating a larger volume
Antique artifacts like vintage fixtures or industrial/ factory sectionals
6. Traditional Interior Design
Traditional Interior Designs are influenced and inspired by European Décor styles of the 18th and 19th Centuries. Heavy furniture and fixtures are major components for creating a stylish and elegant Traditional designs. Wood implications in furnishings and ceilings contribute to the traditionalist theme.
The ideation of symmetry with pairs and focus point for visual balance in a frame is centrally located in Traditional Designs. Users with taste of decorative ideas like classic art pieces, antique artifacts, and symmetrical objects can opt for this Interior Style.
Key Features to include in a scheme for Traditional style of interior:
Mouldings, Furnishings and Panel work in wood
Paired Accessories and furniture
Soft furnishings in elite textiles like silk, velvet, cashmere or linen
Intricate flooring and tile work
Neutral palette with a vibrant touch of color spots for furnishing and
7. Contemporary Interior Design
General assumptions often confuse contemporary design styles with modern designs; in fact the references to modern are contemporary. Contemporary designs include open-plan spaces that are well lit.
Contemporary designs are mere reflections of the trending current style, as they do not imply a particular style or design. As design is an ever-evolving phenomenon, thus designers consider Contemporary Style for a sense of classic touch.
Key Features to include in a scheme for Contemporary style of interior:
Naturally lit spaces
Contrasting wood tones
Lighting as artistic language
Open and unusual spatial arrangements
Metal accents
Textures and finishes with neutral colors
8. Shabby-Chic Interior Design
Shabby chic interior design style focuses on a feminine feel with crafty touch and DIY home décor. It has elements like floral prints, design elements like seasoned furnishing. It has gained popularity in the user group because of the scope of trying 'homemade' elements.
Most of the furnishing used in this style is aged and has an antique finish to it. However, they are more focused on creating feminine and delicate styles through wall hangings, scenic light fixtures, linen textiles, and scuffed-up/ ragged finish furniture.
Key Features to include in a scheme for Shabby-Chic style of interior:
Décor is soft furnished mainly
Floral feminine prints
Aged and painted furniture
Whitewashed floor
Scenic lighting scheme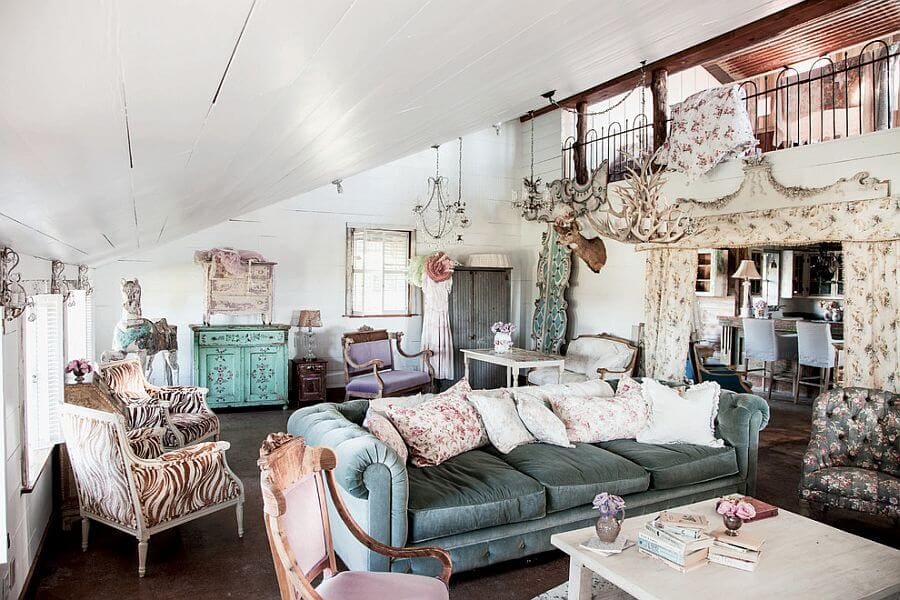 Users and Designers have variety of choices in Interior styles. Design perceptions are choice oriented; an individual can serve as a decor enthusiast or appoint an interior designer with inspirations from different experiences. Interior Styles are developed through explorations and varied regional experiential / functional distinctions as well; all of the above were major Interior Designing Styles and certain Categorisation according to Art types and Regional existences are also there for selection as well.