Flooring can enhance the appearance of any space to a great degree, making it more vibrant. The type of flooring for a particular space should be selected according the amount of traffic, exposure to water, sunlight etc.,
Different flooring types could also change the feel of a space, making it seem sophisticated or luxurious. When it comes to flooring tiles, each type of material has its own characteristics. Below are some of the common flooring types used in residential projects.
Types of Flooring Materials Used in House Construction
Ceramic tiles are made from clay and then heated. They come in two forms: glazed and unglazed. They are hardwearing, resistant to water and easy to clean which is why they are commonly used in kitchen and bathroom floor and walls.
This is as type of ceramic tiles but more dense and moisture-resistant, therefore, it is best for high-moisture spaces like bathrooms. These tiles are available in matte, unglazed or polished finish.
They offer great durability, natural stain resistance, wear and damage resistance, have minimal water absorption, and through-bodied color which makes them suitable for both indoor and outdoor installations. Porcelain tiles are hard to cut due to their density and hardness, so the cost and labor involved is often higher.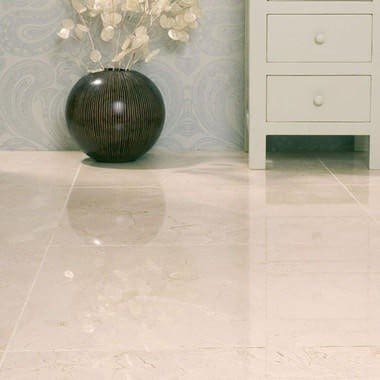 Quarry tile is unglazed ceramic tile. It is inexpensive and durable which make it a natural option to be used in industrial, commercial and residential tile applications. It is also less prone to chips and scratches. In colder climates, freeze-resistant grades of quarry tile are used to prevent weather related problems.
In residential applications, it is used for kitchens and pathways because it has a naturally coarse surface, making it less slippery than some other surfaces when wet.
Mosaic tiles are made of porcelain or clay composition. They are mostly less than six square inches in size and cut into various shapes like square, rectangle, octagon etc. Mosaic tiles are used mostly in smaller areas, such as a bathroom or kitchen backsplash, or even small counter space areas.
The entire sheet is laid in a bed of adhesive and all the gaps in between the tiny tiles are grouted. Glass mosaic does a great job of capturing and distributing light throughout the room.
As evident from its name, paver tiles are used mostly in paved outdoor areas. They are made from pressed clay or concrete making them suitable for exterior walkways, floors, pool decking, pool linings, and patios. They can bear high traffic and are resistant to wear.
Since they do not offer great aesthetics their use in interior is limited to spaces where aesthetics are not of great concern, such as mudrooms, furnace rooms, work areas, etc.
Vinyl tiles are fixed to the floor tops with the help of adhesives. These provide some degree of sound and heat insulation and are also very easy to clean. Vinyl tiles come in a great range of colours and patterns and can be made to imitate other materials like marble, granite etc. They are generally more wear resistant than other types.
7. Marble (Natural Stone)
Marble is a type of metamorphic rock that has rich veining and is available in a variety of colors. It is porous and has to be sealed before installation. It imparts a luxurious and unique look and is most often used in bathroom walls and flooring, as well as tub decks, fireplace surrounds, furniture and sculptures.
8. Granite (Natural Stone)
Granite is a type of igneous rock that is very dense and hard. It has a grainy type of look and minerals within it typically appear as small flecks throughout the stone. Granite is highly impervious and once polished, resists scratching. It is a great choice for flooring in kitchens and high-traffic areas. Granite tiles are naturally antibacterial and aren't damaged by water contact.
9. Travertine (Natural Stone)
It is a type of limestone that found in earthy colors, most commonly beige. It is used for bathroom flooring, kitchen backsplashes, shower mosaics, floors, fireplace surrounds, vanities, shower walls, tub decks and mosaics. Travertine is a soft, porous stone with a natural surface that has divots. Special care and surface sealing is required to maintain travertine.
10. Limestone (Natural Stone)
It is a form of marble but less dense. It's surface can be textured or polished to be smooth. It is not recommended for kitchen or high-traffic flooring applications since it can easily be stained and is prone to scratches. Limestone generally available in earthy colors such as off-white, grey or beige.
11. Slate (Natural Stone)
It is a fine grained metamorphic rock that is extremely dense and very durable.  It is mostly available in darker earthy tones like blacks, grays, mustard and greens, and is best suited for floors, walkways and roofing, and for kitchen countertops and wet bars. The surface of slate is naturally textured.
12. Sand Stone (Natural Stone)
Sandstone has a grainy look and feel. Its hardness depends on the degree of solidification. It is mostly used outdoors in gardening and landscaping projects in pathways and borders. It subject to suffer from weather and environmental impacts and is therefore used in places where aesthetic detail is not that important.