A bedroom is a place where we wish to spend most of our day, no matter how much time we spend in our living spaces but the comfort ad solace we find in our bedrooms is divine. Lighting in the bedroom is not just an aesthetical element but also very much functional as well. As we spend our early mornings and late nights in the bedrooms, we must make sure there is enough light all around the bedroom so that we are easily able to wake up, get ready and or do some office work sometimes. The lighting should be multifunctional and aesthetical. Talking about the aesthetics, the lighting should be put by keeping in mind the already built interior and theme of the bedroom.
Now let us see what are the different types of lights that can be put into a bedroom according to different needs :-
Everything cannot be done by installing common room lights so, as the name suggests this type of lighting is to get a task done. Think about all the things that you like to do in your bedroom, like getting some work done on your devices like laptop or computer so for that you need a separate workstation, to work effectively on this workstation you need to put a task light like a table lamp or a hanging lamp. Below are some examples of areas where you can work out effectively your bedroom lighting:-
You might also need good lighting around your dressing or vanity area. Also in your wardrobe so that you are easily able to access things inside your wardrobe at the night without switching on the room lights.
To access your glasses or keep a glass of water on the table beside your bed, there also you need light above also.
If you have the vanity in the bathroom make sure you have enlightened the bathroom well, to get your tasks done in the best possible way.
These lights can be in the form of simple ceiling LED or bulbs or very aesthetical also like a metal or a glass lamp in the group of three or single however you prefer.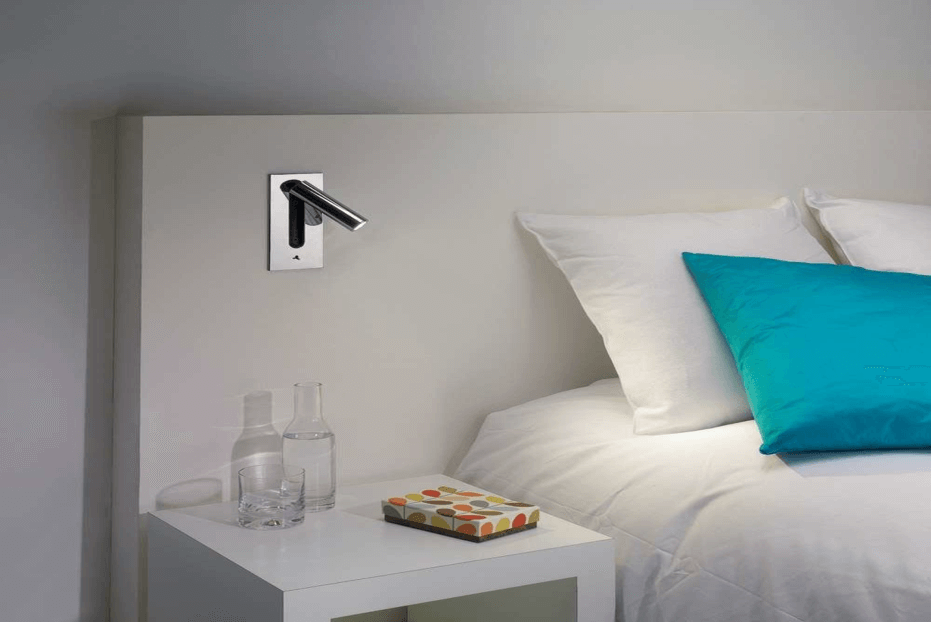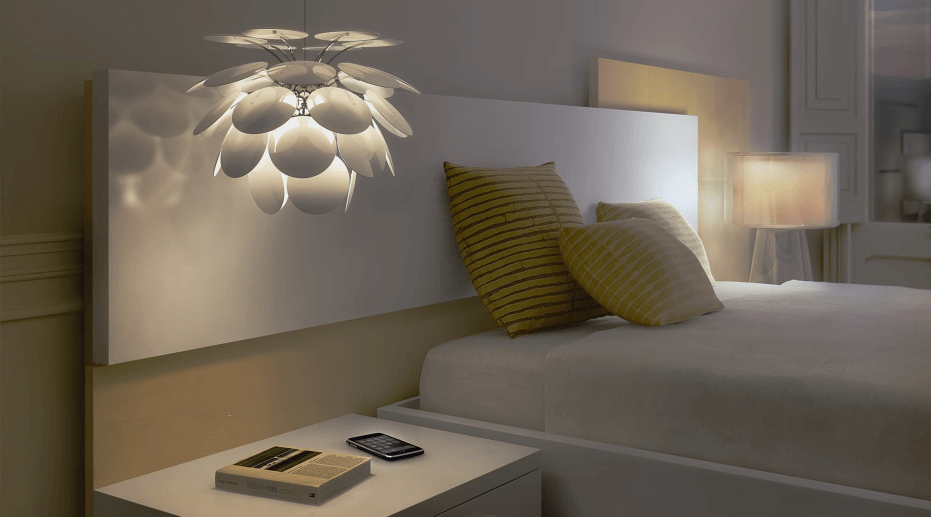 So as the name suggests, a spotlight brightens up or illuminates a particular spot. So in a bedroom, it can be used to lighten up any particular thing or spot, it helps us to see that particular thing when room lights are not on and also when you go out of the room you can easily leave these lights open so that it keeps your room look illuminated and give it a warm feeling.
You should always use warm yellow or white led bulbs or strips or just ceiling LED in this case as it illuminated better and also saves energy. Let us see some of the ways to use spotlights in our bedroom.
On the bedside table you can keep a small or large lamp this not only gives you easy access to look on the table if you need something but also on the floor that sort of gives you direction even if the room lights are off and it is dark.
Spotlights can also be installed in the form of simple ceiling lights over a bed or bed box or floor or even in a sequence distance of 2-3 feet depending upon the room size. They generally come in circular and square shapes and different sizes.
You have a great option of installing spotlights in the form of suspended lamps or hanging lights, these can be installed just over the center of the bed(if a ceiling fan is not there) or it can be installed ahead of the bed or even on the sides of the bed or bed box.
On or above furniture, spotlights can also be installed just above furniture like T.V unit or inside the wardrobe to get access to your stuff even in the night time or when you don't need to necessarily turn on the room lights and even in the bathroom or normal room vanity area.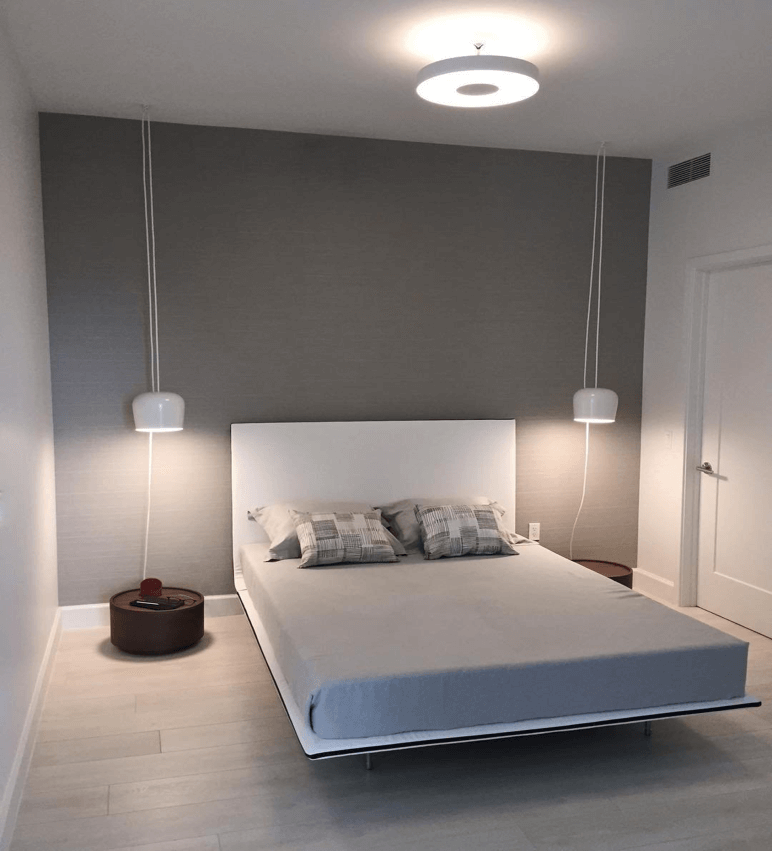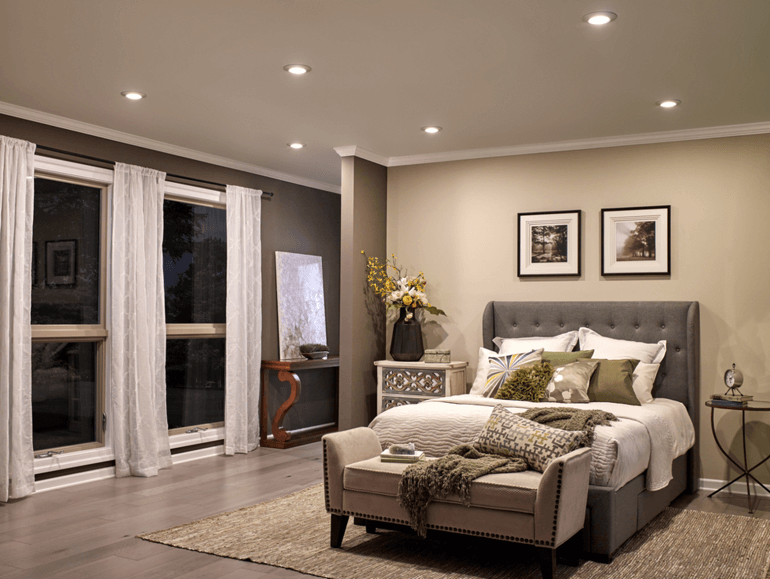 As the name suggests these lightings are installed to create an ambiance in the bedroom atmosphere. It certainly creates a warm and welcoming atmosphere in your bedroom which makes the overall space more comfortable and beautiful. It gets adjusted in layers with the normal wall or ceiling lights of your room and creates an overall aesthetically pleasing bedroom.
Ambient light won't give you that heavy illumination to perform tasks, the area usually lights just for aesthetics. Let us see some of how you can use it in your bedroom.
The most common way to create an ambient lighting atmosphere is to use a LED strip light it can be in the warm yellow to even cool colors like blue and pink or even normal white LED strip so according to the atmosphere and aesthetics you want to create you can choose a color.
The Strip light is so versatile, you can put it in any groove of the furniture or wall or layer it over your cupboard, vanity, T.V unit bed box, or even in the fall ceiling. Using this just changes the vibe and game of the whole bedroom.
So this type of lighting is generally used to create a focal point in your bedroom, again these are not very highly illuminating, they do the job of aesthetics more than the functional aspect. You can even use these to highlight any painting or picture near or behind your bed or even in front of the bed. Let us see few ways to use accent light in the bedroom:-
So the most common way in which accent light can be created is to add large hanging lights, these are not the ones that are used in task or spotlight but in general that loos beautiful and at the same time blends in with the bedroom's overall lights and interior colors.
So if your bedroom is in the shade of peach or pink color you can go for a hanging light which has a pink color to it, so that when lit it doesn't look odd out.
Though there are not many options to put hanging lights in the bedroom, still you can put them over the bed box just behind the ceiling fan, besides your bed or either or both sides, over or on side of the vanity, or even in the bathroom beside the mirror.
Make sure they aren't long enough that they become obstacles while performing any task. They should be rightly placed on the side and properly maintained too as they are quite delicate.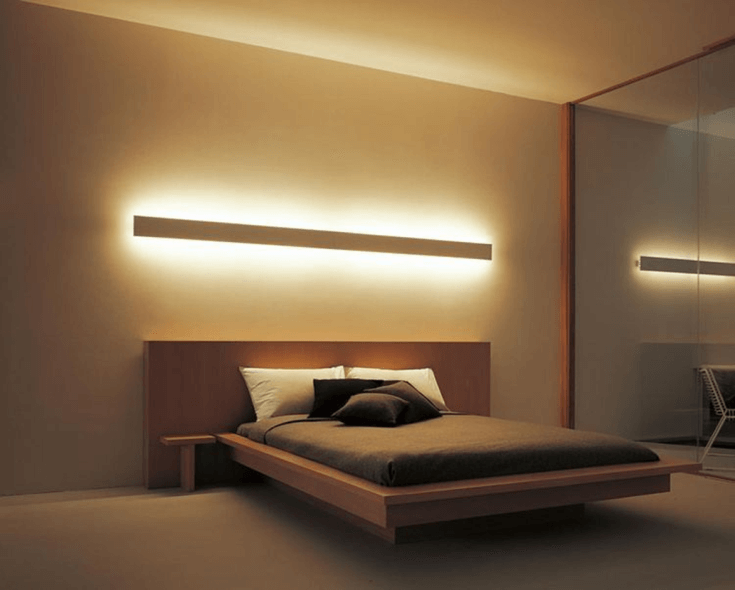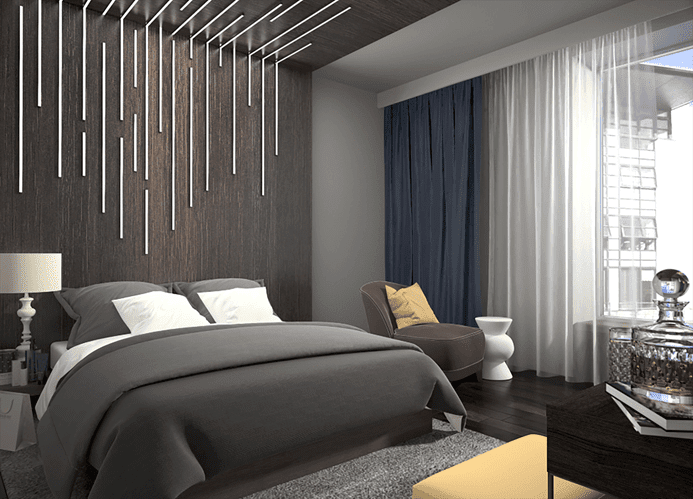 Last but not least there can never e anything wrong with the abundance of natural light in your space. As it is free of cost and very functional, aesthetical, and positive. You just need to make sure which part of your bedroom according to the direction and placement would give the best and most of the natural light.
You need to take these considerations from the planning stage only, to place a large window on the side where you get the best natural light also to keep areas like vanity over this window so that you can make the best use of the natural light without turning on much artificial light in the day time.
You can place your bed in front of it accordingly so that you wake up with positivity and ease due to the morning sun. If you already have a room that doesn't give much of the natural light you can even use tricks like using sheer curtains on the window with also absorbs heat or using lighter colors in the bedroom so that it doesn't look darker during the day.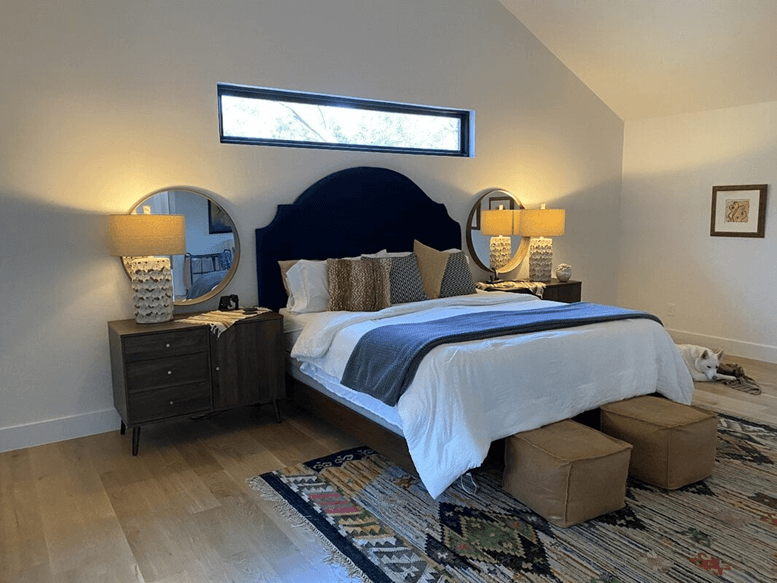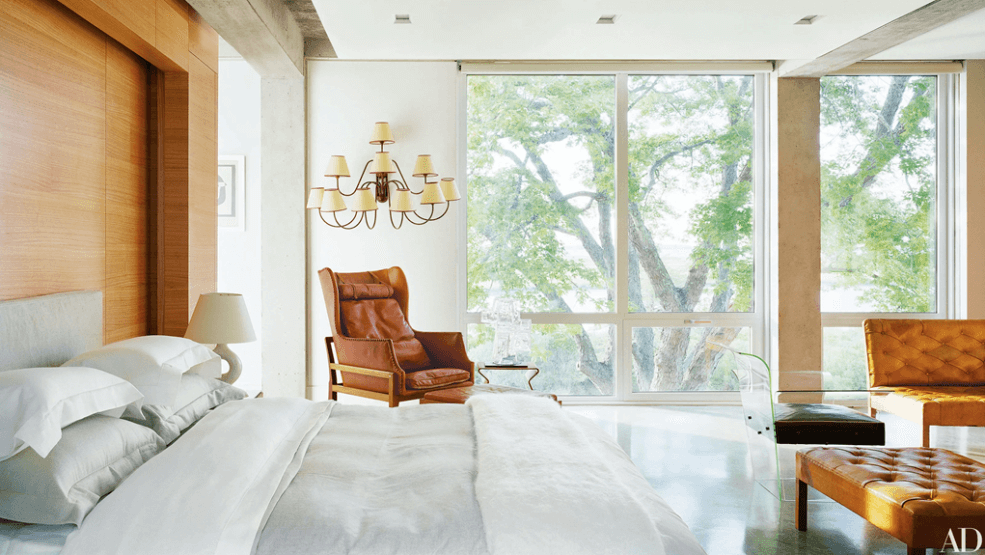 If you have an individual house in a colder climate mostly which doesn't give much of a   heat gain you can even build a skylight (which should be properly concealed with care and security) just above the bed to get that extra natural light.