After a long day at work all you need after coming home is your bed and your favorite show on T.V right? And this pleasure you can get only by a properly designed bedroom which has a properly aligned T.V, our ultimate source of entertainment.
Installing a T.V in a bedroom can be a task as everyone has different bedroom sizes, walls and requirements. Some use a mounted T.V and some the modern flat screen LED. Some would have a bedroom big enough to have a separate couch area and some would have wardrobes on the wall opposite to their beds.
So in order to place the T.V. rightly which saves the space, looks elegantly and not clutter the bedroom is not an easy job. We need to find the best possible way to make the best use of our bedroom space.
But luckily with a lot of modern approaches and ideas, we can definitely design a comfortable and space saving T.V space for your bedroom. Let us see what options we have:
Different places T.V. can be placed in Bedroom
This is probably the most common type of installing a flat screen T.V. 
Generally a flat screen T.V is hung on the wall directly on the wall or it is supported by a T.V unit or just a wooden or metal panel. The height of this T.V should ideally be according to the eye level of the user considering the height of the bed. An ideal height would be leaving 3.5′ -4′ space below the bottom of the T.V.
The best part of placing T.V this way is it has variety of options like if you want to go minimalistic design than you can create an accent wall in front of the bed, install a wooden panel and then hang T.V on it or if you have extra space and you want to go over the top then there are many ways to create a beautiful T.V unit this will give you some extra storage as well as space for showpieces to enhance the beauty of the bedroom.
2. The Hidden Space Savior
Sometimes you have a small bedroom, after having a proper storage it becomes difficult to find a place and install a T.V separately and also sometimes users want to hide their T.V because they just do not want to create an impact of T.V in their room or they occasionally enjoys the television.
So in that can case they can install the T.V between the cupboards, flat screen can be hung and others can be just placed down on the shelf the best part is you can hide it by simply closing the panels and no one will know even you have a T.V in your room or not .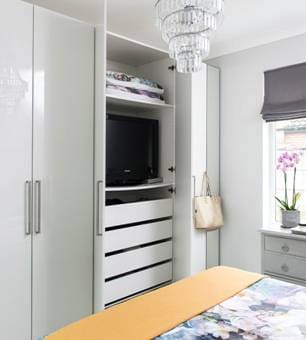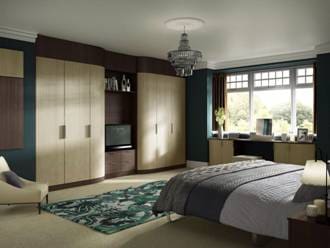 The tech savvy – Sometimes you have floor to ceiling large windows in your bedroom in that case it becomes difficult to find a wall to install T.V and if you create a partition or something that will just disturb the beautiful views , so for this problem the modern technology has a modern solution in which you would not need a proper place to install your T.V you have two options in this case :-
The bed with place for T.V
The bed wall T.V
The no T.V T.V
1. The Bed with a Place for T.V.
The first option works on the bed with T.V box function in this the modern beds comes with a place for keeping T.V you can simply slide up the T.V and watch directly on your bed and you can slide it down when not using.
It has one more option i.e. the under bed T.V in which the spring is attached under your bed and you can slide it up and watch again by lying down on your bed itself. The electric connections are hidden inside the bed only isn't this amazing?
The only downside is only two or three people can watch it at a time or simply the capacity your bed has to fit in the people.
In the second option you can install a spring angle adjustor T.V on the wall on which your bed is supported. You can adjust its angle upside down when using and you can watch it by simply lying on your bed.
In fact you can even convert it into a wall painting when not using by placing a picture on the back of the T.V.
The third option is an interesting one mainly for those who love watching their movies and shows with their family. Yes it is nothing but a projector wall in your bedroom coz just a T.V is sometimes too mainstream right?
And this won't even occupy much space as projectors are fixed to the ceiling. You just need to switch it on when needed and it will slide down and you can again take it up when not in use. There can be nothing more relaxing than having your own projector wall in your bedroom.
4. The Partition T.V. wall
In some houses you have a big bedroom space and in some the living and the bedroom are combined. In these cases you do not have a proper wall to hang T.V in front of your bed. So in these cases you can create a partition wall between the two spaces. This partition wall can be of wooden, metal or fiber according to your choice.
Even you have two options to place the T.V here i.e., one is the fixed T.V pattern, where you know you would just watch the T.V from your bed but when you want to switch the T.V between both the spaces then you can use a roller partition in which you can simply roll and slide your T.V from wherever you want to watch it . Again an amazing option that will serve to two spaces.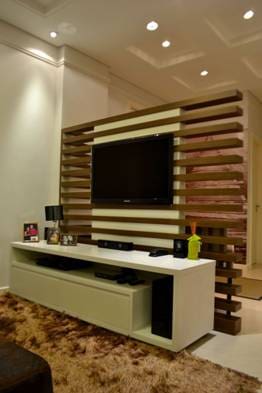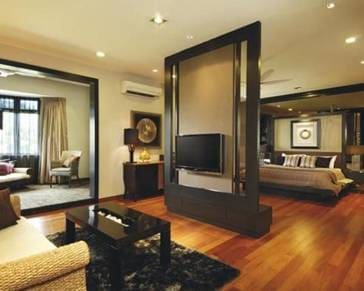 Sometimes due to lack of space and lot storage in the room, it becomes difficult to install a T.V on the opposite of bed. In those cases, we need to use the corners for placing the T.V's. You can directly install it on the wall or over a panel or if you have a sit down T.V, then you can use a normal book shelf and create a space for T.V in between. the options are many the idea is just to utilize those corners.
The height can also be adjusted like if you want to watch it above your eye level by lying down on bed then you can place it 2- 3 ft down your ceiling otherwise you can find the best eye level according to your room arrangement.