False ceilings are largely seen as an extravagant choice. The primary reason is that it is a suspended ceiling that is designed in addition to the actual ceiling, thereby making it an option and not so much of a necessity. This is also why such ceilings are also called as suspended or dropped ceilings.
This design feature has climbed up the ladder to be one of the most appreciated and sought after. They add a lot of drama to the space and make it very stark yet minimalistic. Though the apparent benefits of false ceilings seemingly make them look like a distinct aesthetic affair, but it aids in many concerns beyond that. Inevitably, false ceilings also pose certain challenges. Let's look at all the pros and cons of false ceilings.
Pros of Having False Ceiling
1. Controlled Room Conditions
In conditions that are devoid of the luxury of cross ventilation and good amounts of natural light and ventilation, a false ceiling can change the game considerably. False ceilings assist in controlling temperatures artificially and facilitate in installing a larger number of lights without having to worry about the aesthetic implications of the increased numbers of wires.
2. Concealed Electrical Wires
Since the suspended ceiling creates a vacancy of space that remains hidden to the users, this space can be easily employed to contain all the electrical wires and other electronic equipment. If the dropped ceiling is designed with level differences, they can be used to induce sunken or hidden lighting as well.
3. Asthetic Enhancement Possibilities
False ceilings permit a lot of design exploration. Playing with the materials, lights, and the levels of suspended ceilings, the various ways in which false ceiling can both subtly and significantly enhance a room design are innumerable.
Inculcating light fixtures such as profile lights or hidden lights amidst the level differences of the ceiling is one way of immediately drawing the attention of the user towards the top of the room.
Colors, textures, materials, inclusivity of the ceiling design with the wall or the furniture of the room are various tools that one can juggle with and come up with permutations and combinations for peculiar aesthetic ceiling designs.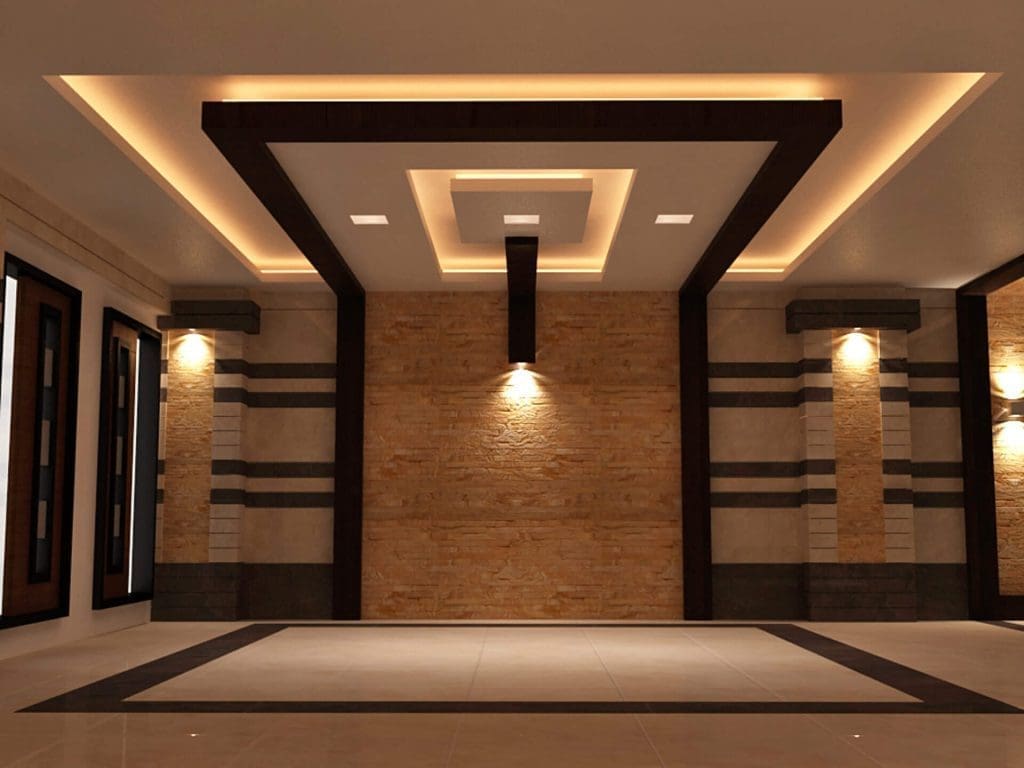 By controlling levels and the thereby overall area of the space, false ceilings impact the energy conservation levels as well. For example, the gap created between the actual ceiling and false ceiling traps air, and cools the room down and insulating the room. Inevitably, reduced room dimensions also mean lesser pressure on air conditioners, thereby cutting costs in that regard too.
The flexibility of false ceilings with materials and height also promote controlled and enhanced acoustics. When installed with cautious attention to the desired acoustics quality of the room it is being installed in, false ceilings can be modified accordingly. This quality especially serves rooms such as AV rooms, home theatres, and multipurpose halls.
Just like how we have the luxury to customize the vibe and the mood of the room by selecting from the wide variety of furniture, floorings and light fixtures, the intervention of false ceilings has allowed including the ceilings of the room to be a part of this customization as well. Playing with the heights, or patterns, one can decisively make their room cosy or grand, loud or melancholic, and colourful or monochrome.
1. Strength and Durability
Since the electrical fixtures are now installed on the false ceiling, it is important to verify the reliability of the false ceiling to hold these fixtures without deflecting, weakening, or collapsing. They must also be checked for adherence, for it is necessary to ensure that it can carry its weight primarily.
With extreme flexibility in design comes added responsibility. It is important to ensure that the corners are sealed well, and the materials used are sensitive to the environment so that they don't form breeding grounds for uninvited organisms. Time to time maintenance to ensure that the false ceiling is not exposed to such attacks that might weaken them is also necessary.
3. Reduction in Floor to Ceiling Height
Though false ceilings are a design feature that can delight up most spaces, they can make the rooms with lesser heights congested. It is important to install false ceilings in cases where they can be beneficial only, for they are not a necessity.
Whether your Living or Bedroom Needs False ceiling or Not
False ceilings have great potential to embroider your room design. The designs can be maneuvered to suit any living rooms, bedrooms, halls, home theatres, or even kitchens. For example,
False ceilings work wonderfully for living rooms by making them cozy and intimate.
However, they can be uninvited in bedrooms that are less than 9ft and also heavy on furniture.
If one has a taste for dramatic hidden lights and profile lights, one can choose a false ceiling design accordingly.
Likewise, recognize the mood you desire for your rooms, and don't shy from experimenting with your ceiling designs.