People who consider building their home instead of buying one have an advantage that they can decide where they want their switches and sockets to be placed and people who are wanting to renovate their home can also decide the whereabouts for the siting of receptacles and switches. Before the commencement of the electrical installation a detailed study must be carried out to avoid the use of messy chords and power bars which would not only save your house from saviour damages but also make everything convenient enough for use.
Here are a few guidelines from the national building code of India regarding the placement of switch boards and sockets for a 2 bedroom house-
General Guidelines on Electrification for a 2 Bedroom House (2BHK)
Materials that are to be used for switchboards and sockets must fire resistant with a fire rating of at least 2-3 hours and should be a bad conductor of electricity.
Whether the proposed electrical work is a new installation of extension of an existing one, or a modification involving major changes like addition or removal of switchboards, the electricity supply undertaking shall be consulted about the feasibility, etc., at an early date.
The work of installation shall be carried out by a certified contractor holding a valid permit.
1. Guidelines For Planning of Electrical Installations (Switches, Sockets etc.,)
The prevailing conditions of wiring and switchboard must be considered in case of renovation.
Siting of receptacles is generally decided according to the requirements of the consumer along with the type of load, occupancy and envisaged load.
Before the installation the atmospheric conditions must also be considered.
The probability of need for modification or future extension must be considered beforehand.
Safety measures for fire resistance and electric shocks.
2. General Guidelines For Placement of Switches
Nowadays there is a need to have sufficient no. of switchboards and sockets according to the application, if these factors are not taken into consideration then it can lead to a disaster. So to avoid such situation the following guidelines should be taken into account:
Socket outlets provided for appliances such as air conditioners, water coolers, washing machines etc. that use electricity up to 15A, shall be provided with its own fuse with suitable backup fuse or miniature circuit breaker.
The switch controlling the socket outlet shall be on the live side of the line.
For earthing purpose, the socket shall be of 3 pin with the third terminal connected to the earth wire.
Earth wire must be insulated properly so that there is no leakage of current otherwise it can cause saviour damage.
In wiring installations, metal clad switch, socket- outlet and plugs shall be used for power wiring.
Controlling of ceiling fan shall be through its own regulator as well as a switchboard.
Switchboards for outdoor lamps and verandah lamps must be provided separately.
A switch shall be provided for the control of every light fixture or a group of light fitting fixtures.
3. Standard Height for Placement of Switchoards
Ordinary socket outlet can be fixed at any height above 20 cm from the finished floor level.
Socket maybe be placed such that it is easily accessible for kids as well as for physically disabled.
NOTE: In situation where switches are accessible for children, sockets which automatically gets screened after removal of the plug must be installed for safety purpose.
Generally the height of sockets for physically disabled is 48-52 inches.
Some sockets which carry high voltage such as geysers, water purifiers, air conditioners etc. must be located at higher levels.
4. Minimum Number of Switches and Sockets For a 2 BHK House or Apartment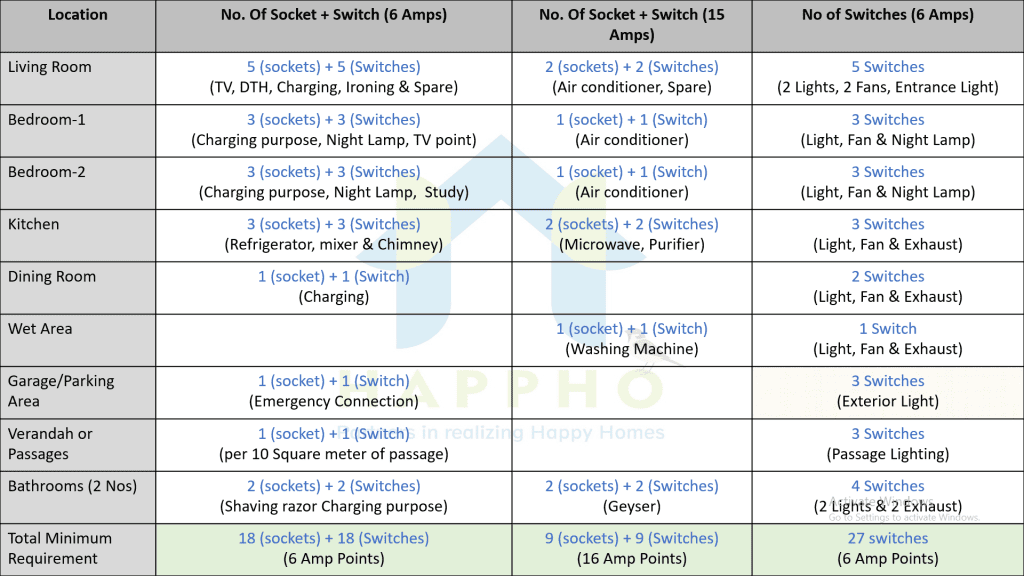 Location
No. Of Socket + Switch (6 Amp)
No if Socket + Switch (16 Amp)
No of Switches (6 Amp)
Living Room

5 (sockets) + 5 (Switches)

(TV, DTH, Charging, Ironing & Spare)

2 (sockets) + 2 (Switches)

(Air conditioner, Spare)

5 Switches

(2 Lights, 2 Fans, Entrance Light)

Bedroom-1

5 Switches

(2 Lights, 2 Fans, Entrance Light)

1 (socket) + 1 (Switch)

(Air conditioner)

3 Switches

(Light, Fan & Night Lamp)

Bedroom-2

3 (sockets) + 3 (Switches)

(Charging purpose, Night Lamp,  Study)

1 (socket) + 1 (Switch)

(Air conditioner)

3 Switches

(Light, Fan & Night Lamp)

Kitchen

3 (sockets) + 3 (Switches)

(Refrigerator, mixer & Chimney)

2 (sockets) + 2 (Switches)

(Microwave, Purifier)

3 Switches

(Light, Fan & Exhaust)

Dining Room

1 (socket) + 1 (Switch)

(Charging)

 

2 Switches

(Light, Fan & Exhaust)

Wet Area
 

1 (socket) + 1 (Switch)

(Washing Machine)

1 Switch

(Light, Fan & Exhaust)

Garage/Parking

1 (socket) + 1 (Switch)

(Emergency Connection)

 

3 Switches

(Exterior Light)

Verandah or Passages

1 (socket) + 1 (Switch)

(per 10 Square meter of passage)

 

3 Switches

(Passage Lighting)

Bathrooms (2 Nos)

2 (sockets) + 2 (Switches)

(Shaving razor Charging purpose)

2 (sockets) + 2 (Switches)

(Geyser)

4 Switches

(2 Lights & 2 Exhaust)

Total Minimum Requirement

18 (sockets) + 18 (Switches)

(6 Amp Points)

9 (sockets) + 9 (Switches)

(16 Amp Points)

27 switches

(6 Amp Points)