You could be a movie freak who loves sipping on juices and munching on popcorn every weekend for a getaway with movies. You could be a parent who is tired of carrying your kids to the cinemas each time for a delightful watch. You could be a professional who works up all-nighters and needs a break to revitalise his days, and movies are the solution.
There's absolutely no need to be glued on to the mobile screen or plug in headphones into a laptop to be able to do this. In fact, this may spoil the actual fun and magic of the movie. Wondering what you can do about it?
What we suggest is having a theatre for your own self at your home – an Entertainment Den you may call it – for those special weekends with family and friends in the comfort of your own house. Here go some tips and suggestions for the same. The Entertainment Den is a great idea for young bachelors who wish to revamp their personal space in a manner as to suit friendly sleepovers with their gangs. Have a pool table in your special den for a pleasant banter with some drinks. The seating should be very comfortable, and we would suggest going for L shaped sofas and couches for the purpose.
Individual seats for a man cave are also another option, though less welcoming. This is because the man cave television screen would not be just for movies – you could have a PlayStation set up to while away good times.
Also remember to keep a few stools and chairs handy. A bar in one corner or against one of the walls is a bright idea.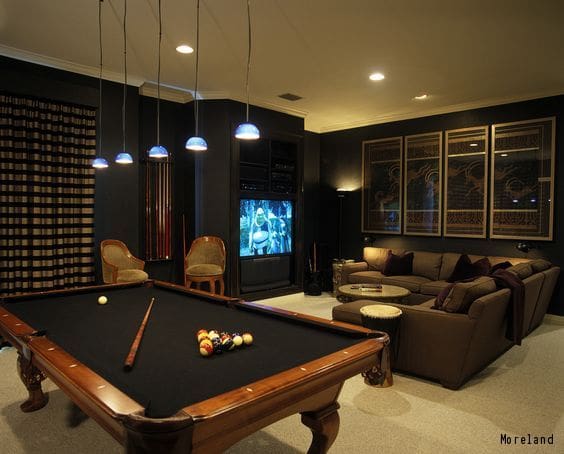 Turn your home into a blissful abode for the kids and show them a themed movie every weekend in your den. Try going for individual seats for the kids – you don't want messy fights over popcorn right in the middle of the movie.
The seats might be stepped for better visuals, and the seats soft – replete with blankets and cushions. Do not keep tools which they could fidget with, and place the screen at a comfortable yet safe height.
One for the vacations or the lazy weekends – a perfect retreat for you and your family – is a den with dim lights, cosy couches, a huge screen or projector, and lots of food. The Family Den, as we call it could be one on the topmost floor of your multi-storeyed house, with a scenic view through one of the windows or an attached balcony.
How to Go about creating The Entertainment Den?
You could locate the entertainment den in your living room itself, the basement of your house or any spare room which, well, is spacious enough. Choose not to have many windows in the room. You don't want too many reflections on the screen, and audio-distortions are a big no-no too. Suppose you can't really help the situation, a rectangular room, with all its windows draped in blinds and curtains, would be the fairest of all choices, we must say; one of the shorter walls for the screen and another for the bar, and the longer side for seating and dining, and better acoustical projection.
Concrete won't do, mind you. Try opting for acoustic wall panels exclusive to such rooms. The 'sound absorption panels' are a boon to acoustics and act as frequency modulation devices to make sure there is no undesirable echoing.
The flooring is also another integral for your home theatre. Go for layers – begin with a jammy pad, and top it with a carpet or mattress for the entire length and breadth of the room. This way you are creating a space for all those who would prefer sitting or lying on the floor to relish their movie. For the walls, the colour must be dark in order to prevent reflection from lighter surfaces.
Refrain from using bright reds and yellows and blues, because they might lend an impact on the screen, and hence the tone of the movie watching experience. Eggshells are a great idea for the wall if you want to prevent aural warps.
A Few Technicalities to take care of
The most integral element of your home theatre is going to be the movie or gaming screen. The bigger, the better, isn't it? Not really – the size of the screen depends a lot on the available length of the room for viewing in front of the screen. The size needs to be proportionate enough to allow the viewer a comfortable sight from one end of the screen to another.
The optimum viewing angle of 30-40 degrees allows you to see the whole screen with nominal eye movement. Since the home theatre would involve multiple seating, it is crucial to consider this viewing angle for all the seats and positions. Also, keep in mind that the minimum distance from the screen must be maintained. You don't want to strain your eyes and harm them after a few hours of movie marathon. For example, for a 48-inch wide screen, the viewing distance should be large than 8 feet and so on.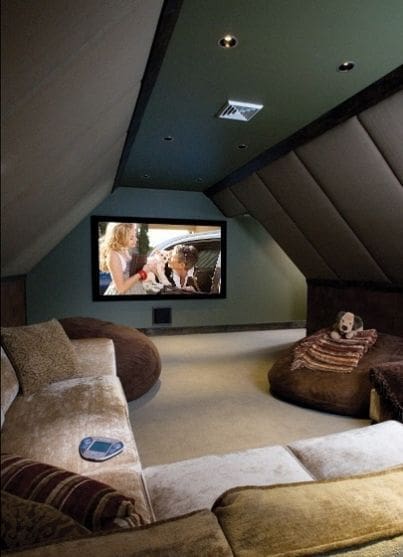 The next moist important consideration would be that for a speaker system – one that is of high quality. Bad sound system would completely ruin the movie experience for you. At the same time, you don't want any damage to your ear drums with blaring noises. Several scenes in movies have been designed to offer sounds from specific directions and portions of a theatre. Refrain from using bi- or dipolar speakers if you wish to get pleasure from this experience.