"Futuristic Homes"- A common phrase raised into the conversations amongst the current population. A general theme of Tech-based ideology can be expected, keeping in mind of the technological advancements that are encountered till now.  It would not be wrong to expect the futuristic homes to incorporate more technology for a future brighter than ever.
Limitless Designing has experienced innovations through evolution at a faster pace. Users and clients feel the need to understand the future spatial outcomes. Virtual World of gaming, animation, and movies are preconceived imagery of the same idea. The field of Augmented Reality and Virtual Reality are the best examples to understand the scope of immersive and indulging Design Ideas.
The evolution of mankind has come up with major advancements and some confined restrictions to it as well. Land usage and occupancy being the most concerning point, The Population Density currently does not allow free expansive spaces rather for such luxuries a high price of land has to be paid. Secondly the resources are limited in nature, thus optimizing them is a priority for a sustainable future.
The Users and Clients, who consider the need for such optimization of land and resources, hire Architects and Consultants for a sustainable design solution of their home and well being. An evolution in the design of spatial arrangements can be observed through multi-purpose or multi-utility spaces.
How to Create Futuristic Houses?
1. Digitization of Spaces
Predicted and Experienced technology offers mirror/ glass smart screens, touch tech, gesture controls, audio command, image sensing, and many more for ease in work. Internet of Things (I.O.T.) has been a major contributor to such high expectations in Users' minds. Smart Technologies like Amazon Echo, Google Speech, Apple's Siri, and Windows Cortana will or are common stake for household working; General assumption considers them to be more advance in terms of Appliance handling and controlling Work Schedule for Humans.
Security Systems might use Image sensing and Gesture Controls for entry in common household and even for granting access to any particular space in a house or any specific access to activity permission.
Smartphone Applications may become the control unit of the virtual realm with Interaction design for better User Experience. 'Augmented Reality' will or may become the tool to buy Essential furnishing of Home by placing the visualization of the 3D model into the space.
For example a Kitchen space, Switch Panel would become touch-sensitive with pre-loaded schemes. Taps and Water Essentials could be optimized with Sensor-based faucets and water flow scheme that may reduce any unnecessary wastage. 
Voice Controlling through Speech Command Unit like 'Alexa' or 'Siri' are controlling appliances connected over wifi namely the lights, fans, Air-conditioner, Smart Appliances. This may reduce wastage and improve efficiency in resource management.
Even presently, Users seek for something Unique or that has not been seen anywhere else. Thus, Original and out of the box Designs will be in demand that may serve the functionality and aesthetic efficiently. Furnishings and artifacts with unique designs complimenting the technology or theme could be best picks amongst users.
Mood Psychology is a Trend to follow, Architects and Designers follow color and texture schemes for certain spatial mood development. It might feel like magic oriented Technology that serves by sensing Neuro-Psychology of the End-User and changes the color scheme of the space through lighting adjustments. A higher expectation of this scheme turns the Wall color and Texture of the Facade according to the mood of the User/Users inside the space.
Smart Fibers are such an Invention; These fibers can change color and texture based on touch response. Furnishing of Future may incorporate technologies like these or maybe even more. Bedrooms and Living Spaces are certainly the target spaces through these technologies.
4. Social Media Influencing
Media Influence on spatial living is a fact. Users create spaces in their homes which can be used for screening or social media publishing. Specially designated spaces for accessing Social Media or Publishing media Content can be created in that spatial arrangement. 
Holographic Gesture Control as shown in movies is a real possibility soon. This may reduce the actual space occupancy of any appliance, even a separate unit or a room for Controlling and Managing such actions and procedures could be assigned.
Imagine the space utilized by televisions and computers or laptops, if they could be popped out of your wall through holographic projections and their substantial amount of physical space that can be saved by such technology.
Interactive Interior can be productive for ease in living. Facades that could breathe can regulate the Interior Temperature, Moisture, and Ventilation through Remote Sensing and respond to the ongoing situation.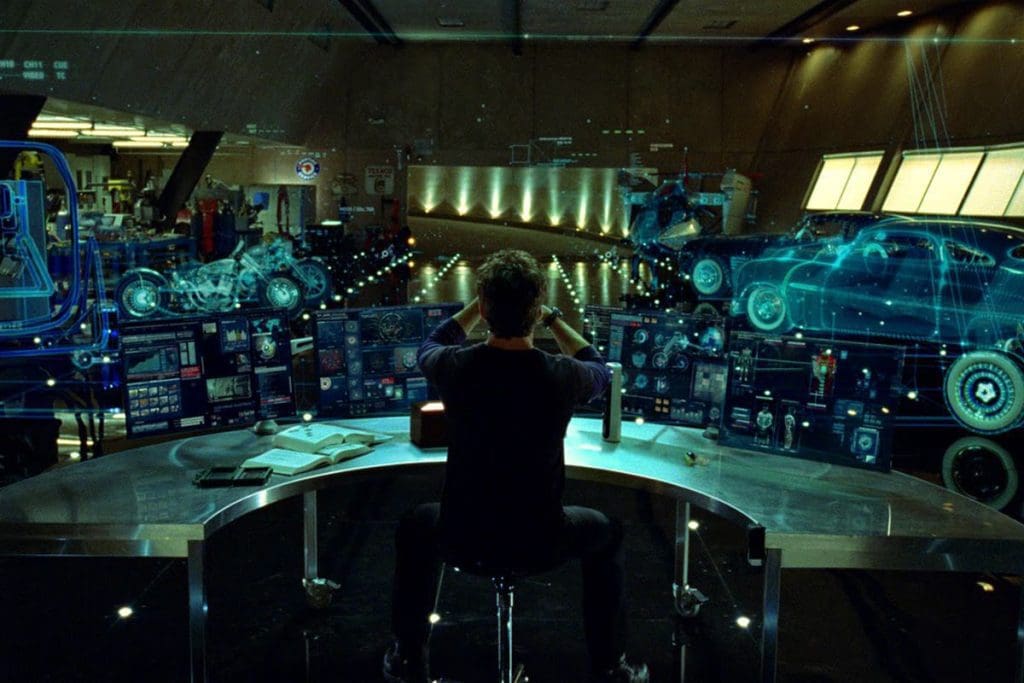 The current essentials and artifacts will be vintage and antique for that moment. Users and Designer would be keen to place them as a piece of Nostalgia in contrary to the Tech-Savvy stuff. Owning physical appliances or an artifact of current age at that moment could be Vintage collection or an obsession for some users as a mark of being out of the queue. 
7. Public Gathering Spaces?
As the population grows more heavily, the issue of living and managing public spaces would become increasingly difficult. Space Occupant Density would be higher and available spaces would be less resulting in a physical squeeze.
Yes, Public spaces would be existent but may be smaller and multi-functional depending upon the functional need. Efficient usage of spaces must be considered for a sustained future.
The future of houses may be Technology-driven and spaces would be squeezed and optimized accordingly. An individual would be comfortable in adjusting to virtual reality and adapting to resource usage sustainably for effective management.
Imagining the future Homes should not be limited, a seamless series of thoughts with infinite permutation and combination of Technology ideas can be weaved.