Bamboo as a building material is rapidly growing around the world. It is popular for its versatility, flexibility, cost-effectiveness, and easy availability. As a sustainable and durable construction material, bamboo has a very strong fiber. Bamboo fiber has shear stress that is higher than wood.
Bamboo has a wider span than wood. In addition to that, bamboo is a sustainable material that requires very little energy to nurture, restrains soil erosion, supplies bio-fuel, and extends wildlife refuge.
It has made its mark in the flooring industry as well – both from an aesthetic standpoint and an eco-friendly perspective. Bamboo is exotic in appearance and it comes in different colors and finishes.
Bamboo is grass that can grow to a harvestable size in about five to seven years. The majority of bamboo used for flooring comes from the giant Moso bamboo plant. They require very less or no fertilizer and regrow after harvest.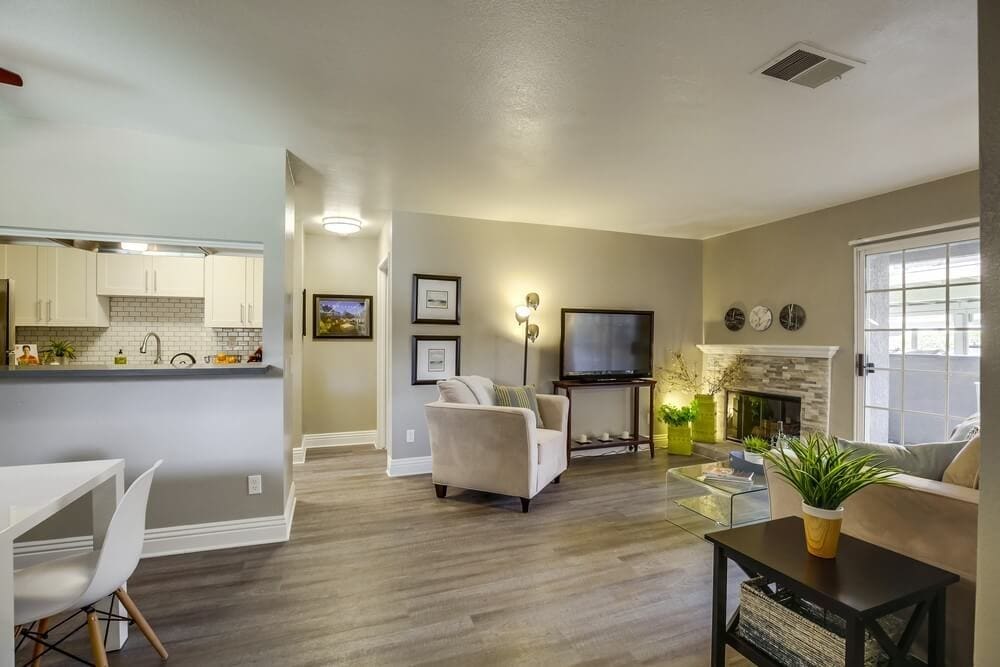 Bamboo is cut down into strips or strands, dried, and machined into flooring planks. In recent years, bamboo is becoming popular as an alternative to wooden flooring due to its durability and low maintenance.
Pros of Bamboo Flooring:
It has a clean and contemporary look, making it popular among those who prefer modern design.
Compared to other flooring alternatives that fake the appearance of wood, bamboo is more natural and luxurious looking.
Properly finished bamboo flooring is easy to clean with the use of a simple mop and mild soap.
Cons of Bamboo Flooring:
High-quality bamboo flooring should be used since the low-quality ones are prone to scratches and dents.
It is susceptible to absorbing water, making it unsuitable for bathrooms, laundry rooms, and even basements.
Unlike other floorings, bamboo flooring only has a limited number of options for tonal shades.
Differ
Different Construction Types of Bamboo Flooring:
Horizontal Bamboo:
The plank for horizontal bamboo flooring is constructed of horizontal strips of bamboo, offering a wider and more evident grain. It is not as hard and durable as strand-woven bamboo but has a better appearance than it. It comes with various color stains to provide different shades and tones, or with a finish to give a more traditional and distressed appearance.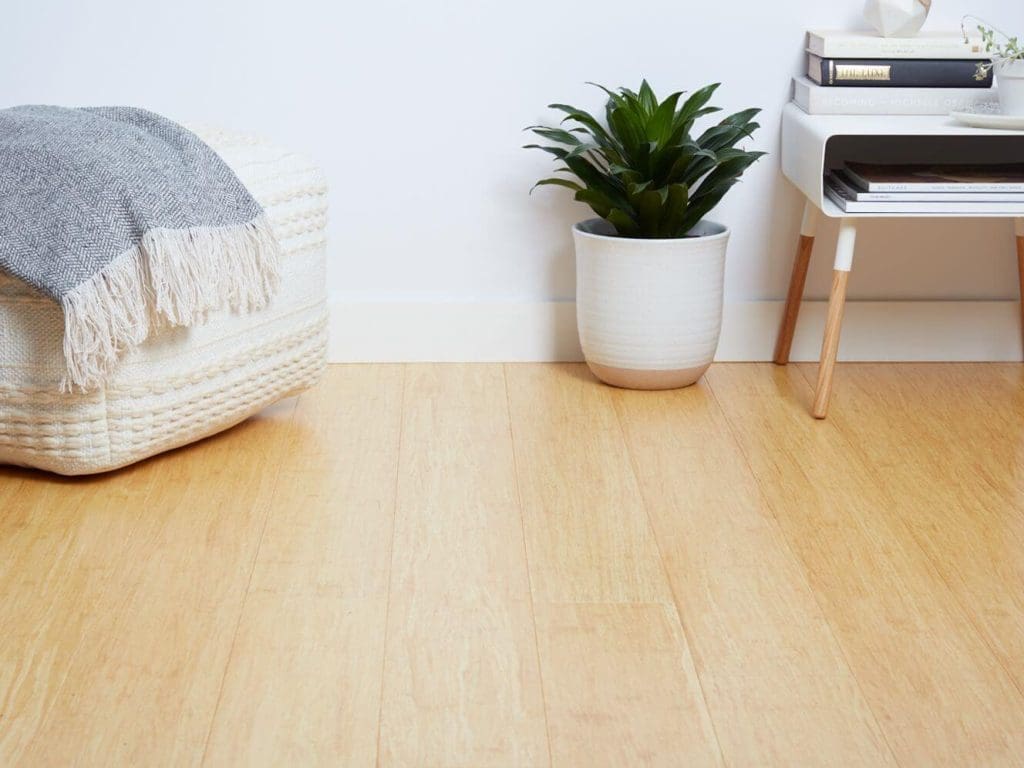 Vertical Bamboo:
For this type of bamboo flooring, then cut thin strips of bamboo are glued together vertically (unlike in horizontal bamboo). It has a narrow grain pattern, allowing you to see traces of the knot pattern of the bamboo. Out of all bamboo flooring types, it resembles the basic appearance of bamboo the most.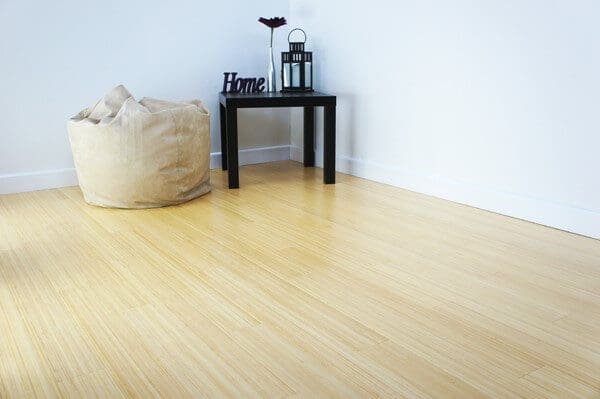 Strand Woven Bamboo:
This type of bamboo flooring is made by compressing bamboo fibers under extreme heat and pressure. It is also the reason why strand woven bamboo is the most durable and strong bamboo flooring. In terms of appearance, it has a random grain pattern.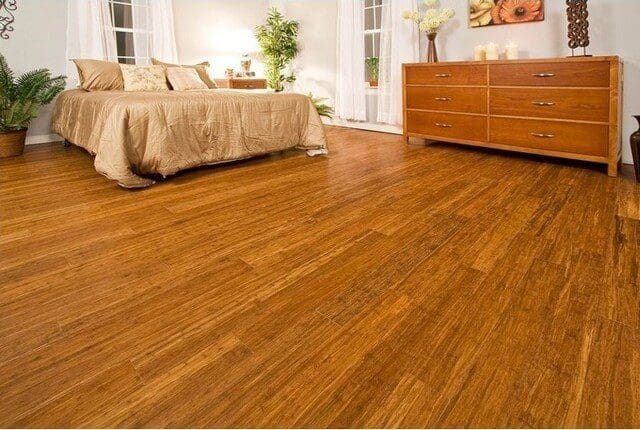 There is a wide range of color options when it comes to bamboo flooring including shades of brown, red, and grey. Among these colors, there are five basic and general types.
Natural Bamboo Color:
As the name suggests, it is the natural color of the bamboo without any treatment or color stains added. It has a light, golden shade running throughout, making it one of the most popular colors chosen for bamboo flooring.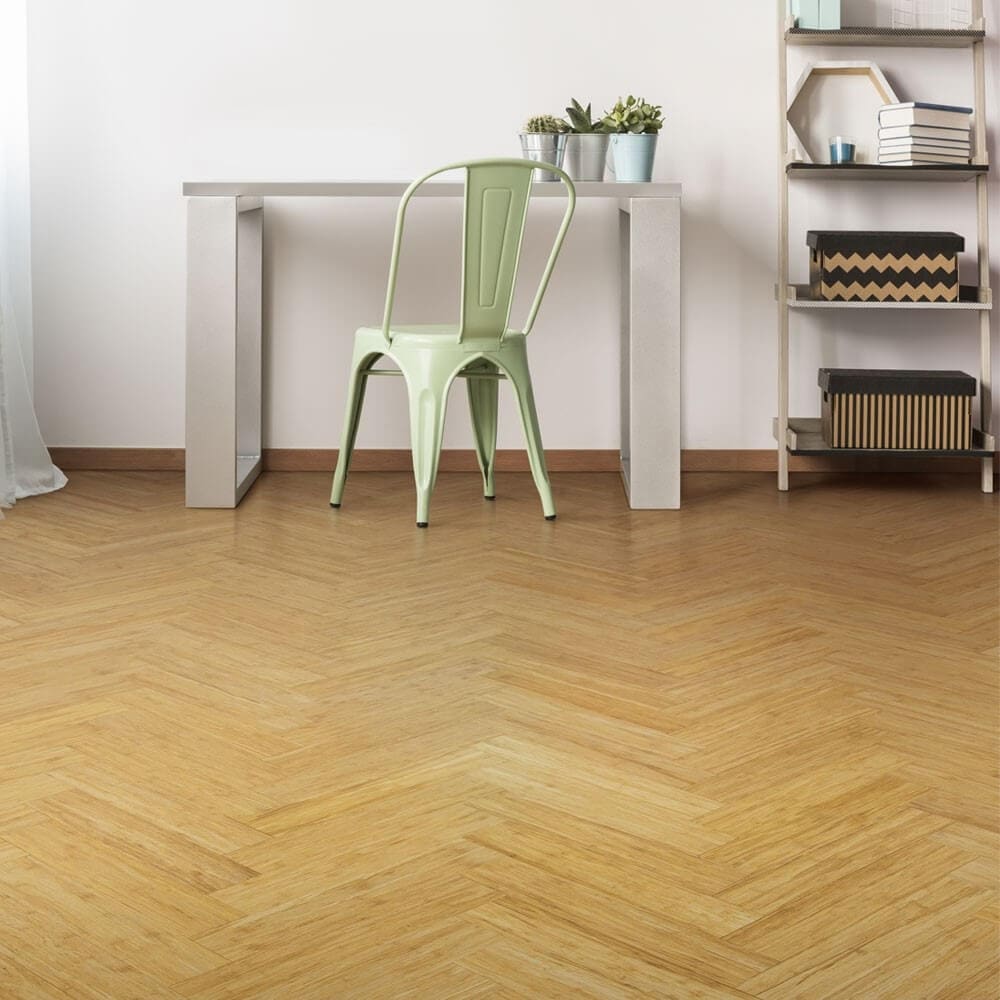 Stone Grey:
Grey-colored flooring has become increasingly popular over the years with the introduction of contemporary and minimalist designs. It has a distressed surface making it appealing to those who like a more unique and distinctive-looking floor.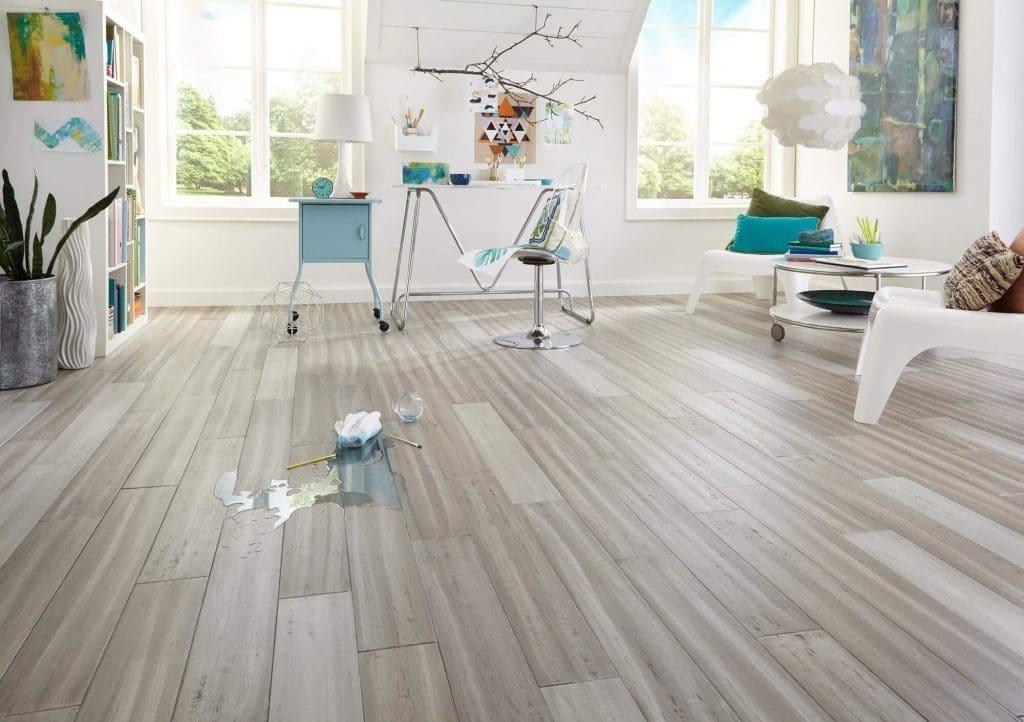 Bamboo is carbonized to give the bamboo a deep, rich, darker color, much like the process of staining wood. It is a timeless shade of a warm coffee-brown color where the bamboo has been carbonized (smoked) under extreme heat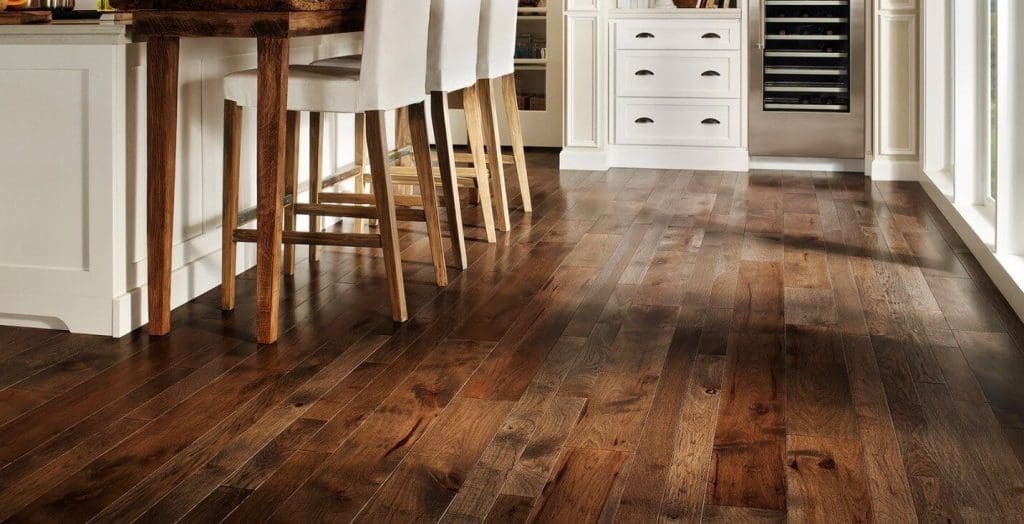 Bamboo flooring is usually installed with an unfinished or with a factory finish.
The flooring with factory finishes lasts longer as compared to the unfinished ones. Factory finishes are made with several layers of aluminum oxide with a clear coat on top. One of the major disadvantages is the upfront cost and cost to repair if it gets damaged and needs professional refinishing.
Applying finishes in bamboo flooring is necessary during the installation since it reduced the cost significantly and also makes it easier to repair or refinish in the future.  An unfinished floor has a flatter surface since it can be sanded before finishing.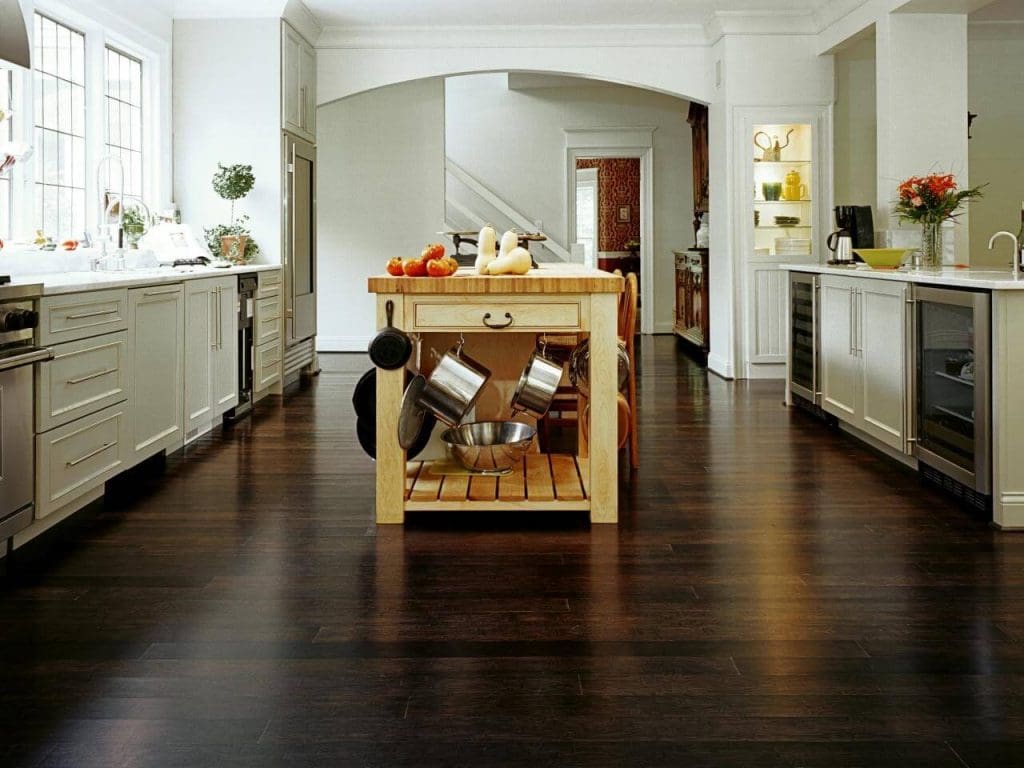 Just like any hardwood, there are several options when it comes to choosing a finish for bamboo flooring. The most popular finishes for bamboo flooring are listed below.
Drying oils such as linseed or pure tung oil
Oil-varnish mixes like Danish oil
Lacquer
Water-based finish
Wiping varnish: polyurethane mixed with mineral spirits
There are certain measures that must be taken to keep your bamboo floors clean and beautiful. Here are the few measures required to maintain your bamboo floors.
It is always better to use a dust mop for mopping. It helps clean the dust and grime much better than any other kind of mop.
As for the broom, make sure to use a stiff-bristled one that can easily remove dirt from even the most difficult places.
The wet mop should be avoided at all costs. If it is extremely necessary, then wring the mop out to thoroughly get rid of extra water from being released onto the floor.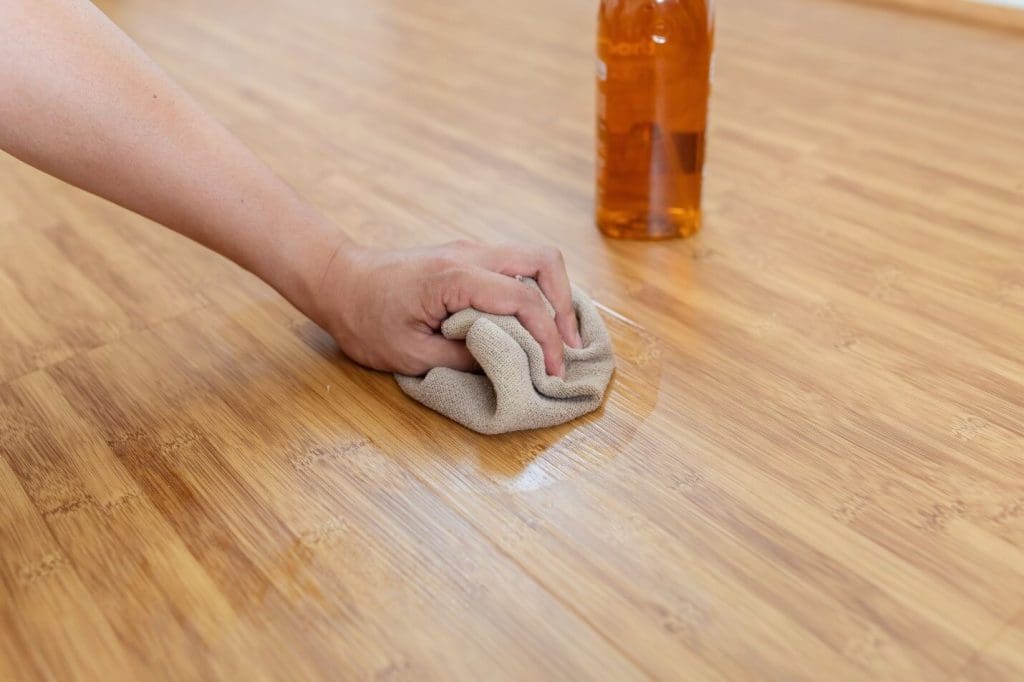 High traffic areas such as living rooms and dining spaces should be protected with floor rugs or mats.
Bamboo flooring is susceptible to damage from sharp objects so watch out for high heels and pet claws.
Make sure to consider the safety of your flooring when buying cleaning detergents. Most detergents carry certain chemicals that can dull the color of the flooring.
The cost of bamboo flooring ranges according to the type of construction and finishes. However, they can be affordable compared to hardwood.
In India, the average price of bamboo flooring ranges from Rs 120 to Rs 600 per square foot. Engineered bamboo is the costliest type of bamboo flooring available in the market.
There are a lot of options when it comes to bamboo flooring. So, make sure to determine which is the best one for you instead of simply going for the one with the highest reviews.
It is always better to consult a professional who can offer detailed insights into the best bamboo flooring options for you.