Gold is everyone's favourite, isn't it? The sheer sparkle, the glittery ambience and the dazzling aura – gold can make anything look better. Be it a golden watch on your wrist or some golden glitter on your shoulders – gold makes anything appear twice as more gorgeous and chic.
Why Should Your Home Stay Away then?
You don't need to overboard when it comes to choosing golden decor for your home – neither by way of cost nor by that of some overwhelming interiors. Golden is a powerful colour we are dealing with, and excess of it might make the spaces look very immature and disturbing.
The correct amount of golden shine and in all the right places would spell magic. Read on to discover what magic gold can bring to simple interiors.
Light Up Your Way With Gold
Thinking of revamping your home interiors for a party by brightening it up with beautiful lamps? Pendant lamps swathed in golden shimmer are a lovely idea to go for, that can be hung over your dining table or right above your bed and they come in a wide variety of exquisite designs.
Besides, you could improvise by combining the grace of candle lights and the intricacy of lanterns for a very traditional and elegant finish. Use golden rims for the lanterns, which perfectly harmonize with the golden flame of the lit-up candle. The kind of beauty it adds to your spaces is incomparable.
You don't need to make it really big when it comes to adding up some golden dazzle to your rooms. A simple idea that ensues is painting the legs of your coffee or bedside table, or those of your resting chair, in gold. Not just for tables and chairs, it holds equally good for flower stands and stool legs.
Nothing very overboard, nothing very visually distracting – still setting up an unmatched elegance and royalty to the space. Remember to pair it with whites, and some browns for an added effect of sparkly splendour in a subtle setting.
If you are a lover of minimalism and rely more on adding statement pieces to your walls and ceilings to complement the minimalism of your room furniture and colour usage, this is an idea you need to buy for. A simple function of a key-stand has been revolutionised with the help of this amazing wall –piece in gold.
The concept is very simple – a minimalistic room space, draped in white or grey or any other such neutral colour, can be glammed up effortlessly with the placing of an iconic piece – a wall-hanging, a showpiece or a relief art – hued in the royal glisten of gold.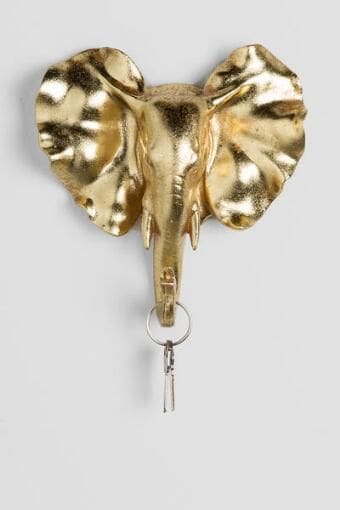 There is no end to innovation and creativity when it comes to home decor. Little items which you might have considered as waste, small obsolete pieces that are now on the verge of being thrown away and things which seem of no use to you, can each be recycled and revamped to make for something new!
You could recolor old used up bottles as little flower vases and paint them in gold for a new look. You could use small jars that you bought your little goodies in, use them as tiny plant pots and seal them in gold.
One way to add a up the glam quotient of your bedroom is by adding a golden touch to the components within, such as the mirror or the stool of your dressing space, the lamp shade by your bed or the rims of your curtain holder.
Went shopping and spotted some exquisite little pieces in gold? We suggest the next time you espy such small goodies, grab them and bring them home! There's no way to brighten up plain neutral interiors than to place such pieces of delight by the sides and corners, beautifully rested on table tops, bookshelves and corner stands.
Miniature versions of your favourite monument in gold are one fresh idea. If anyone in your house has been endowed with trophies and mementos, find good spots to place those too!
If you love gold a little too much, or if you are planning to host a dinner for friends and collegagues, keep in mind that you should not raise the level of golden buzz to a distracting limit.
Remember to pair golden elements with those of silver and beiges. Also, a cluster of such items would only look good if they are all of varying sizes – mostly small, while some bold and large.
Who said you can't have some gold on your sofa? Have a look at this marvellous couch shaded in golden tones, with a touch of metallic and brown. Just apt for grey and white indoors, and perfectly paired with a gold-hued little table and minimal decor.
Though we recommend not to get overwhelmed with such furniture – you could still opt for one to create a stark contrast between the neutrality of the rest of the space and garner attention to this point.

Cushions, yes! We love cushions on the bed, on the divan, on the couch, on the chair – we love them everywhere! What if we tell you that these very cushions could be where you can glam up your space with a little, or not so little gold? Cushions, as you know, come in a wide variety of patterns and colours, by restricting the colour scheme to black-and-gold or white-and-gold, you can work wonders in your living room or the bedroom!