Everyone aspires to have a swimming pool in their home. They are perfect to have fun as a family, entertain guests or relax in summer afternoons. They also increase the overall appeal of any property. With so many options and different sizes, one could get overwhelmed about which type to choose. An expensive installation project, swimming pools require thoughtful considerations.
The first step is to evaluate the purpose of a pool. What type of activities would one indulge in?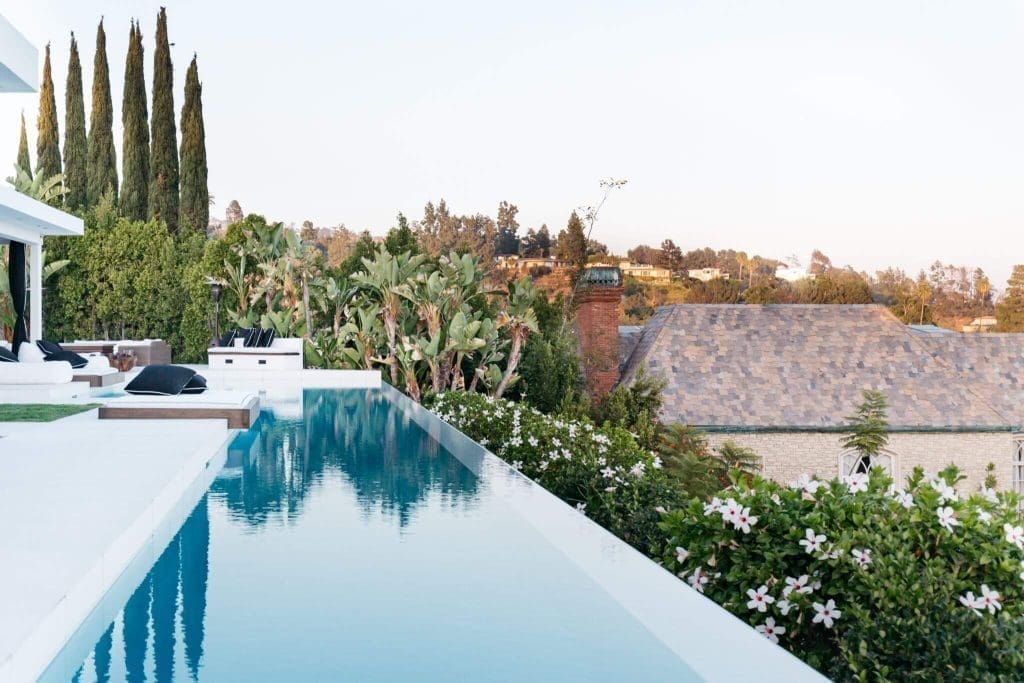 A shallow pool with a deep, for instance, is lodged for recreational purposes. These are ideal for families, where children could enjoy in the shallow end, while adults and more experienced individuals relax in the deeper end. For a family of fewer than six people, the ideal size would be 32 feet by 16 feet. Rectangular profiles are most compatible with families.
For regular exercise and swimming laps, a rectangular pool of a minimum of 30 feet in length is prompted. The minimum space required to construct a pool is 500 square feet.
Apart from rectangular pools, there are other shapes available in the market. Ovals, bean-shaped pools are some examples. Some models can also include stairs which make them easier to access. Some shapes like circles are avoided since they take up a lot of space and leave negative space outside the pool, only if you have limited space.
There are three types of pool options, overflow pool, chimer pool/ non-overflow pool and endless pool.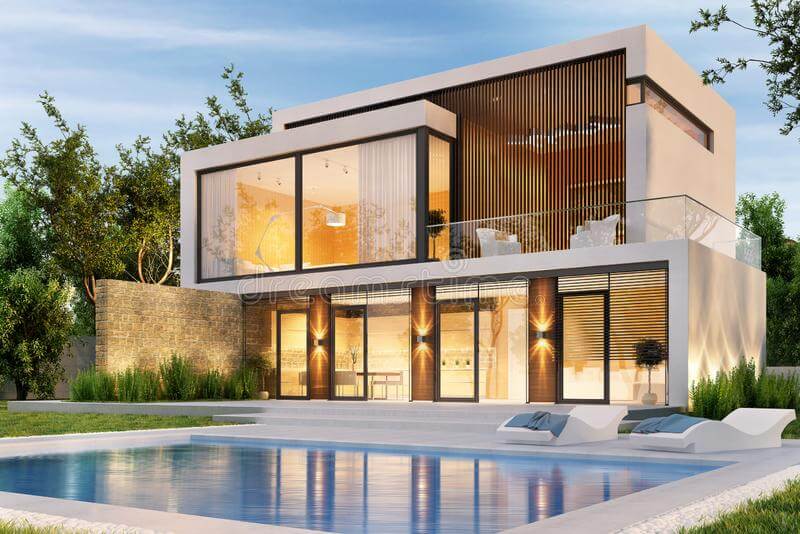 The frequency of usage determines the amount of pool maintenance necessary in the future. Humans, insects, pests, algae and other matter can make your pool unusable. Switching concrete with fibreglass would ensure longevity and reduce upkeeping efforts.
Common Shapes of Pool used in House COnstruction
Some of the common pool shapes are as follows.
Roman or Grecian swimming pools merge curves and edges to create unique shapes. The designs are based on ancient pools.
 The lazy L pool aids movement around the pool, accommodating several people at a time. These pools look exquisite with landscaping and tall trees.
Freeform or organic-shaped pools stand out, even in the most mundane of estates. With a naturalist approach, these are typically accompanied by faux rock formations, waterfalls and themed landscaping.
Kidney shaped pools are almost like sculptures in landscaping and are a great choice for residential swimming pools. They help in naturally placing a shallow and deep end.
The figure-8 pool resembles the number 8, with circular or round shapes with a narrower area in the middle merging two broader areas like an hourglass.
Multi-sided or polygonal pools are versatile owing to the possibility of changing the number of edges present in the pool. Hexagons have six sides, octagons have eight, and decagons have ten edges.
L shaped pools seem to open new dimensions and are the perfect choice to create infinity pools, by creating a unique experience with different views.
Above-the-ground pools are an economical choice that offers speedy installation and portability. These have a deck or patio surrounding them, connecting them to the primary living area. Most of these pools are made with aluminium, resin or steel with vinyl liners. These pools are easy to assemble and dismantle, making them an engaging DIY project.
Modern "Architectural pools are recent yet statement additions to a contemporary home with high-tech features and materials. These are custom designed and can be seen in homes blending in the indoor/outdoor lifestyle, especially celebrities.
Additional Tips for designing Your Pool
The typical lap pool that swimmers use is usually four to five feet deep. Shallow ends, especially for young children are about three feet deep.
Rectilinear shapes are preferred when space is scarce.
To assess the size of the pool, analyse the space in the yard available. One should also consider feasibility and aesthetics.
The appearance of any swimming pool should match the style of your home. A Roman pool would look incredible outside a classic home but would look out of place in a contemporary abode.
Building pools is an expensive task therefore, it is sensible to consider your budget from the outset. For the best outcome, try striking a balance among function, affordability and aesthetics.
With some more research, this article is sure to help in finding the perfect swimming pool for your home.