Cupboards are one such furniture element that you have to have in any space from your home to office as you need storage everywhere right? Due to which even if you are going into the high-end luxurious interior or just some storage elements you will always have to choose between a sliding or a hinged cupboard in the modern scenario.
Both of these types have their pros and cons but both of these are available today in large varieties based on color, material, mechanism, and so on. So, based on the type and area of your space, your budget, and of course the aesthetics you want you will have to make a decision.
What is the basic difference between hinged & Sliding cupboard
Hinged cupboards are typical open towards out shutters that are fixed with simple multiple hinges on the base of cupboards. These panels are generally 24-26 inches each so that there is no excess load on the hinges. These panels of the hinged wardrobe open at an angle of 90 degrees. They are in practice for ages are they customized or ready-made.
The sliding cupboard works on a single track on which the cupboard panel moves from left to right or right to left. To tackle the modern problem of space-saving sliding types of cupboards were invented. Let us see some pros and cons of both so that you can make a wise decision.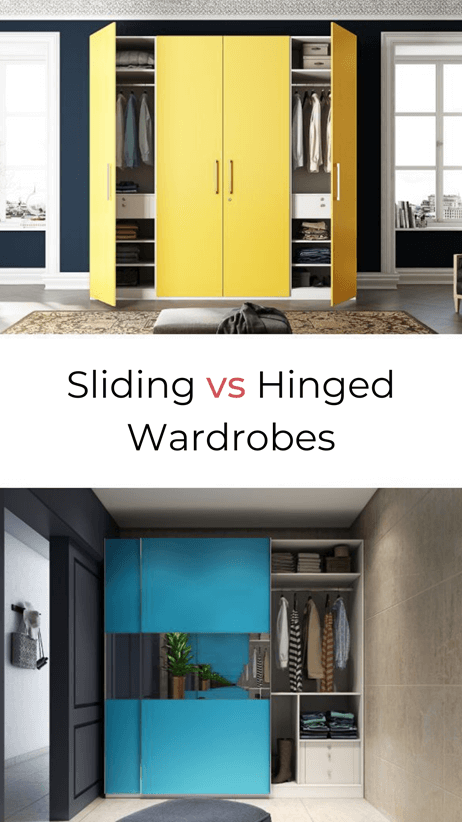 As we know hinged types of cupboards were the first ones to enter the furniture market and they are still loved by many people for their furniture choices. That is the reason they have more variety and choices. Some common basis of variety for these are:
A number of panels – They come from single to double panels to more.
Variety in shapes – They come in different shapes of can be customized in different shapes like diagonal, foldable, curved, and so on.
Materials – As their load is distributed through hinges so they come from hardwood panels to plywood with different finishes.
One of the biggest advantages of a hinged cupboard is that they swing open fully, so you can have a full view at one time. While in the sliding door you can have only half a cupboard view at one time.
One more smart feature of the hinged cupboard is as its panels open outwards you can hang clips or hooks hanger on it and use it as extra storage for lightweight and daily use items like belts, bags, ties, etc. This way you also get quick access to them on daily basis without juggling to find them inside the cupboard.
There are many reasons for which hinged cupboard is called easy to maintain like:-
As you can access the whole cupboard at once it is easy to clean and arrange.
Even if the hinged gets weak or gets corroded after some time (If iron hinges are used) they can be easily replaced by any local carpenter.
The costs of those hinged are also very economical.
As hinged cupboards swing outwards they require a minimum of 2 feet of space for them to easily open, apart from the buffer space you will have to keep free for handling the cupboard which may not be possible in a compact space. 
If the panels of the hinged cupboard in any case or by mistake are left open they might cause trouble to your children running around of someone who is in a hurry they may hurt their ankle, though this can be prevented with alertness and care this is also one of the rare cases where hinged cupboard can give trouble.
Tips to remember for Sliding Doors
Some Points to Remember:
Sliding cupboard panels run on two tracks at top and bottom which are generally 2-3 inches wide depending on the size and brand.
The minimum width of the whole sliding cupboards should not be less than 7-8 feet (minimum 3 feet panel each) anything below this value won't be easy to use or work with.
As the sliding door require extra space for its track to fit the minimum depth for it is between 26-28 inches (minimum) anything can go above this value depending on your design.
The biggest advantage of sliding cupboards for which it is famous is of course that it saves space. As the sliding door doesn't come to the floor it saves a lot of space. It is a perfect storage invention for those small or compact spaces.
As sliding cupboards are modern-day inventions they look very modern and sleek, as they can be fitted into under any space. If these are fitted into the wall by matching its color and texture with the space around it won't even look like a cupboard.
Sliding cupboards can be used for those extra-long storage one after the other. Remember to never keep each panel more than 4 feet otherwise they become bulky and harder to handle.
As the tracks of the sliding cupboards are smooth you do not need any extra strength to slide it, just a gentle touch and it can open smoothly. In the hinged cupboards whereas sometimes you need that extra strength to pull the panels.
Cons of Sliding Cupboards
Every new invention comes with some limitation so, as we know sliding cupboards can only open half at a time you can only see the half part of the cupboard at one time, though you can adjust the panels a middle way to have some glance on both side still it is not very comfortable.
You cannot just roughly push the sliding panel because it can make the alignment of the panels go off the track, which can be difficult to put back on the track without expert supervision. So a handle with care is required with these.
3. Noisy and Maintenance heavy
Sometimes when the tracks and hardware are of not that great quality or are rough in texture while sliding the panel you can feel some noises that may be disturbing.
Sliding cupboards can be expensive than the hinged one as the good quality of tracks are higher in costs than the hinges. Also as it is not our very own traditional the design of the sliding cupboard can require some expert or specific workers/carpenters only.
General Tips for both Sliding and Hinged doors
Always use good quality hardware for cupboards for long-term durability which are rust-proof and have a good finishing and are smooth to swing. (in case of sliding cupboards).
Make sure to get these tracks to have some lubricant filled or keep them checked by carpenters periodically.
If you are getting it customized make sure you are working with skilled labor.
Always avoid overstuffing of your wardrobe with clothes because they can come in the middle of panels of hinged door or tracks of sliding and this can make the smooth functioning suffer.
Hinged Doors vs Sliding Doors
Based on the above pros and cons of both types of cupboards you can make a wise choice, though sliding cupboards can be a little hard to maintain they have their very own benefit of space-saving, while the hinged ones can always be used based on your budget or use but only if you have enough space in the room.