Let us investigate two-story buildings in India.
The best configuration for a primary residence is a two-story building. This configuration is commonly used in sloping site conditions.
 A single-story home appears larger and more spread out from the outside and is more spacious on the inside.
A two-story house, on the other hand, has a visual appeal. From a distance, the property is visible and appears grand when compared to a single-story house, even though it is not that large on the inside.
Indoors, you could easily separate rooms for family members, making the house more organised.
Remember Henry David Thoreau's advice: "If you have built castles in the air, your work need not be lost." That is where they should be. Now lay the foundations." Today, we'll show you an easy way to design your dream home and its execution.
How to Design Two Story in 6 Steps !
1. Zoning and Organizing Details:
    Zoning the various spaces and organising the detail circulation aids in the discovery of a suitable whole space. The interactive areas, such as the kitchen, living room, and dining room, are mostly found on the ground floor.  The mandir and powder room are kept on the ground floor, while the private areas such as bedrooms are kept on the upper floor for easy circulation.
2. Specific Details of Spaces:
Thinking about the different types of spaces: It is critical to divide all of the spaces into specific percentages. Spaces that are open and closed. Leisure and common spaces,  Think about the style you want for your rooms. Would you prefer a more modern interior design or an intricately designed space in the style of traditional homes?
3.Consider your surroundings:
We would undoubtedly adore living in a house with breathtaking views from every room, but this may not always be realistic for new buildings located in bustling urban areas. Decide which room will have the nicest views by doing so.Just watch out that you don't accidentally plan a room for the wrong part of your house when doing this.
4.Local Materials and Labour:
This factor aids in budget calculation. and be aware of the best practices and options to build a dream home.
5.Conduct research and development on model floor plans:
A better drawing can be produced by conducting thorough research on the technical requirements, orientation, window door placement, and bathroom placement. Dreamers can obtain such plans and direction from Happoh, who is facilitating ease of existence.
Types of Two Story Concept with 2d plans and Front Design
1.Cool luxurious House Concept: 
Modern homes place an emphasis on the features and advantages they have to offer as well as their visual appeal. In fact, the majority of homes today place an emphasis on energy efficiency, which encourages sustainable living.
The layout is a spacious 4 BHK on duplex building on a plot of dimensions 40 X 55 with a porch that can accommodate 2 parkings'.
The floor plan is ideal for a North facing entry.1. Kitchen will be in the South East corner which is ideal as per vastu 2. Master bedroom is in the south west corner which is ideal as per vastu 3. Living room is North East Facing which is ideal as per vastu 4. The number of doors is odd which is not ideal as per vastu.
This can be corrected by adding an additional door for the store area.
Description: Living Room: 2, Bedroom: 4, Bath: 4, Dining Room: 1, Kitchen: 1, Parking: 2.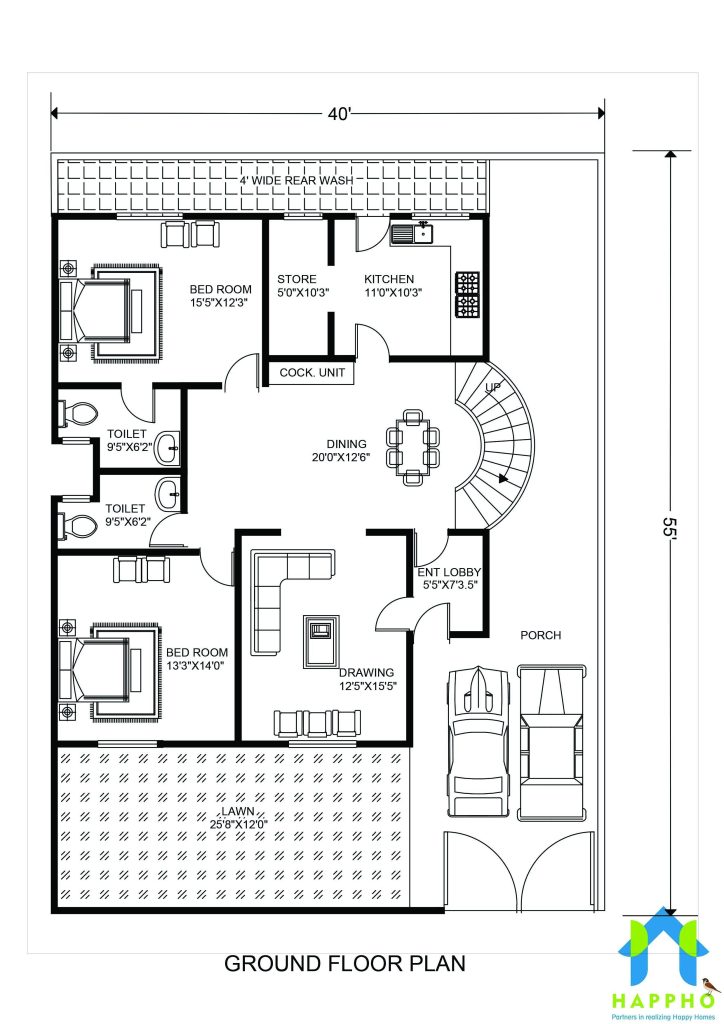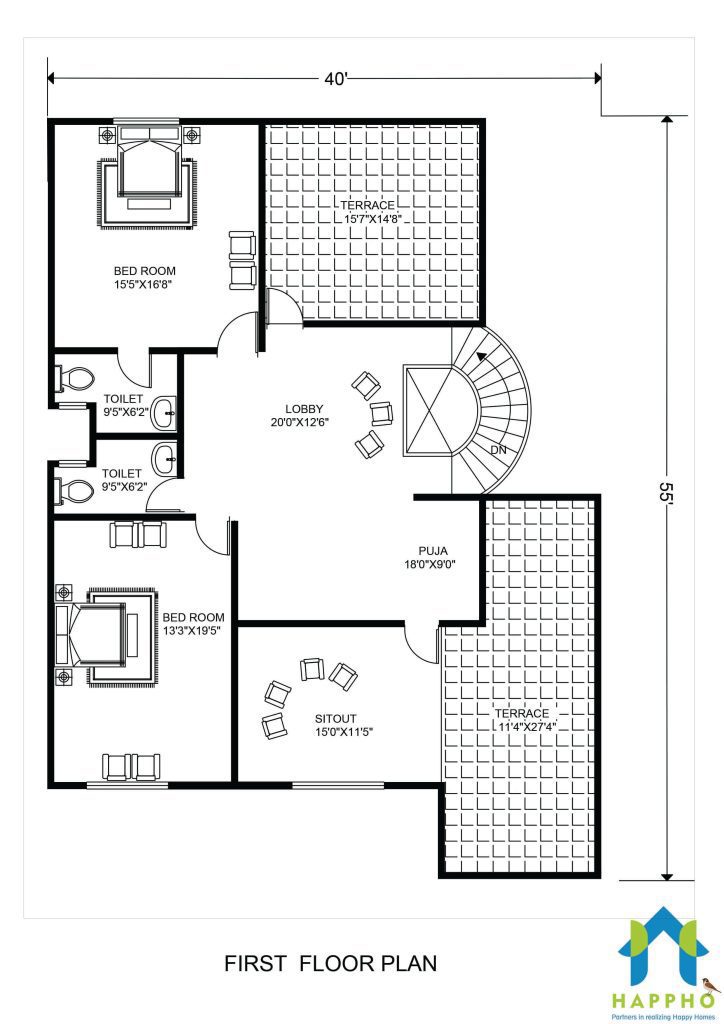 The frontage of this modern property features a lovely walkway.
It has a welcoming carport with a cream-colored concrete canopy roof and an elevated verandah.
The cream-colored plaster coating on the external walls is neat and justifies grace.
The brown oak laths used for the ceilings, however, are a wonderful complement for the wall covering.
 The surrounding lighting is lovely enough to spotlight the building. The balcony is accessible from the master's bedroom which is a perfect space to enjoy a scenic view of the surroundings.
Likewise, there are enough openings and windows through which the captivating beauty of nature is felt inside.
2.Compact modern planning Concept:
The focus of alternative construction is on modest housing.
Tiny and mobile homes make the best second homes, whether you want to place it on your main property or buy something for the holidays, tiny and relocatable homes are ideal for a second dwelling.
The layout is a single floor 2 BHK with a single Living room, 2 bedrooms, kitchen, and puja room. The layout has open space in the front area for outdoor seating/bike parking.
The floor plan is ideal for a North facing plot for North entry House which is Ideal as per Vastu.
Kitchen is placed in the South east corner which is ideal as per Vastu. Master bedroom is in the South West which is ideal as per vastu. The Living Room is in the North East corner which is ideal as per vastu. The number of doors is Odd (9 Nos) which is not ideal as per vastu. Staircase is in the North West corner which is OK as per vastu.This house plan is quite vastu compliant.
Description: Living Room: 1, Bedroom: 4, Dining:1, Kitchen:1, Bathroom: 2 and Parking: 1.
For small homes, softer exterior colors serve to give the impression of a larger space. With our skill in design, we at Happho attempt to balance open and enclosed spaces in tight spaces so that they don't appear to be boxes.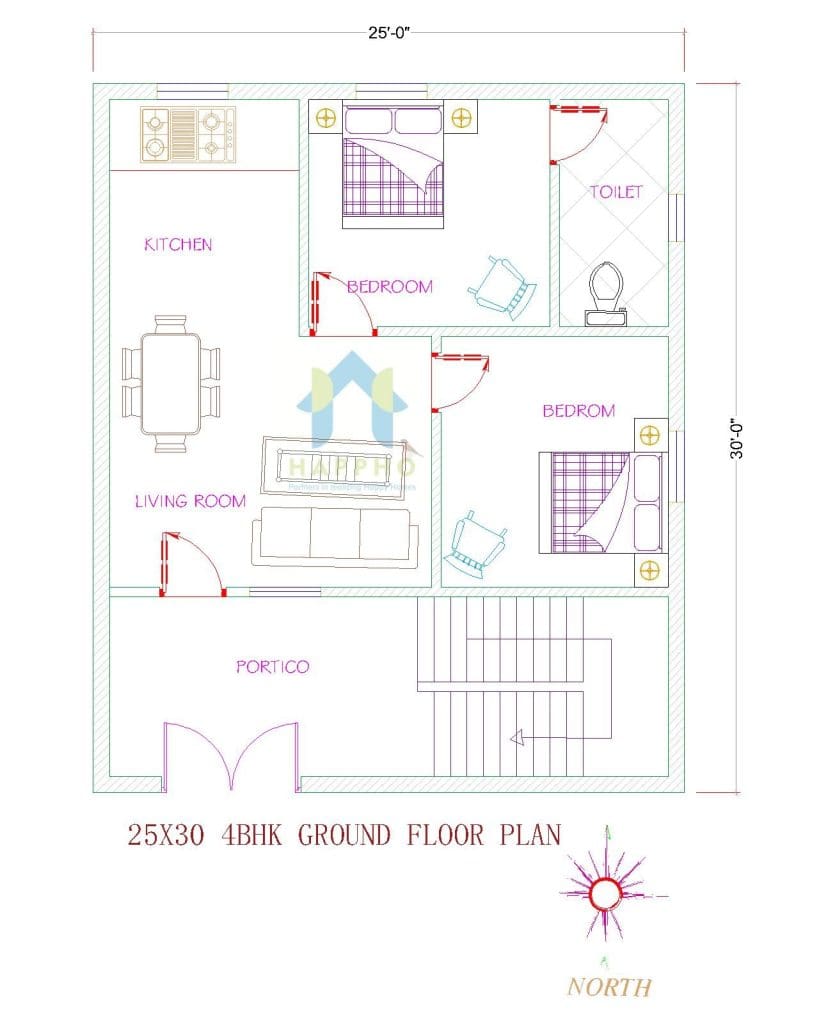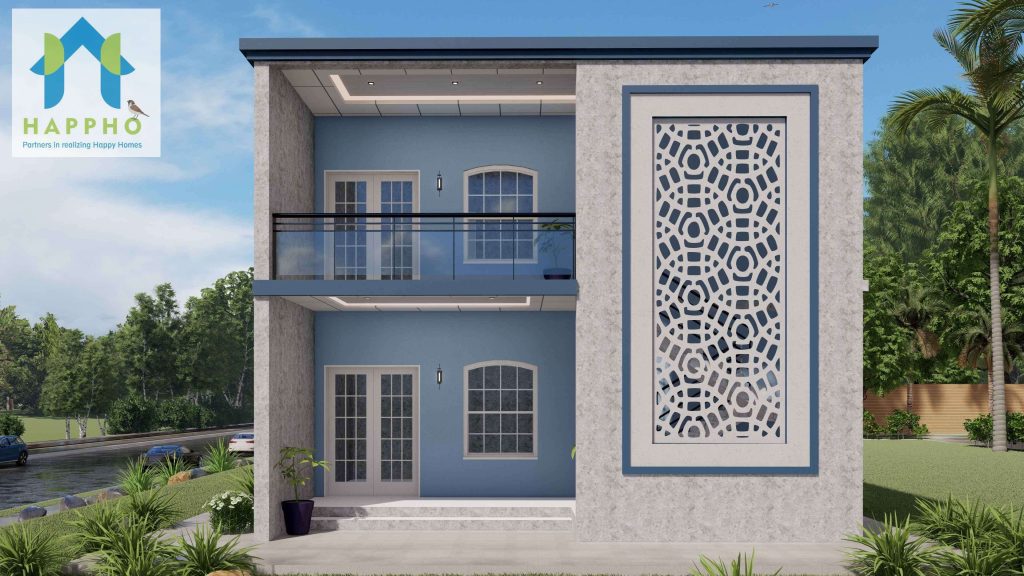 3.Luxury 3 BHK Two Story:
This new bungalow house design is meant to accommodate luxuries. The bungalow offers a perfect choice to welcome guests in the most wonderful way imaginable, with light-colored walls, a patio, and sit-ins inside.
The layout is a spacious 3 BHK with a 1 Living room, 3 bedrooms, a store, a pooja room and a kitchen. The layout has a separate car parking area. There is a dining area included in the living room in the layout. The Master and children bedroom has an attached toilet. There is a rear opening porch that can be accessed from both master and children's bedrooms. There is a small store attached to the dining area.
The floor plan is ideal for an East Facing Plot South Entry House. The south entrance for the House is NOT ideal as per Vastu.1. Kitchen is placed in the South East corner of the building which is OK as per Vastu. The stove is placed on the south side of the kitchen which is NOT ideal. It should be placed in the east or north side of the kitchen. 2. Master bedroom (with attached toilet) is in the South West which is ideal as per vastu. 3. The Living Room is in the North East corner which is ideal as per vastu. 4. The number of doors is odd (11 Nos) which is NOT ideal as per vastu.
Description: Living Room: 1, Bedroom: 3, Dining:1, Kitchen:1, Bathroom: 3 and Parking: 1, Puja Room 1.
For more such combination you can refer our free plans at https://happho.com/sample-floor-plan/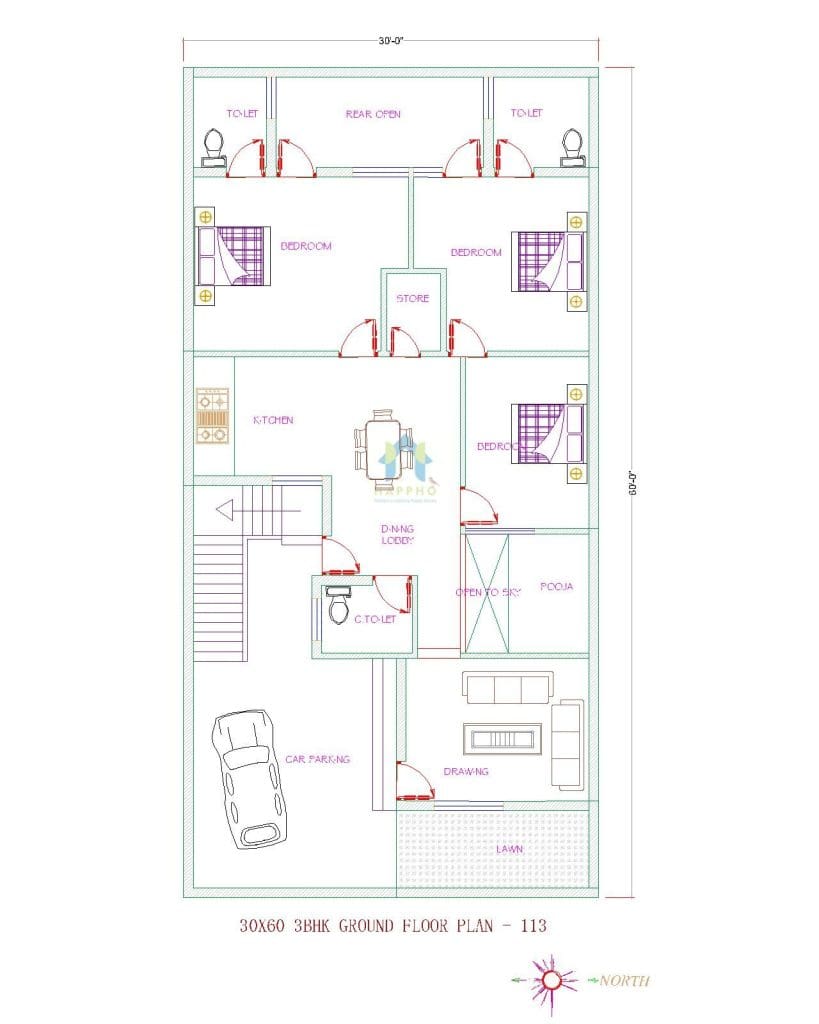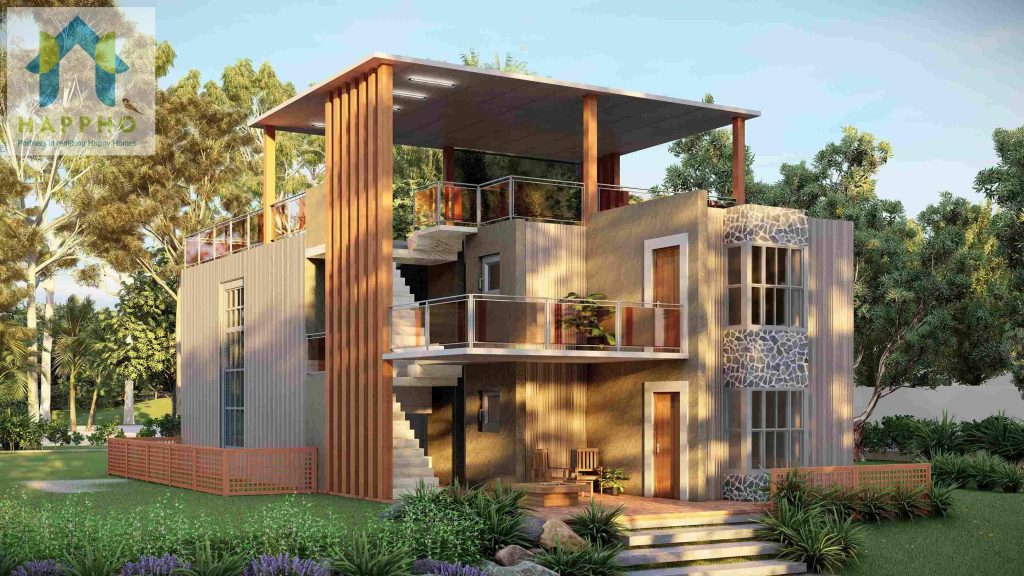 Tips for Low Budget Dream House
In cities, purchasing a home is never simple. However, a dream can come true, and Happoh has advice on low-cost homes.
1.Masonry furniture:
Bricks can be used to create furniture that is exposed, such as seating platforms , bar counters and ,saving money on more expensive furniture.
2.Cement Walls:
To give a room a contemporary industrial look, concrete can also be used on the walls. Compared to ceramic tiles, it is a more economical choice, and it also requires no upkeep.
3.Exposed Brick Walls:
Exposed bricks give off a raw, concrete appearance that is extremely claustrophobic in home design. In addition to bringing warmth into the atmosphere of the house, exposed brick eliminates the expense of plastering and painting the walls.
4.Concrete blocks:
Using prefabricated concrete bricks, you may construct your own house in the Lego style. They are a cheap alternative that is very easy to use in construction.
5.Experienced Contractors:
Any house capital is primarily material-oriented, thus hiring an expert contractor is necessary to prevent material waste. At Happho, we use all of our expert labourers and contractors to build an incredible home.
6.Reuse and Recycle:
Whether it's your furniture, decorations for your décor, or other items, recycling can help you save a lot of money.
7.Time is money:
The most crucial advice for homeowners on a tight budget is to realise that time is money. With the help of our firm and expertise, we develop adequate work schedules and assign them to the appropriate contractors. This process helps us deliver a home at the appointed time.
" Dream High and Happho will make it come true"