Our puffy friends deserve as much a beautiful and snug place in the house as we do. Cats are the factual landlords of the home, aren't they? Cats love to be all over the place and keep looking for things to play with. They might completely ruin the house and still not care, while you are left with no option than to give in. what if your house design allows your feline friend to play and run bout, without it being particularly messy, because, well, the space is meant for your cat?
Let us take you through a few tips for any cat owner's house – some in their design, some in their decoration, and some in their materials.
Home Design Tips for Cat Owners
Use Cat Friendly Rugs and Carpets
Cat-friendly carpets are those that allow them to nap around lazily, because cats do just that. Plus, carpets aren't as slippery as the bare marble floor and are hence safeguards for your feline friends. The choice of carpet should be wise enough. Light coloured carpets are prone to staining and pet hair. Area rugs are good for living rooms for your pet. They are useful for distracting the eye away from dirt and stain.
Choose Paw Friendly Flooring
It is a common conception that hardwood flooring is the best kind of flooring for pets. In reality, hardwood floors are prone to more grazes and indentations compared to laminates and stone or porcelain tile flooring.
Furthermore, pet activity might lead to sagging of the hardwood floor which will have to be taken care of later on. We admit replacing the beauty and elegance of a hardwood floor and also sometimes its desired functionality is tough.
So, if you are at all bound to go for wooden flooring, choose a quality that is paw-friendly.
Upholstery (Fabrics) that are Safe Against Their Paws
Sturdy synthetic fabrics are the best option if you are looking for something that shall go well with the activities of your pets. These fabrics are stain and dirt resistant. The fabrics can be even rendered free from germs for improved milieu for your pets. Micro-fibre fabrics are easy to clean with soap and water. Fabrics can be specialized for resisting UV radiations, moisture and tough stains. Furry fabrics are a good choice if you wish to camouflage pet hair.
Our feline friends love to spend their time sleeping and lying on window sills. This zone can be transformed into a pretty and snug area which provides your cat a very comfortable zone. If you make window sills a little wider, you can provide that extra space for your 'purry' friend to spread and relax like a boss. This increase in width doesn't cost anything to the visual appeal, whatsoever.
The reason being still the same, patterned picks are sure to conceal any stains and pet hair resulting from the activity of your pet pal.
Patterns also prevent the interiors from looking boring and monotonous. The cat shall also have a good time jollying around amidst an array of beautiful patterns and designs that stun the interiors.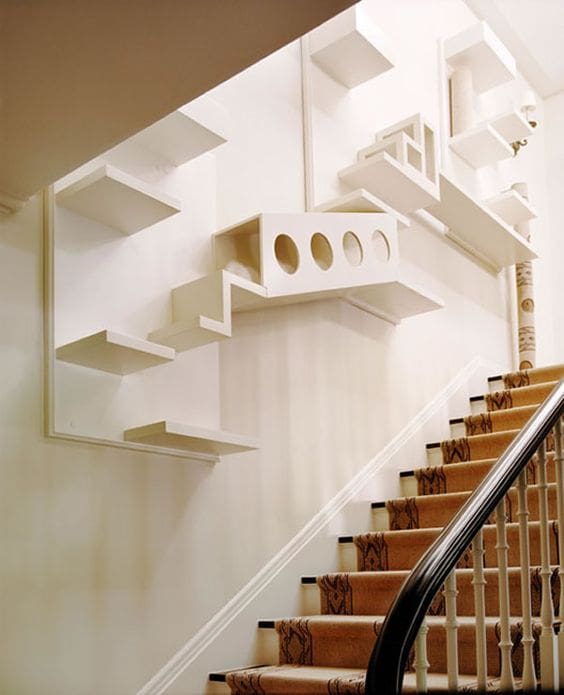 A special play area for the cat, well demarcated from the kitchen is sometimes desirable. But we are not talking about some closed space or room dedicated to moving around and sprawling.
There is so much that you could do for your little cat in terms of designing a play area. Playing vertically, you can create a tree for your cat to move up and down. This could be even replaced by steps and level changes, sills and windows and so on.
Cats love to catch hold of small objects of attractive value and then mess up the entire space. You can decorate the little play area with these very objects such as balls of wools, baskets and pillows. Your cat shall be more than happy, and your house shall be more than neat!