Parents who have toddlers or even small children at home know the importance of a good play area for them, as kids tend to run all around the house as they do not have their own dedicated space or space which helps them grow their creativity and do things on their own. This does not mean that you need to just cater to this play area by dedicating one room to them. No, because kids tend to enjoy the whole house and that's how they grow and develop by exploring everything.
Especially these time when the whole family is spending more and more time at home and the fact that children cannot go and play outside it is a need which cannot be ignored, so it is very important to carve out small play areas all around your home even if it is a mall home. 
It is all about being creative and smart to do it so that your children grow in a fun and healthy environment. Let us see some of the ways below through which we can amplify these:-
1. Fix Layout of your Living Area
Do you want to make sure you have an eye on the kids while you are working or doing house chores? Then you need to dedicate an interesting space in your living area so that they have no choice but to sit there and play. There are few things that you can put in this area:-
You can fix a small space say 4 feet by 6 feet anywhere where your kitchen and living connects. 
If you do not want it in the living area make this area wherever you want like the top of the staircase landing if you have a large kitchen that would also work or a connecting lobby.
Set a boundary of 2 feet in this area if you have a toddler, in case you have children between the age of 3-5 years you can just set up a nice floor cushion so that they don't hurt themselves, make sure all of these elements are colorful to bring vibes for the happy children.
Set the wall differently for this area like applying fun wallpaper, or different colored paints to decorate it the way a child would like.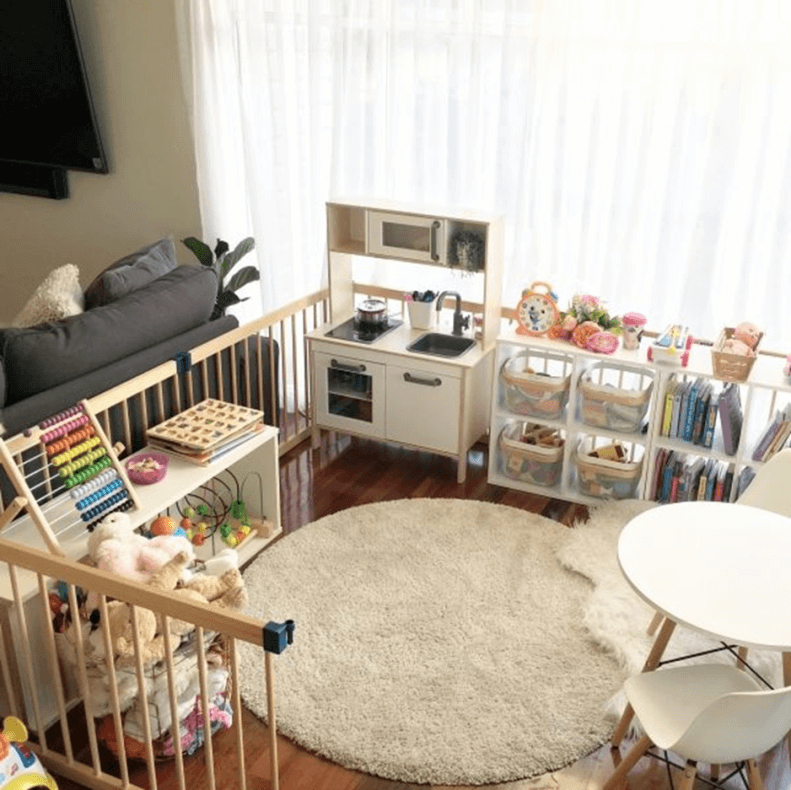 We know children tend to create a mess in whichever area they play so it is very important to have furniture not only for the storage of their toys and stuff but also the furniture with which they can interact. Some of the options are:-
Make sure the height of the furniture is anything between 1-2 feet for toddlers to 3-4 feet for small children; this makes them play with their furniture.
Make sure you have some storage boxes of this height on which children can sit as well they can arrange and fix their toys on their own.
You can put children's furniture like their table and chair, small benches or you can even customize their small sofa or puffies, put this furniture in the concerned area or all-around your house with adult sitting, this way you can play with them without disturbing your comfort.
Make sure this furniture is in fun colors and designs made of wood or have some soft finish.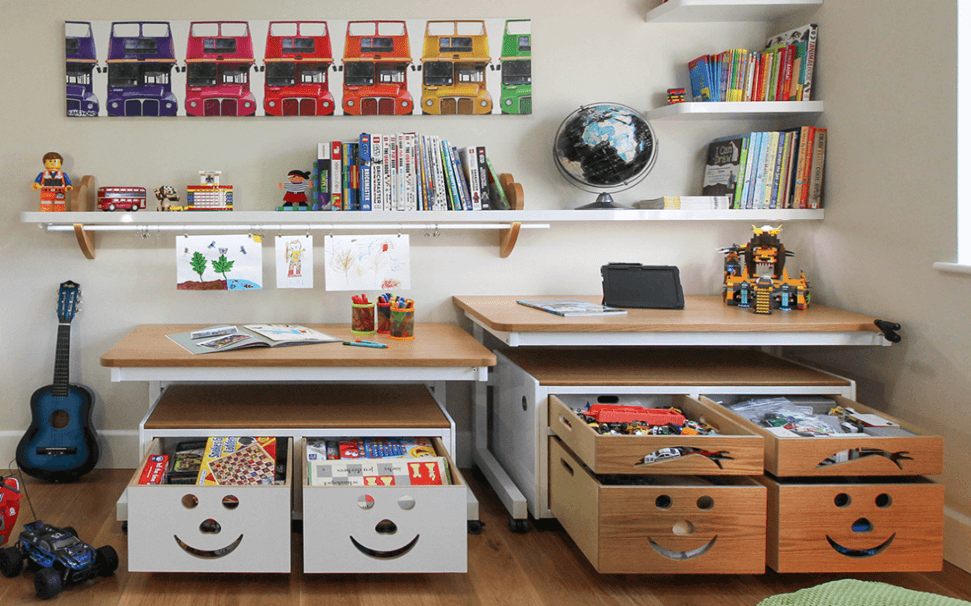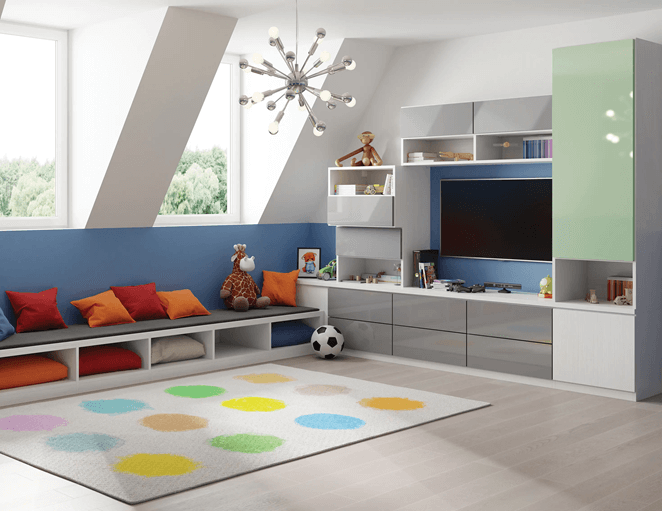 Children cannot speak much but they can feel, colors are one thing that entices them the most so make sure you have fun and happy colors around your house, wherever there will be happy colors children will tend to play in that area only no matter how big or small it is.
Kids tend to like vibrant colors like reds and yellows but the problem is you cannot always use these colors in your house, so if you are carving out a small play area in your home then use colors that are middle ways between the one you and like would like.
Instead of red use magenta pink or garnet instead of yellow you can use mint green or garnet, instead of blue use pastel blue and pastel orange at some points.
You need to mix and match hues from the main primary colors only that works all over your house be it used by kids or adults.
You can also fix and match some lights and darks like yellow and grey, pastel green, and dark green, you can either paint them in some manner or make a design/texture-out of them.
If you have properly separated children's play area somewhere around the house with a proper partition or you have distinct room for them then you can use deep red and dark blue and vibrant yellow also, make sure in no way they get mixed with other space when used directly.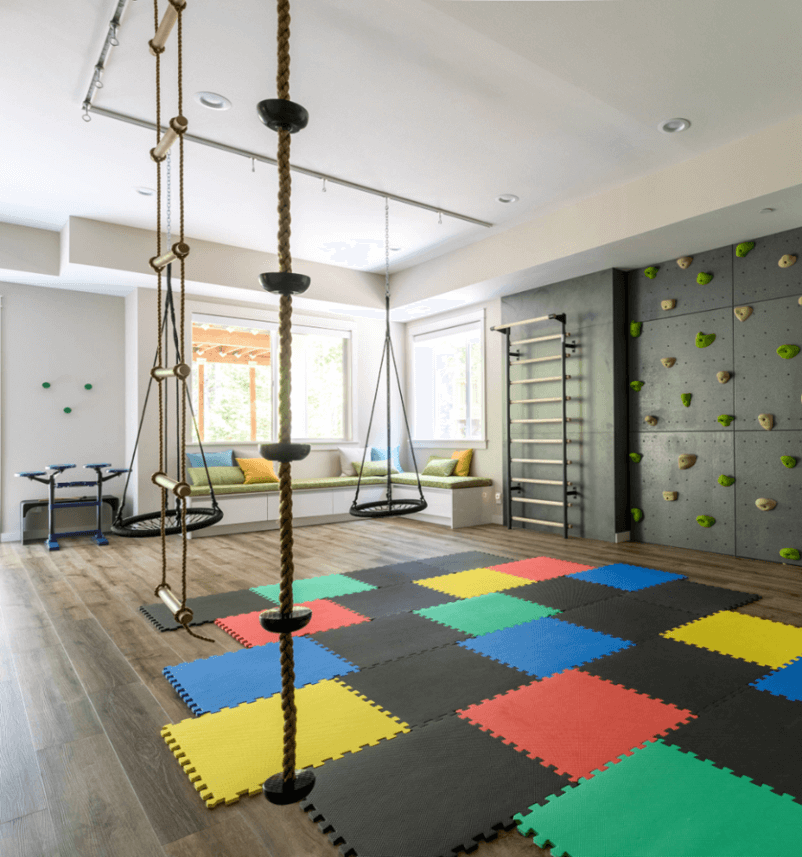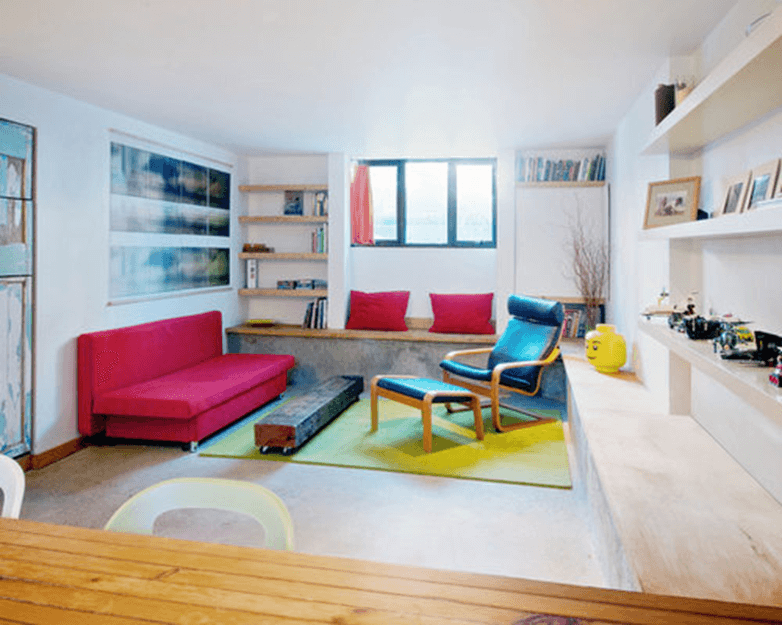 You know you need to double up your storage when you have kids around so why not do it the smart way? For this, you need to have a designated storage space because in a small space you cannot just let the toy clutter spread. Some options that you can consider are:-
You can also for long storage toy chests that do not have very vibrant colors so that they look good in small spaces when you do not have separate spaces for kids.
You can buy hidden storage furniture also like a children's ottoman in which your children can store toys as well as use it as a sitting. In the same way, you can have some hidden storage in their study table, bed, etc.
You can also customize a cupboard in such a way that one of the shelves opens out at 2 feet height so that your kid can also operate it you can finish this shelf with some different and vibrant material/color.
5. Removable / Detachable
If you are planning to install a playhouse for your kids which is a complete set that requires quite a lot of space then you need to keep few points in mind:-
Make sure you have a separate corner for this area that has a minimum circulation around it a living room corner or a lobby won't work for this.
You need to dedicate a space which has some kind of separation like under the stairs or in your courtyard or backyard or even if possible a corner in the balcony in case of the apartment.
Make sure this playhouse is detachable and easily removable at times so that you can multi work with space when you have a small home, you can rewatch this whole setup again when in use. A lot of different brands today are offering these types of playhouses for small spaces.
6. A Chalk Wall for Kids to Write
Last but not least, children love to write and draw on the wall so make sure you use chalkboard paint that allows your children to write or draw anything on the wall without any fear just like a black/green board, the best part is you have a variety of colors to choose from.
This paint has a hard scratch-resistant surface that can be applied not just to the wall but even to the surfaces like wood, metal, glass, concrete, and more. You can clean it up anytime you want just like a normal blackboard in your school.