Do you love hosting gatherings at your home? Do you love parties but only in the comfort of your home? Well, then this article is for you. Many people think they can hold any type of parties at their home just with some additional movable sitting in their living room.
But it is not like that every home interior should be done according to the need of the user and in this case, it is to design a home in a way that can hold gatherings without disturbing the actual spaces of the house.
For this purpose, the home necessarily needs not to be large but it is the scale and proportions that matter. Even if you have specifically targeted and separated the space requirements with the right scale in a small home it will look perfect.
Being able to entertain your friends and family over is one of the best feelings right? So now let's just see how can we achieve a space like that or convert our existing home into an everlasting experience for your guests.
Keys to Designing a Gathering space in House
1. Design an inviting Entry
This is of course the first thing that your guests see when they just enter your house. Let us see some small trick to achieve this:-
If your house is not really large in size you can have an entry that opens directly into the living room.
If your home is really large in size you can let the guests enter through a foyer with a dramatic or contemporary design that blends in with the theme of your home inside or your personality so that the guest know what kind of fun they are going on to have in your space.
The entry should be warm and welcoming and not plain and simple, you can even make a picture wall where your guests enter while getting to know you.
You can even design a temporary entry with respect to the theme of the party or gathering you are going to have.
In the above figure you can see how contemporary yet dramatic entry is achieved with the help of pictures, colors and a piano to add the drama.
This step depends on both the size of your space and also the type and size of your guests. It also depends on the type of parties you usually have, the trick to make multifunctional seating spaces so that when you hold parties there is no limitation of sitting. Let us see some trick to achieve this:-
If you live in an apartment and you do not have an option of outside seating you need to be really multifunctional with this step like you need furniture and siting that separates a space, like two different sizes and designs of a sofa set or one with an l-shaped sofa and one with a multifunctional couch and lower sittings without any partition in the middle so that they are all connected with each other.
You can even opt for a low heightened contemporary and colorful or on-the-floor sitting space like in this picture below.
If you often have parties that involve drinking you can set the kitchen counter into a bar table with high sittings so that in case of parties it can be used as a bar counter and otherwise as a kitchen counter or dining.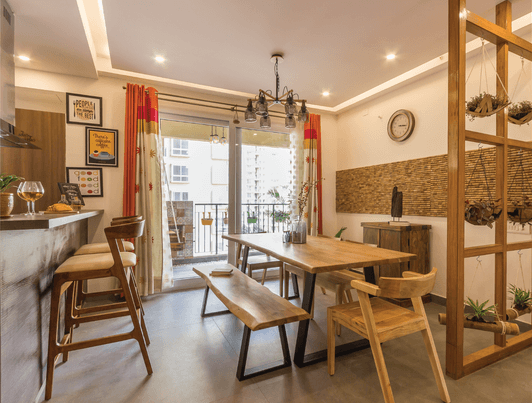 In the above picture you can see how beautifully a bar counter space and an additional sitting space has been segregated in a small living space.
The above picture sets a true modern and clean vibe with some additional low seating.
In the above figure you can see how beautifully a low seating space has been designed for you and for getting guests over place.
3. Interactive but Hidden Spaces
Often times it happens that with the involvement of a lot of interactive and open spaces we lack privacy, like the guests are then the part of every activity happening in the kitchen, so in this case, you can separate the kitchen areas.
One main cooking kitchen area can be in the backside and one in the front with the connection of living space that can be used for serving and preparation so that the guests are part of your party process and still you can have your privacy.
In the same way, you must add some privacy in the powder room where anyone who feels like touch up or have a little me-time. You must place the powder room near the entryway or a little far away from the party spaces for the guests instead of in-between the living spaces. The in-between washrooms can be used by the home-owners themselves.
You can see in the above pictures how privacy is achieved beautifully in powder rooms.
4. Lighting to Set the Mood and Tone
Lightning is one of the best ways to make any space more livable and more entertaining. So the right lighting always sets the right mood, let us see some of the methods to do it:-
You must layer different forms of lighting together, for this you can make a layered lighting plan like the perfect combination of day-light, ambient lighting, accent lighting, and spotlighting all together to use them in different ways and setups.
You can add dimmer switches they are mostly cost-effective and allow you to set different lights and different temperatures to get different types of illuminations whether required bright ones for birthday parties or low mood lighting for a dance party.
In this picture you can see how coloured lighting has been layered to achieve a mood living room.
In the above picture you can see how a modern yet traditional living space is combined with natural lighting.
If you have the luxury of a large portico or foyer area in your house nothing like that, you can design this area in so many ways like having poolside dining or a large open sitting in the daylight, adding a different type of gaming and deck spaces can create an amazing party space but if you do not have a large open space there are few ways to blend inside and outside space, let us see some:-
You can add retractable windows or different type of large windows or sliding doors to let the guests enjoy indoor with an eye on outdoor as well. You can also use louvers or climate-sensitive glass to do this step to minimize solar gain.
You can also add a large open-outdoor kitchen or a bar outdoor landscape and landscape seating etc.
If you have a large balcony in your apartment you can also get it ready with the right amount of seating and lighting to use it as a party space.
Make sure to add some greens and landscapes and indoor or outdoor gardens to feel the fresh breeze and also enjoy the greens.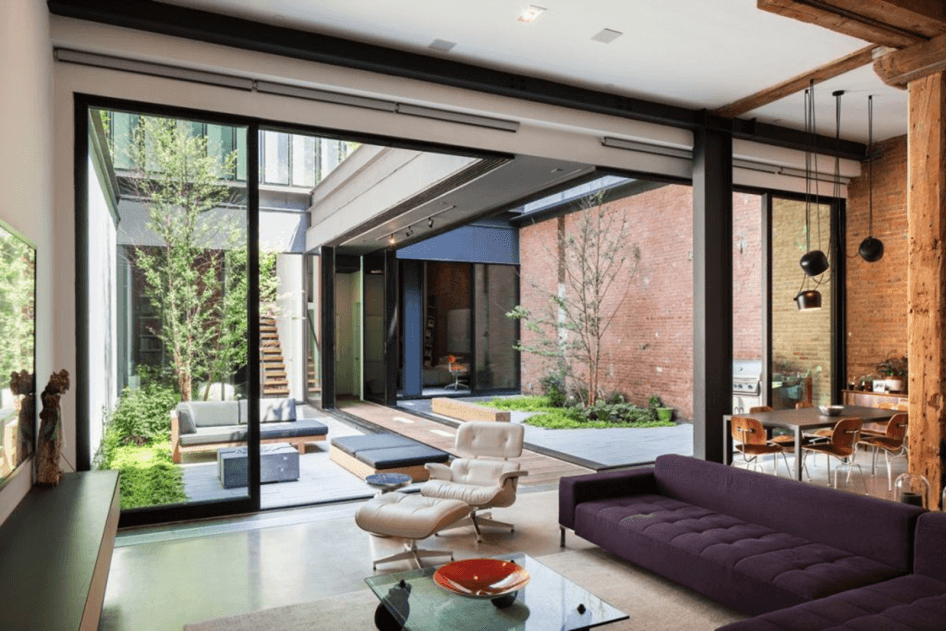 In the above picture you see a open living with numerous sitting which is blending in which outside environment.
You can see in the above picture how a modern open kitchen has been combined with the outside garden space.
You must remember always that it is not the large space that matters but the right use of scale and proportion to make the home look perfect for any requirement. In this case of designing for gatherings to must keep in mind, your choices and the type of gatherings to would like to hold and then you can go on according to those requirements in mind.