We all get bored really badly in some point of the year that we feel like just going to a place which is away from these stressful lives. A place with peace and nature, less people, no traffic etc. That is why people build weekend homes, or rent it out at some place like hill stations in India for say Himachal, south India etc.,
Some people if they can afford build a weekend home according to the requirements of their family, or some even buy existing ones, or some buy in partnership with others. It depends on person to person as weekend home have generally larger in area than the normal homes, have spacious gardens and more open spaces thus they are usually highly expensive.
But in your life if you have this one staycation home where you can just go and relax and what's better than that. So, in this blog we will see some tips and ideas that we can use in designing our weekend home or incorporate in the existing one.
Tips for Designing various spaces in a Weekend Home
1. Add more Nature and Garden Space
What's a weekend home without a lot of nature and green spaces?
In our normal lives the only way we have time to stay connected to nature is in the forms of some indoor plants, that too we rarely have the time to take care of them.
So, one thing you need to must have is a large garden or open space, with sitting areas, proper landscaping with lights, natural stones, different flowers and you can also follow the trend of agriculture.
A lot of people are growing natural fruits and organic vegetables today even in their small garden. If you have interests like this, then farming in a weekend home is a great way to have fun, stay close to nature and also earn some errands.
2. Create a Gazebo / Outdoor Sitting
Now when we are talking about nature then the best time we can have in our weekend house with our family and friends is to enjoy the outdoor spaces as much as we can , so building a good gazebo where you can dine in play some board or interactive games, or just chill by lying don in the daytime is a unique thing you can only do here with a small water body in between and all the flooring with natural stone which feels fresh to lie upon in the summertime. Here you can also install a large or multiple swing for the kids and even adults to enjoy with. Here one can even read some calm books or listen to their favourite music.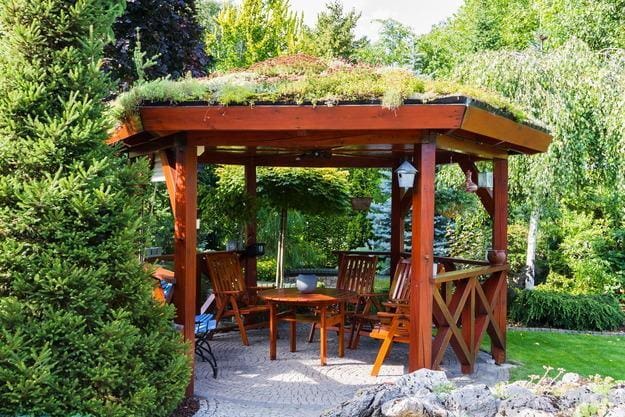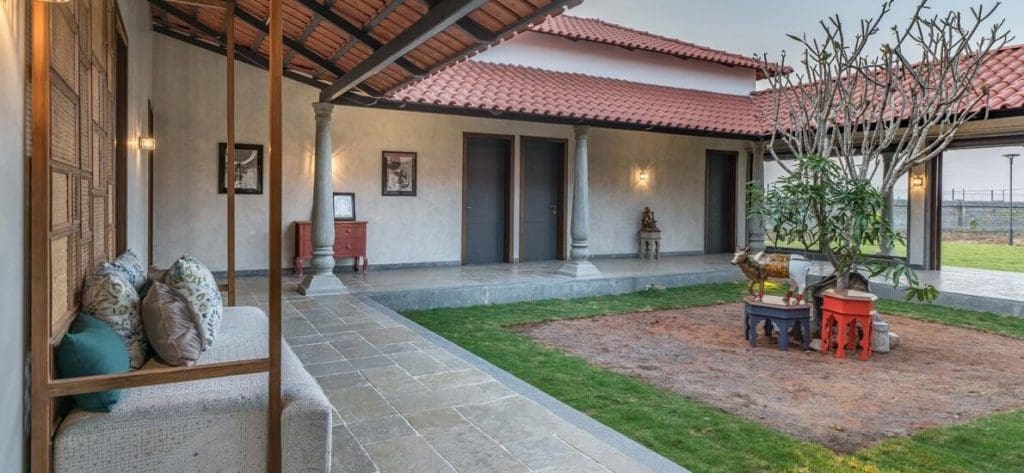 When we are talking so much about the outdoors then how can we forget a swimming pool.
A good water space is all you need escaping from that summer breeze if one of your family members do not like water they can also sit beside the poolside with a book or just lying down on the beach chair next to the pool.
Swimming pool will also work as an element to keep the environment cool of the place, you can also enhance your skills of swimming as a sport here.
4. Double heighted or better ventilated Living Rooms
When you are having such large outdoor space you can maintain a balance with living room.
Living rooms can be double heighted for more ventilation and even there can be skylights cut on the roof top if you want to bring in the natural light inside too. The windows in living rooms should passively be made in a way so that from the inside also there is proper connection to the outside green space.
There can be a central staircase from the living room going to the upper floors if you have the space or from sides , on the walls supporting the staircase there can be large windows which are made up above on the walls , so that the user can have a good experience of outside from here too.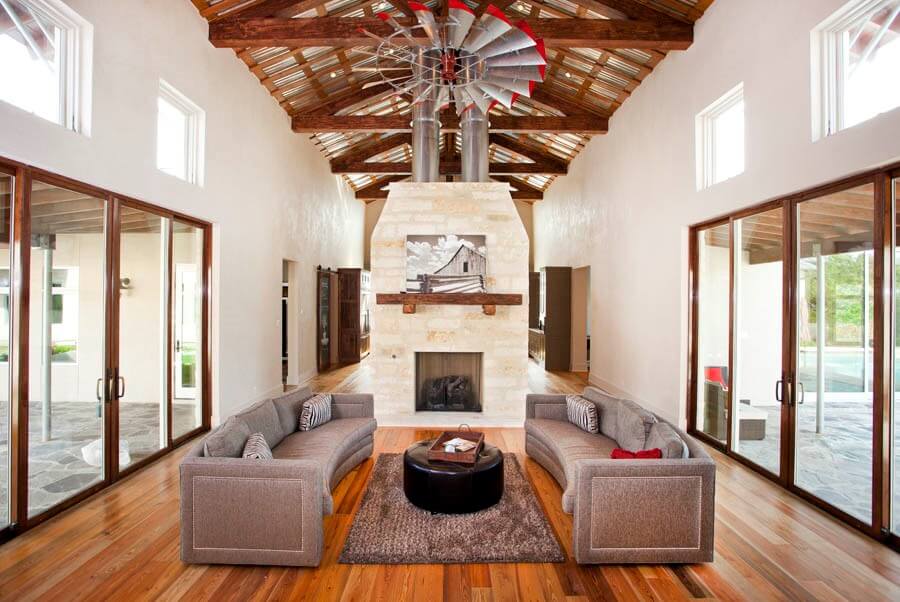 Bedrooms can be made larger then usual with large windows again aiming at the view. You would want your bedroom to have a pool view or a simple garden view. You can design and define according to the views. The bedrooms can have a larger bed than usual and an extra couch or sitting space with minimal storages an attached washroom etc. You can also use wooden designs on the ceilings.
6. Theme for Weekend Homes
You can even decide the theme of your weekend house like: –
An Indian Rajasthani themed weekend house can have a haveli like built in structure with ogee arches, typical Rajasthani themed furniture, sitting spaces.
If you want you can also pick a Portuguese style in which you can use a lot of blues and whites, iron staircases going from outside and some Portuguese style furniture (refer the picture below)
A Persian, farmhouse or coastal fashion weekend home can also be made both externally and internally.
If you are not a fan of any theme then go with the classic simple luxurious methods of incorporating a lot green space, outdoor space, a lot of wood and natural stones eventually building a luxurious space.
One more idea is to experiment with the levels, like living room at level one then on level two you have a common area where you can have kitchen, dining space and on the level third you can have your private areas.
One thing you must keep in mind for a good design of weekend homes is keeping it minimal.
Do not clutter this place with a lot of furniture and storage. Only keep what you will actually need when you go there, like a good sofa set, couch or other sitting objects, a dining table, a good bed in bedroom and that's it.
Some can be outdoor furniture as well. But just because you have a larger space do not burden it with furniture. For a weekend home MINIMILISM IS THE KEY.
8. Create a Terrace Garden
What if the outdoor space is just not enough you have the best chance to setup a nice terrace with a lot of landscape measure like use of green, water, stones and pebbles all at once but systematically with nice seating spaces from natural seating areas like stone, to a round table chair setup to even terrace beds where you can even sleep .You can even create a small kitchen on pantry on terrace as well so that it is easier to serve yourself on terrace as the space would be large to travel so much.
So, these were some of the smart tips through which you can make your farmhouse /weekend home or even if you have large home normally. These tips can help you achieve a beautiful space for both interior and exteriors. Make sure you utilize your large spaces in the most efficient way.