Climate responsive design is something that everyone knows about but doesn't always follow. In that aspect, designing for the tropical climate is vastly different from designing for colder climates.
Several people try to recreate the tropical design in places with other climates, but it won't suit well there since tropical designs mostly include outdoor spaces for relaxation and entertainment.
Beachy tropical décor is so much more than bright and bold elements with a coastal color palette. Here, we will delve deeper into the topic of tropical house design to help you understand how to properly decorate your dream tropical paradise.
What is a Tropical Design?
The tropical design focuses and responds to the climate and environmental conditions of the tropical region. It is a vernacular design that has a deep understanding of the climate.
Tropical designs mostly include steeply pitched roofs with large overhangs, large windows, and verandahs.The elements and designs of the tropical design are skilled to the designers and artisans of the region.
Although the vernacular design of each region differs from one another, a tropical design still ends up adopting somewhat similar principles.
Features of Tropical Design:
1.Shade:
Creative and protective shades is the key feature in any tropical design. Wide eaves, verandahs, deep porches, canopies are incorporated in this design to offset the heat. These shades not only provide protection from the sun but also from rain as well.
2.Light:
Lighting is the vital element of any design, not just tropical design. Open floor plans, exterior courtyards, and bright surfaces reflecting the sun and shade are all vital elements in any tropical-style house.
3.Ventilation:
In a hot and humid climate like tropical regions, proper ventilation in any space is way important than you might realize. The fenestrations should be strategically located to allow cross ventilation. Large windows and sliding doors facilitate ventilation all the while providing transparency, views, and daylight.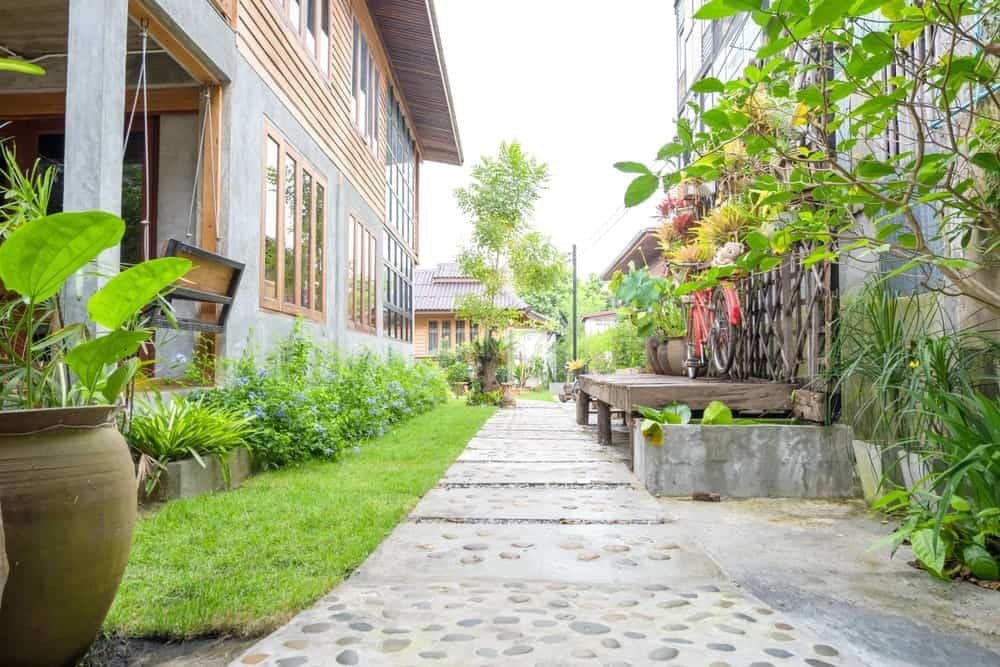 4.Outdoor Spaces:
Providing accessible outdoor spaces in any design is a passive technique to incorporate natural light and ventilation into the indoor spaces. You can extend your living areas outside onto porches and gardens, creating a seamless transition between indoor and outdoor space.
5.Natural Elements:
Whether you're opting for traditional or modern tropical designs, incorporate natural elements with sleek and clean lines. The unadorned details and combining them with local materials such as metal, stucco, glass, and timber give a rick look to the design.
Incorporating Tropical Décor in Your House:
Color Scheme:
The color palette of tropical design usually resembles the real tropical colors. So, you need to choose bold shades of blue, terracotta, yellow, brown, or green.
Each shade used in the color palette is tightly connected to at least one element of nature such as red and terracotta resembling burnt soil, brown symbolize wood, green reminds us of nature and plants.  
Tropical Plants:
Tropical plants breathe life into the overall aesthetic of the house. The large-leaf plants, oversized banana plants, palm trees, etc are all vital plants in tropical décor.
They can be either be placed indoors or outdoors. Not only that, but you can also use leafy patterns in fabrics, accessories, wallpapers, and other decorative elements that can be applied in every room of your house.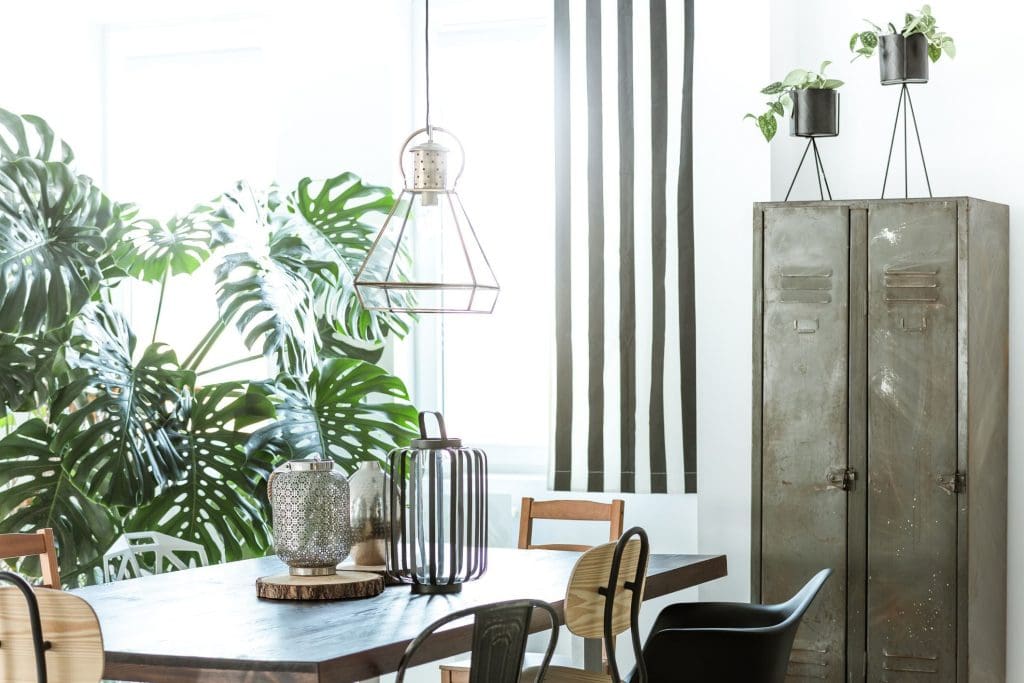 Windows:
In any house, windows must resemble the feeling of freedom and closeness to nature. Tropical style homes include wide, uncluttered windows with wooden roll-blinds instead of classical curtains. The materials used in window frames should be as natural as possible such as timber, bamboo, and so on.
Furniture:
There are mainly two options when it comes to furniture in tropical design: wood and iron. Wooden furniture is usually dark and simple with clean patterns. Walnut and mahogany are two examples of wood that suits the theme. Meanwhile, ornate iron is also a popular choice for solid, but warm and welcoming furniture.
Floor and Ceiling:
To properly create a tropical paradise, you need to pay attention to floors and ceilings as well. Without that, your tropical-style house will be left incomplete. For that, you need to get rid of all the carpets since they are not generally used in tropical décor.
Instead, opt for blurry-colored laminate floors resembling sandy beaches. The ceilings should also resemble natural elements but make sure to use light colors such as beige, light brown, etc.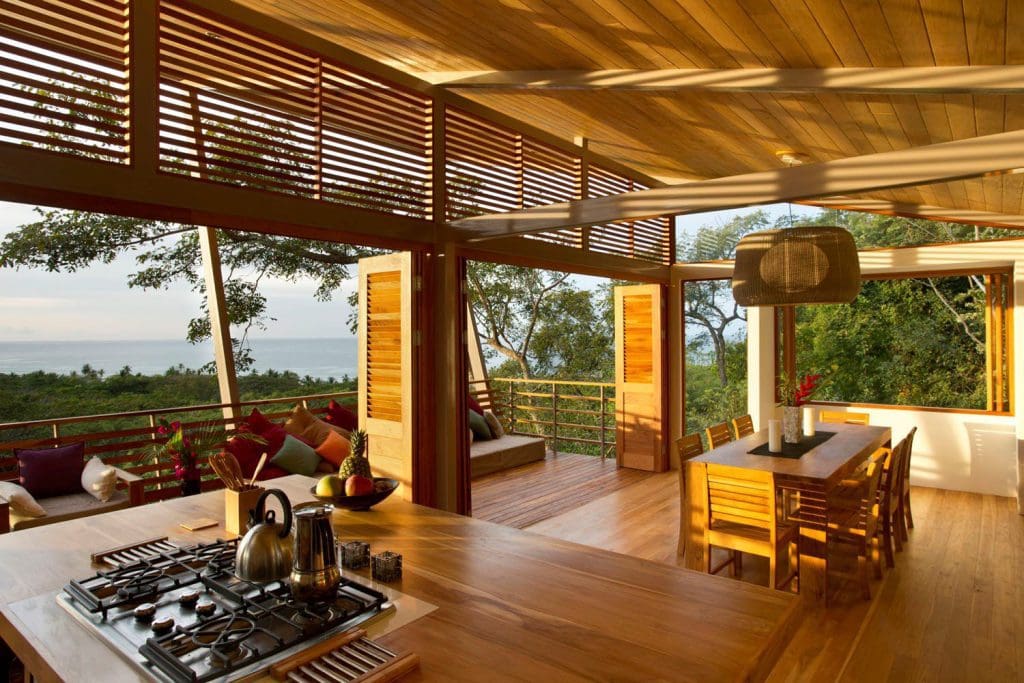 Tropical design is one of the most popular trends of the decade and it continues to grow more popular. There are many ways you can decorate your tropical paradise. The colors, elements, and patterns are endless.
By:- Tulisha srivastava