The open kitchen – living room and dining space is a modern concept these days, it is in trend specially because it gives a more fluid space, even if the area is nor large it creates a connection between the three spaces and also builds an interaction between family members, but importantly it makes the space look larger than actually it is.
Generally in the traditional concepts where each space had its own defined boundary it reduced the interaction between the families and also made the space look small and cozy. Like when your mother would be cooking in the kitchen you would have no idea what is happening there and neither of you would be able to communicate properly due to the presence of partition walls or doors.
But with this modern concept we can establish a connection and make our home look more contempory and also spacious. So let us see some ways of achieving this concept.
You need to first visualize what kind of space you want to create and the three spaces – Living room, kitchen and open dining should complement each other and should be in harmony. So maintaining a same kind of theme for three of them would create a good space.
For e.g. if your dining space has little darker matte colors and wood so in this case a light and bright shiny living room would not go well with it and this will visually divide the room and create two different themes so you need to keep a balance between the two. 
Creating a contrast is not bad but it should still be aligned with each other. Further this theme will be a guide to select your furniture, color style and accessories.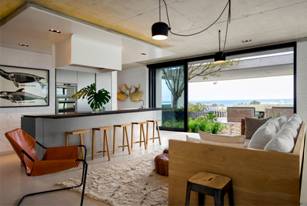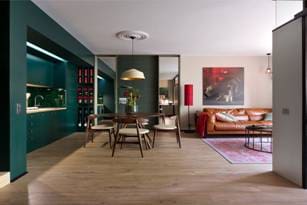 After deciding the style and theme you need to think about how you will use the space or how you will connect the dining space with the living space and the common activities between the two like sharing time with family at the same time one member is cooking in the kitchen and the another is sitting and eating on dining.
So depending on your activities you will need to organize your furniture. For e.g. a family having a habit of eating while watching will have a different furniture organization than the family not having a habit of watching T.V while eating. As everyone has different preferences let us see some different examples.
n this example use the same design theme in dining and living room.
Use your sofa to visually define your living and dining.
Place the T.V where you can watch it from both the areas.
Leave enough space for circulation.
The furniture is positioned opposite to each other to facilitate the talk and share for a family do prefers interaction more than watching T.V.
In this you need to define both areas for that you do not need a partition, you can use a rug , ceiling design or at a texture to do so.
A rug is the best way to define the dining room or a living room it will create its own zone with any extra effort.
Depending on the size of the space you can also put a rug under your dining table also.
You need to be careful while putting rug either put it under the dining table or under the living room sofa.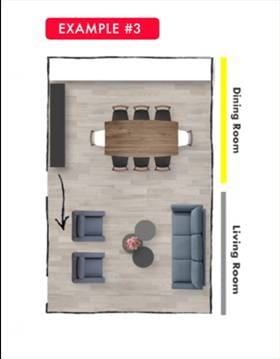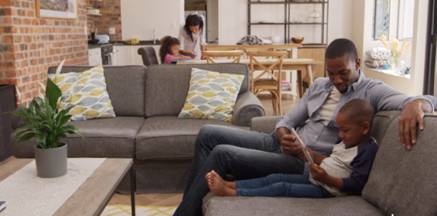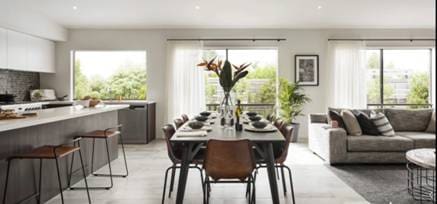 Depending on the size of the space you need to decide the style and size of the furniture as well. Like if you have a large space and you have a large family you need a big rectangular dining table but for a family of two or three members you can you can even put a circular dining table just in front of your kitchen .
For spaces with less area you can create a counter dining attached to your kitchen area not just it is a modern concept but it saves a lot of space and look defined and seamless.
Similarly for the living room sofa you can either have a L – Shape sofa with a centre table or you can even split it in half or by putting a couple of ottoman or a bench to create a visual limit with your furniture.
4. Accessorize and Storage
Everyone loves to decorate their space with different elements by putting different show cases, pictures and artifacts but you need to do this in order to achieve harmony. For e.g. if you have different levels in ceiling or flooring between the dining and living space you can take its advantage. You can put laminated patterned flooring in the dining area while you can leave the living as it is.
You can shift your dining to the wall and put a long and wide hanging light on it. Or if you want to play with ceiling then you can do different false ceiling pattern over your living and dining spaces.
You can put different plant in the corners, or wallpaper in front of the dining table wall or you can even put a large wall clock or a set of pictures to make the space creative and aesthetically pleasing. For storage you can place some corner furniture in front of your dining to maintain your cutlery and kitchen show cases, or you can even create a wall shelf with a mirror to arrange them in it which will be openly visible from the dining as well.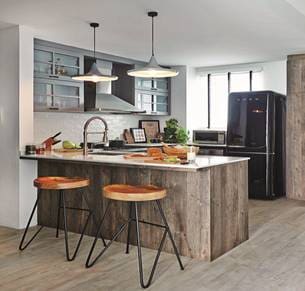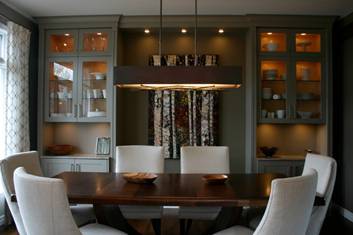 Now when you have decided and organized everything it is time to make the spaces speak to each other or creating a harmony in composition so that they look the same space visually and not different. For achieving this you can choose some textures, materials, colors or shapes in both living and dining areas. For e.g. the T.V unit and dining table can be of the same material the color tones in both the areas can be similar to the color tones of furniture used in the area or the color tone of rug as well .
Be sure that the color of the metal of your hanging lights is similar to the color of the furniture of accessories like vase, handles, or other details in the area.
Even the flowers used in the vase can be similar to the color of the sofa or the centre table.
In this way you can achieve harmony and make the spaces talk to each other just by observing the little details which we generally ignore.