Bathrooms are plausibly the impressionists for the character of the House. Historically, the utility of the bathrooms was initiated as a mere functional space. But! As the trends and needs changed, Users tend to use Bathroom Designs as a style statement. The majority of the Clients wish to witness their bathroom designs to be splendid as the Magazine covers. Interestingly, Designers also consider the utilitarian area as a major scope to impersonate the aura of the design scheme.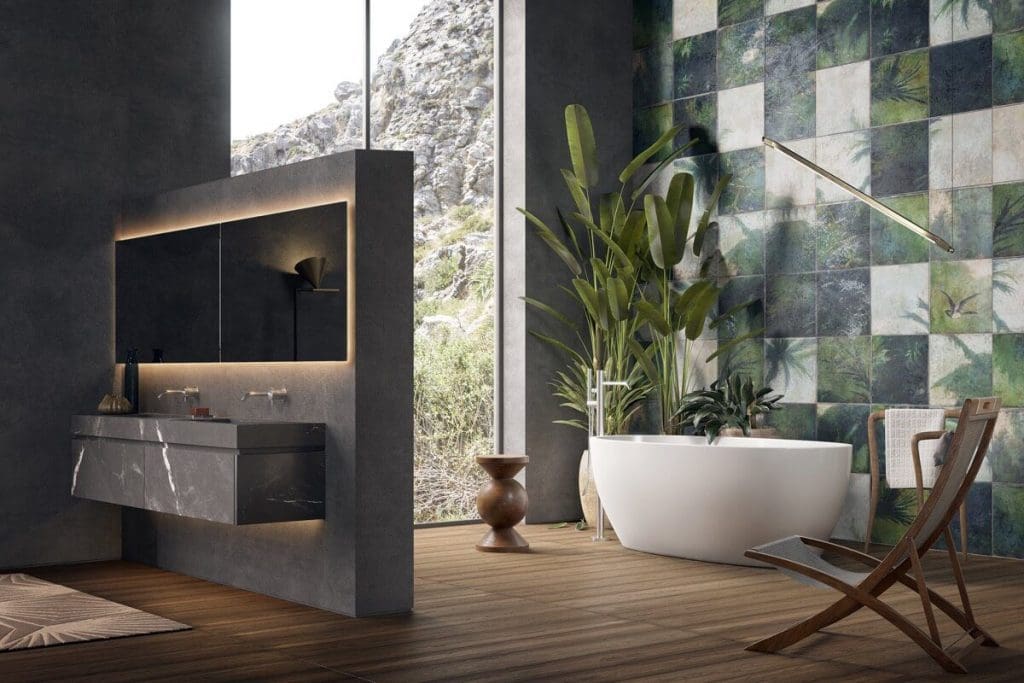 Bathrooms in the modern era have been more than mere necessities. These spaces demand meditative vibes and a character to impersonate the stylization. Moreover, Bathrooms are our private dens which defines our day, 'the strategy refuge' rightly stated? Most of the defining decisions are made under the shower. So why not strategize the decision to plan your style statement into a smart investment.
Ever wondered what it takes to design these magnificently functional likewise aesthetical bathrooms? Rather than considering just the right fixture selection. The investments in a bathroom must be planned; it is advisable to create a synchronized vibe that complements the design scheme. Here is a guide and points to ponder upon while planning the options for your investment in bathroom design. 
Steps to Design and Build a Great bathroom
Bathroom spaces are the most frequently used utility areas in a property. Defining the location of a bathroom area is not about tucking it in a corner. Generalized and monotonous schematics do not justify the bathroom design goals.
Planning and allocation of restroom areas must be served with proper ventilation. These spaces must be adequately ventilated yet under a scope of privacy.  Utmost care should be taken to orient the ventilator window. Ventilators must maintain proper air exchange and dehumidify through direct or indirect sunlight.
Though the fenestration proposed serves the above purpose but also should be efficient to maintain privacy. This can be done through:
Indirect or hindered visual frame
Placing fenestration above standard eye level
Exposing the opening in a non-accessible area
Architecturally Ideal location of a bathroom is suggested to be according to the sun path. Directions like west and south are ideal to place the washroom area. These can be proposed as buffer blocks between leisure spaces while planning against a harsh and direct sun. Also, positioning these areas in such a manner reduces the risk of humidification and misty ambiance in the space.
4. Water Network Distribution
Analyze the wet areas of the House and minimize the network spread. Such distribution of water supply and discharge pipeline network is cost-efficient and effective.
Ideal Bathroom designs have planned zones namely Wet areas and Dry Areas. The Shower and Bathing spaces denote the Wet area and the rest are considered as the Dry area. Footfall and activity pattern of a Bathroom suggests that the dry area should be accessible first and then the wet area.
Accordingly, the dry area will remain dry for normal activity and usage. This access pattern reduces the risk of wet patches, inconvenient access, and accidental probability.
Division and distinction of both the areas can be done in the following ways:
Flooring Pattern variation
Tow wall or Glass Screens
Draperies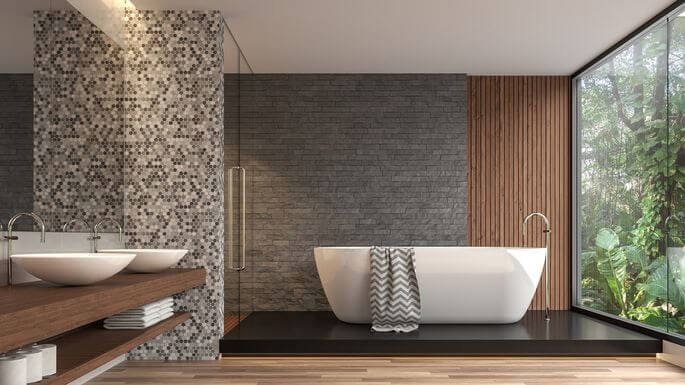 Indian traditional architecture is majorly reserved through Vastu Ideologies. Clients and Designers commonly opt for Vastu principles while designing their projects. According to Vastu Ideologies, Restroom spaces have ideal locations according to the directions.
North-West Quadrant of the plot is the preferred choice for locating a bathroom or toilet. The N-W quadrant depicting Air as an 'element' signifies the toilet as a well-ventilated schematic.
The second Preference for proposing a toilet or Bathroom is given to North-East Quadrant and South-West Quadrant. However, the quadrant positioning in according to Vastu does not suggest placing the element in the corner of the suggested direction. The ideal Suggestion is for planning the scheme in the quadrant, not the corner.
According to Vastu principles, Bathroom spaces planned in the corner or at the center of the house should be avoided. 
7. User Definition (Ergonomically feasible)
The spatial character of the space is much of a value when it is suitably accessible for the user. Bathroom spaces need to be user-oriented and designed accordingly. A common pragmatic approach can lead to just a basic monotonous result. Thus, defining the user and activity pattern adds to the character of the space.
Spaces like basins, bathing areas (tub, shower, or traditional bathing), laundry, Water closet, Storage, Vanity, Closet, and many more should be according to User-centric design.
Ergonomically feasible fixtures and Accessible planning schemes should be designed considering the main user.
8. Functionality (Storage and Access Reach)
Many aesthetical spaces when designed and witnessed are appreciated at a single glance. But! Regular usage by the user may define some added functional requirements. Common suggestions by clients quote the lack of storage space and closet areas within the Bathroom areas.
The storage spaces in the bathroom should be directly accessible for the user. Heights of cabinets can be designed for direct access and handling.
Moreover, Conventional shelves and racks can be replaced with floating shelves and concealed cabinets flushed in walls. Design proposals for storage elements in a bathroom should be space-efficient, easy to access, aesthetically viable.
Users define their need and needs develop the requirement list. Designs developed strictly adhered to the requirements justify the spaces proposed in the scheme.
A common ideation for a complete Bathroom space in a residential proposal includes the following spaces of utility:
Basin Area or the Counter
Water Closet Area
Bathing or Shower Area or Tub
Storage and Utility
Vanity or Dresser Area (Optional)
Walk-in Wardrobe or Closet Buffer (Optional)
Therapeutic Zone-like spa, steam, sauna, self-care (Optional)
Users can define their requirement according to the need. This can lead to adjudging the requirement and proposing spaces accordingly. The enlisted spaces should be proposed in zones that justify the activity pattern of the user. The access range of each space is schemed according to the usage frequency.
Optimum sizes and space ergonomics of each space is listed as below:
The Counter: Counter Depth 600 mm
Water Closet Area: 750 mm x 900 mm
Shower Area: 900 mm x 900 mm for Shower
Storage and Utility: User Defined
Vanity or Dresser Area (Optional): User Defined
Walk-in Wardrobe or Closet Buffer (Optional): User Defined
Therapeutic Zone-like spa, steam, sauna, self-care (Optional): Fixture Defined
10. Types and Stylisations
Bathroom being a den defines your moments to rejuvenate. Arguably, it is a place where you can unveil yourself in the sanctuary of your thoughts. Bathroom spaces can be one of the reasons for your Morning Motivation. Experiential designs suggest that the color or material palette followed under a scheme of particular style influences your thinking process.
Styles and décor themes for a bathroom area are a depiction of individual personalities and spatial character. These styles are directly dependent on the textures, colors, materials, and fixture selection. The popularity and selection of any theme or stylization is merely a personal opinion. However, a list of available décor styles for bathrooms is been provided for selection.
Victorian Style
Tropical Style
Transitional Style
Rustic Style
South-Western American Style
Shabby Chic
Scandinavian
Contemporary Style
Eclectic
Modern Theme
Beach and Ocean
Industrial Theme
Craftsmen Style
Farmhouse Theme
Mediterranean Style
Mid-Century Theme
11. Elements and Selections
Though, bathroom spaces suffice the basic functional aspects through common fixtures. Designers and planners can be a step-ahead for a stunning Design through the Detailing. The selection of fixtures and elements can be managed according to a unique approach.
The elements and requirements in any bathroom are moreover similar in every proposal. What make it stand out are the selection, implementation, and execution of the product. Read along to follow a guide to implement these elements.
12. Create a Base of Interest
Any spatial experience requires a base character, Flooring Selection for a bathroom acts as a base theme. Starting from minimal selection and implementation, Flooring can act as an element of interest through pattern play.
Floorings in Bathroom spaces are available in varied ranges. Some commonly used flooring options while selections are:
Natural Stone
Terracotta Tiles
Glass Tiles
Mosaic Tiles
Cement Tiles
Flooring can be theme defining elements through a varied range of sizes, color, texture, materials, and execution techniques. However, the Aesthetics of the selection should not overpower the durability and accessibility of the product.
13. Ornamentation through Fixture Selection
Bathroom Areas should be a balance of workability and aesthetical value. Fixture Selection is decided according to the style or theme decided for the bathroom décor. They may be of sleek appeal or bold statement, an eye-catchy design, or sober character.
Major Fixtures that are a main focal center while assessing a bathroom design are:
Basin or the Counter Top
Faucets
Water Closet or the seat
Shower panel and Diverters
Accessories like Towel rod/Ring, Soap Dispenser, Spray
Mirrors and Cabinets
Lighting Fixtures
14. Decide a Color Scheme
Any décor of a spatial arrangement feels oddly satisfying while following a particular color thematic. However Surprises should never be an exception, Contrasting color schemes can be implemented on Planes or elements for unique features.
Sticking to a color scheme does not imply the usage of single color. Interestingly, Usage of a complimentary color palette can be soothing to the eye. Materials Selection according to the color scheme can contextualize to the décor decided.
15. Define the plane of art
Bathroom counter-tops are the majorly used zone which exposes the backsplash wall and Mirror prominently. Fenestration frames in a bathroom are a much oft-neglected element. However, these can be of much-added value when considered to compliment a bathroom's design theme.
Shower Panels and Walls in the vision of a laying person in a bathtub are the planes that require detailing and designing with utmost care. Considerations are primarily given to walls and floors for design intent. However, Ceilings can be the case of interest as they are often neglected.
Ceiling in common bathrooms is used for lighting fixtures and shower utility. In Some cases, they are often left blank. A major solution to this design-oriented problem is to use the ceiling as an element of natural lighting. Skylights and usage of Glass Bricks are popular designs that can be implemented to evolve ceiling designs in a bathroom.
Stunning and Breathe-taking Bathroom Designs define visual focus. This may be through Fixtures selected, the material selected, the detailing executed or color scheme implemented. Focal Frames of a space asserts a vibe and a spatial essence.
Every Surface needs to narrate a story; even a blank wall can be visually appealing through the material's tactile feel. Each functional space ranging from the Basin counter to the shower panel demands to have a unique visual focus.
17. Evolving though Concepts
Not just standardized formality to design a bathroom. Thinking beyond this! Bathrooms have evolved through life-time. Imagine the relaxing aura, essence of purity through natural elements, Beauty of Fresh plantation in your Bathroom. Evolve concepts that break stereotypes and suffice all functional as well as visual aesthetics. So, would you give yourself a chance to adorn the luxury of a well-Designed Bathroom space?