Senior citizens or our dear grandparents are such people who have a tender age. They need constant care, as people age their activity level also changes, they start facing problems while doing little-little things like climbing stairs, reaching to high shelves of furniture, lower sittings, etc. So it is very important to make a comfortable design by keeping in their requirements, their activities.
If you are someone who has elderly or grandparents at your home you need to make sure you have a comfortable and useful design from their perspective. Senior-friendly home design can make them independent and feel free. A design that fulfills their both physical and mental well-being is very important.
Things to Consider while Designing a Senior Citizen Home
Apart from the functional aspects, it is very important to design intelligent lighting techniques when designing a home for the elderly. Firstly, try to give as much as the natural lighting you can give throughout the space, through windows at different levels, through skylights, ventilation, etc. You must know that our elders come from an era where they used to have homes with courtyard and more open space percentage than closed, so in order to them enjoy the space, grabbing sunlight or daylight is very important.
     Talking about artificial lighting a combination of dim, medium illuminating to highly illuminating lights should be given in different areas according to the usages. There should be too much glare or too much dim in any area. Circulation areas like staircases, or most used areas like kitchen and bathroom should have enough light and should be well lit.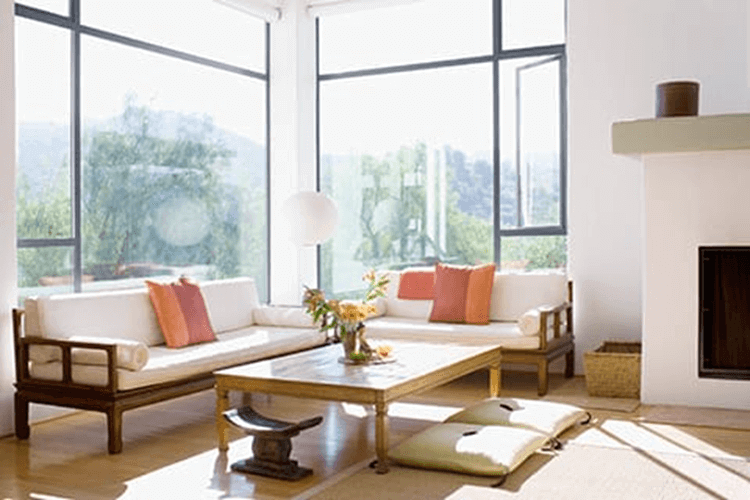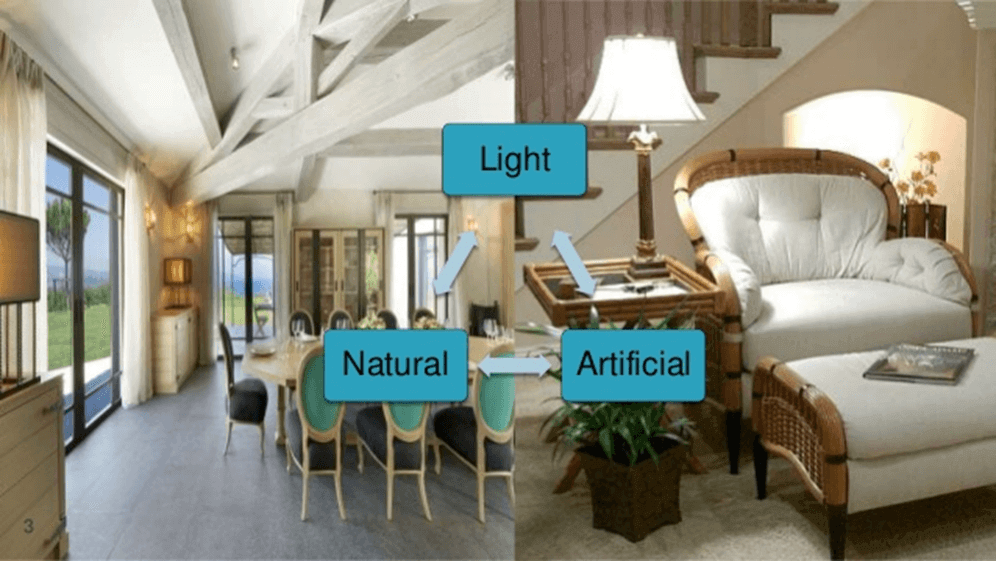 As with aging many problems come in a person physically, one of which is not able to stand for a longer time. So older people tend to sit more than roaming around often, so designing a comfortable sitting for them is extremely important. The living area should have couches on which they can lie down if a guest is coming over and using the sofa.
The seating shouldn't be too low or too high, it should be comfortably approached by them at all levels. There can be an armchair, or all seating should comfortable side and back resting. There should also be storage tables near sitting spaces to put small things like spectacles, medicines and so on. Also, storage heights like wardrobe should be mindfully made for higher wardrobe spaces a pull-down option can be given so that they don't have to climb up.
The cushion of the seating should be firm and not too soft neither too hard so that they find a comfortable position to sit on. All the spaces that they use on regular basis should have some form of sitting spaces, as they cannot stand for long minutes.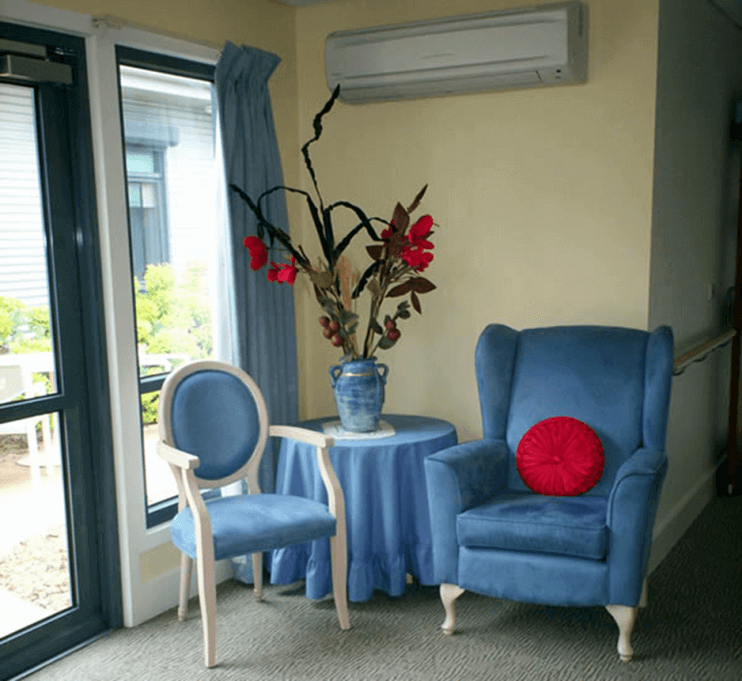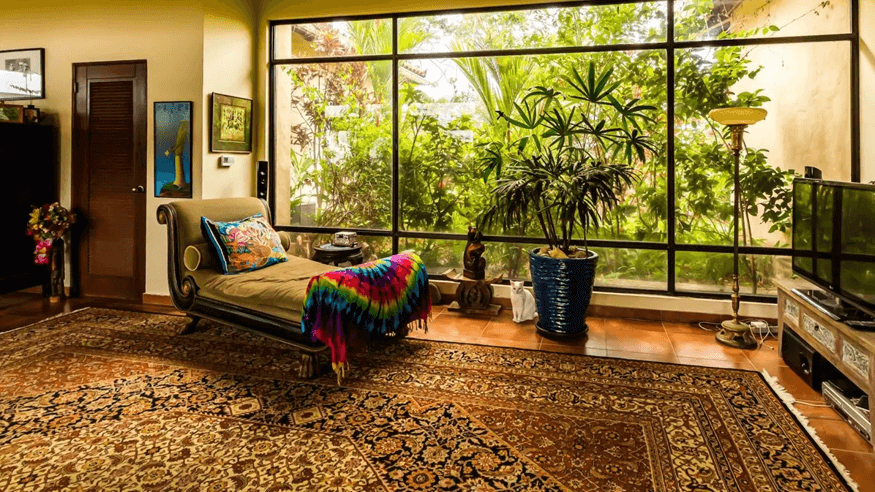 Flooring of the home when designing for the elderly should be chosen mindfully by keeping in mind safety and easy maintenance more rather than just aesthetics. Some things which you can consider can be:-
Soft flooring options like cork, rubber, linoleum should be used instead of hard flooring like marble, tiles, and so on.
Carpeting the flooring can also be an option only if you have people who can properly maintain it, carpet is not only soft and safe even if then fall on it but also comfortable and warm underfoot. But the problem here is it is not suitable for the elderly who uses a wheelchair around their home and also it is harder to clean than normal flooring so if you need something low maintenance then it won't be a very good option.
Vinyl flooring is also a good option for major parts of the space, you can also combine it with soft flooring options like rubber and carpet wherever required according to the usage.
4. Wheelchair considerations
If you are designing for the elderly who uses a wheelchair in day-to-day life then you must design when keeping in mind the wheelchair access all over the place. The most basic things to consider in this case are:-
At the entryway of the house (if you are living in an individual house) you must provide a ramp with a mild slope for wheelchair access to climb up the plinth of the house in addition to stairs however, you might not consider this in case you live in an apartment.
You must keep in mind that a person using a wheelchair need more clear passages than normal, so all the opening like doors of all rooms like bathrooms, bedrooms, kitchen, and even the balconies should be at least 6-7 feet wide as a wheelchair entry and exit normally requires 5 feet of comfortable space to move around.
Apart from this, you need to try to keep the space minimalistic and clutter-free by keeping the furniture that is the most required to ensure free movable space for them and avoid any accidents.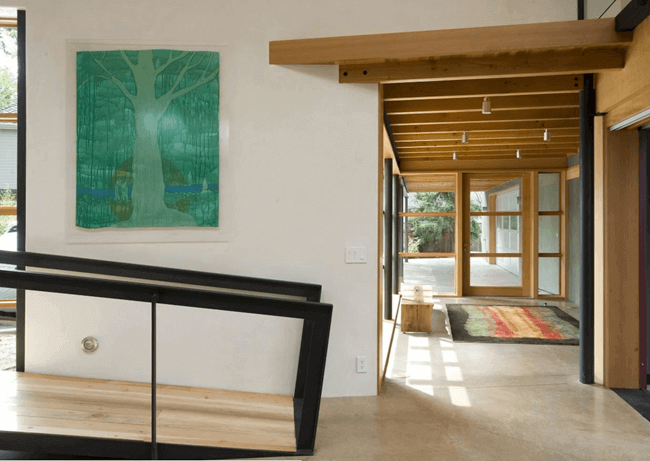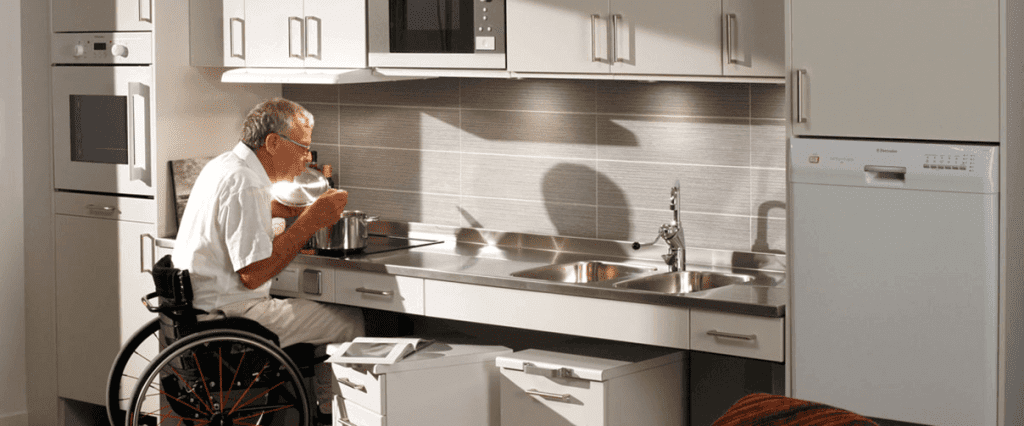 5. Stairway considerations
If you have a double-story house, then your elderly will have to climb up and down the home, and in case they use a wheelchair or they are in any way unable to climb up and down then a stair-lift in case you can't install a normal lift.
This is a mechanically functioning device on which someone can comfortably sit and it will take you up and down through the stairs with the help of a mechanical rail installed on the stairway wall or mounted on the treads.
Even if you can't afford a stair-lift and seniors in your house can climb stairs, the least you can try is not to have any hard-flooring on the stairs, instead have a fixed carpet flooring that is rough in texture but still soft, so there won't be any major injury even if some elderly fall on it.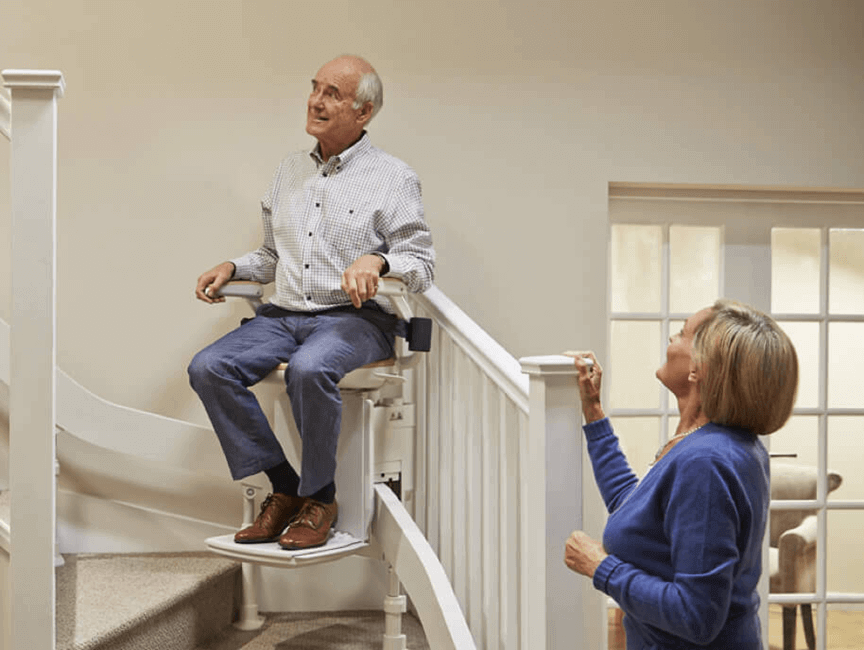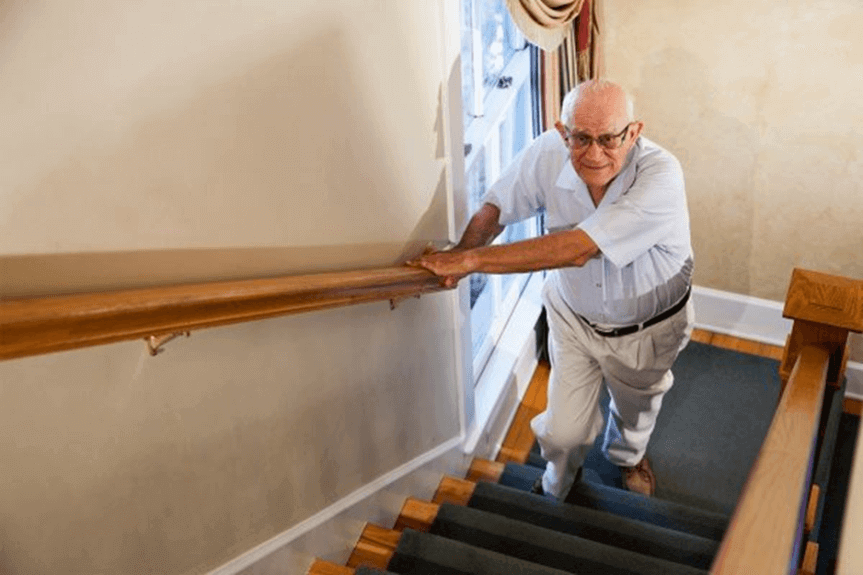 Having a safer bathroom is another very important thing to be kept in mind while designing for the elderly. Some things that you can keep in mind are:-
The flooring of the bathroom should be non-slippery, textured, and water absorbent, you can use options like flamed granite or tiles which have rough textures instead of smooth and glossy.
Grab and handrails should be provided around the toilet seat, shower area, and sink area so that they can comfortably sit and use the space without being dependent.
Storage shelves near the sink area should be provided at the eye level so that they have room for storing medicines, spectacles, etc.
A shower seat can be provided under the shower as they cannot stand for long minutes even if they use the shower.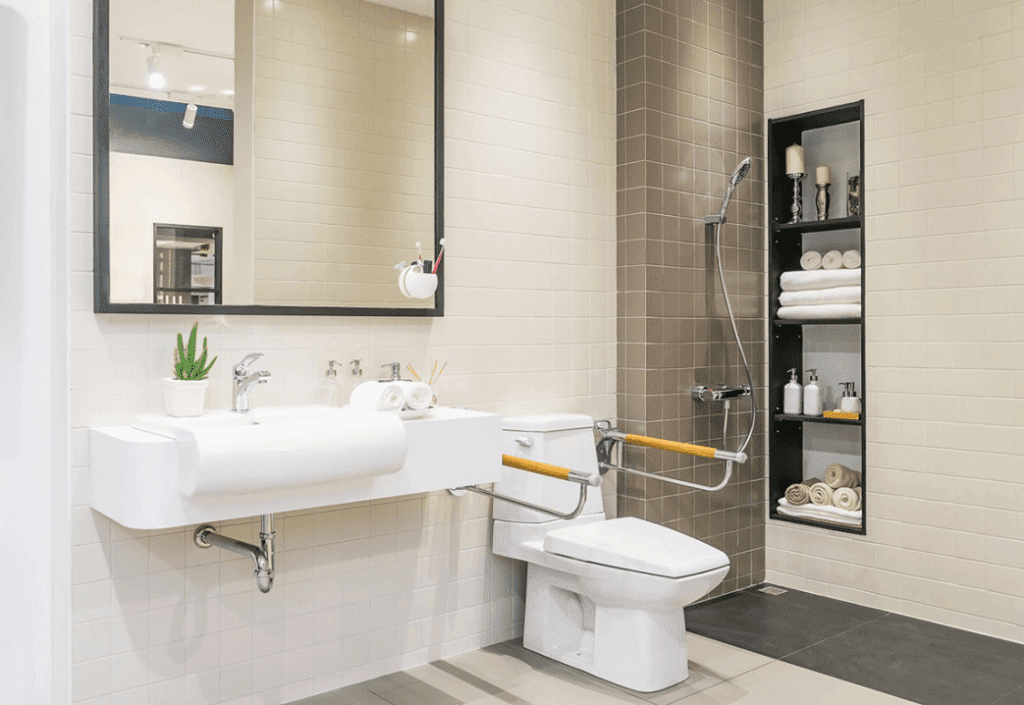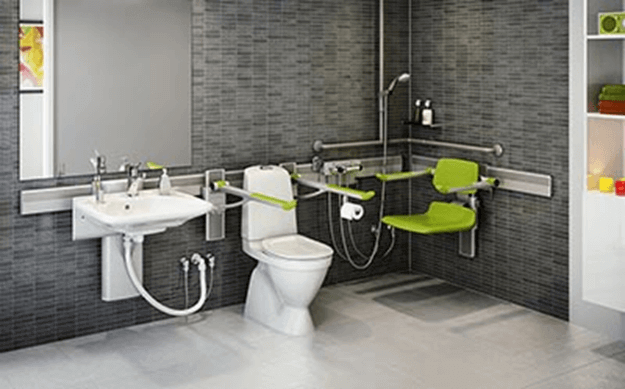 In the case of the elderly designing, a comfortable kitchen is very important. For young to enjoy the delicacies of their grandparents which can be one of their favorite spaces to be in the house safety and comfort should be the priority. You can keep some things in mind like:-
The lower kitchen cabinets should have a push open-system where elders can use just their feet to open the shelves, instead of bending down. Also, all the mechanisms of these cabinets should be smooth and not hard.
The cabinets above the platform can have glass shelves instead of wood o other materials as everything inside can be easily seen without opening it. Small lights can also be installed on these shelves for clear vision.
Some form of sitting to be given the kitchen is very important for them to comfortably work. A push open counter table can be installed for them to comfortably cut and chop veggies or fruits while talking to someone who is cooking.
8. Other Little Considerations
Few more things that are generally ignored should be kept in mind like on all the doors lever opening options should be given instead of round doorknobs as someone who has joint pain for them it can be difficult to access these doorknobs.
Another thing to be kept in mind is an effective security system like windows should have safety bars and the grills of the balconies to be at least 4-5 feet high. Also in case the elderly are living alone alarms like a bulgur alarm, fire alarm, and a smoke alarm should be installed with front security cameras, to easily see who is on the door for safety reasons.
Our elderly have already done so much in their lives, so now when they have time for them to enjoy life comfortably, intelligently designing homes for them is extremely important.