A staircase is the core of the home. It bridges the rooms together and has the most traffic among any other space in the house. Yet, staircase design is often something that people neglect. With such an important role, more focus should be put on staircases.
If done perfectly, a staircase can even be a beautiful focal point of your home. Below is everything you need to know about designing a luxurious staircase for your home.
How to Design Different Components of a Staircase?
Tread is the horizontal part of the staircase you step on. A tread must be comfortable to land on without any slippery surface. Whether it is a straight or curved staircase, it is common to fall off one.
So, any material used for tread should be anti-skid or have an anti-skid layer applied to them. Anti-skid tiles are the most cost-efffective options available for them. Apart from them, wood, marble, glass, granite, and polished concrete are suitable options for materials. Designers always explore treads in various ways, some mix and match alternate treads while some create a contrast between the treads and the risers.
The riser is the vertical member between two treads and it provides support to the latter. Risers can be the simplest or the most special part of your staircase, depending on your preference. Risers normally have the same materials as treads.
However, there are a few options where you can see contrasting materials on the treads and risers. For example, is the tread is made of wood, then the riser can be covered with polished concrete. Other material options for risers are the same as treads.
Nowadays, there are several lighting fixtures installed in each riser and they give a luxurious feel. Additionally, you can use alternative colors or materials for your risers.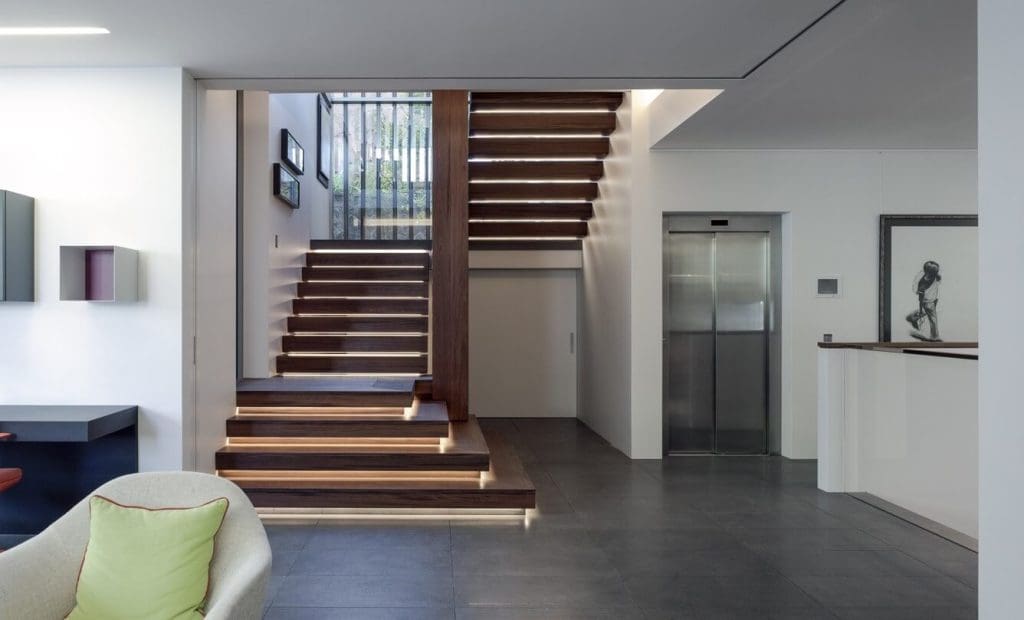 Railing is a framework of the enclosure by combining handrail, baluster, and newel post that serves as a safety barrier. In staircase design, railings allow the widest variety of options to choose from.
While glass and steel handrails and balusters provide a decent enough look, these days, it is more advisable to use wooden slats or glass panels instead of using handrails or balusters. It is always fun to explore innovative ideas to create safety barriers instead of the old school method we have been following till now.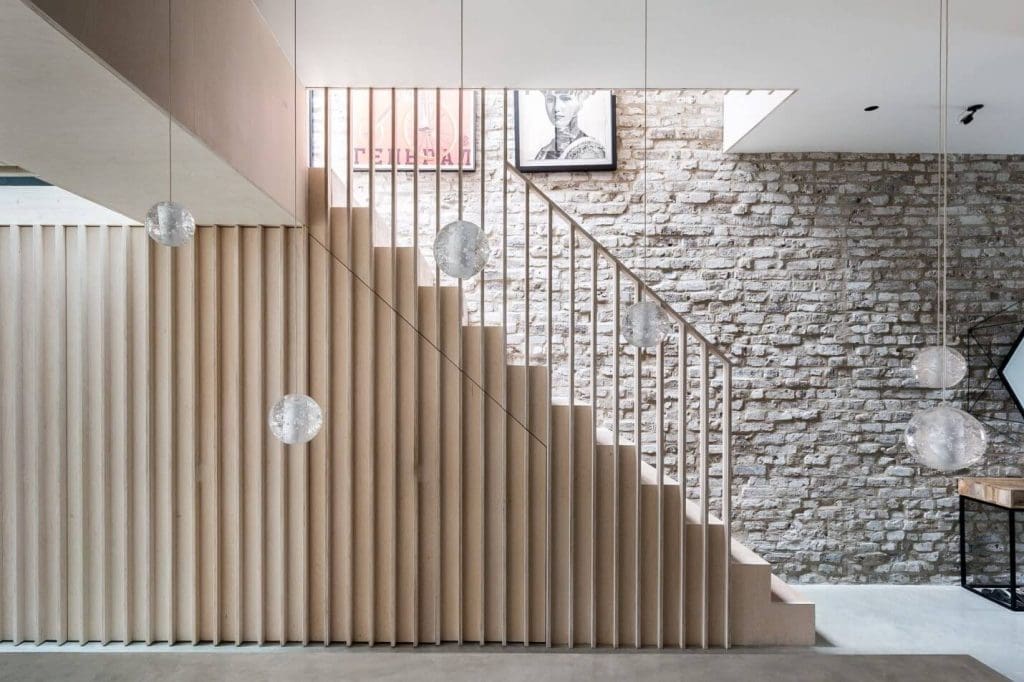 This is the overlooked part in staircase design. However, just because a wall on any side of a staircase is not a component, it doesn't mean that cannot be used for designing luxurious staircases. While it is common for people to hang paintings or wall decorations on these walls, the truth is that it isn't enough to properly design a luxurious staircase
Rather, you can explore options such as textured walls, wood or metal cladding, and fancy wall sconce lighting fixtures. These things have the ability to elevate your staircase design to a whole other level.
5. The space below the Staircase
Designing the space below the staircase can be trickier than the above components. This is because each staircase is different from the other, so the shape and size of the space vary. While straight staircases leave behind lots of space, curved or spiral stairs leave much less space, and that too in unusual shape.
So, for straight stairs, you can use the space below for installing cabinets or play areas for kids. Meanwhile, the space below curved or spiral staircases can be used for featuring a special decorative element. You can also create a small indoor garden below any type of staircase.
Materials that are Best for Luxurious Staircases
Materials play a huge part in deciding the look of your staircase. These days, instead of concrete and tiles, designers are using a variety of materials for staircases, including interesting material combinations.
When done right, they are able to create luxurious staircases at a not-so-luxurious price range. Below are the few materials that you can follow to have luxurious staircases.
While glass is one of the most common materials to use in railings, it can also be used as treads. An all-glass staircase design is an excellent option for your luxurious stairs. Specially tempered with immense strength characteristics can be used for an all-glass staircase.
Wood is the most versatile and flexible building material there is. Treads, risers, handrails, balusters, and so on; there isn't a single component of a staircase that cannot be made entirely of wood. With R.C.C. stairs going out of trend, designers are now using thick wooden planks to design floating staircases.
Stone is an extremely strong and durable material. However, it requires an impressive base because of its large weight. Stone staircases are extremely luxurious and look much better than a concrete staircase. Marble, granite, and travertine are the most common stones used for staircase design.
Metal is prone to corrosion and rust, so it is not the first choice for staircases. However, a robust material can be used indoors and in covered spaces. Metal staircases are also very flexible and are a good option for small spaces without compromising the aesthetics.
When it comes to staircase design, you have to make sure you pay attention to every detail before finalizing your decision. You need to be clear before you proceed because it is not easy to replace a staircase. It would be too hard to replace a fully-built staircase with something else. So, plan everything well according to the preference and requirements of yourself and your family.