A round room doesn't have any corners, and the walls gently curve to create a unique effect in your room. A round house fits right into the landscape as its organic shape creates an appealing look. To align with the walls, round rooms have beautiful windows and doors as well.
Throughout history, architects and designers have been fascinated with round design. It became well-known in the 16th century when Italian Renaissance architect Andrea Palladio was influenced by the shapes of Greek and Roman structures. He became obsessed with circular shapes and claimed them to be the perfect form. Palladio's, circular designs became the epitome of balance and harmony.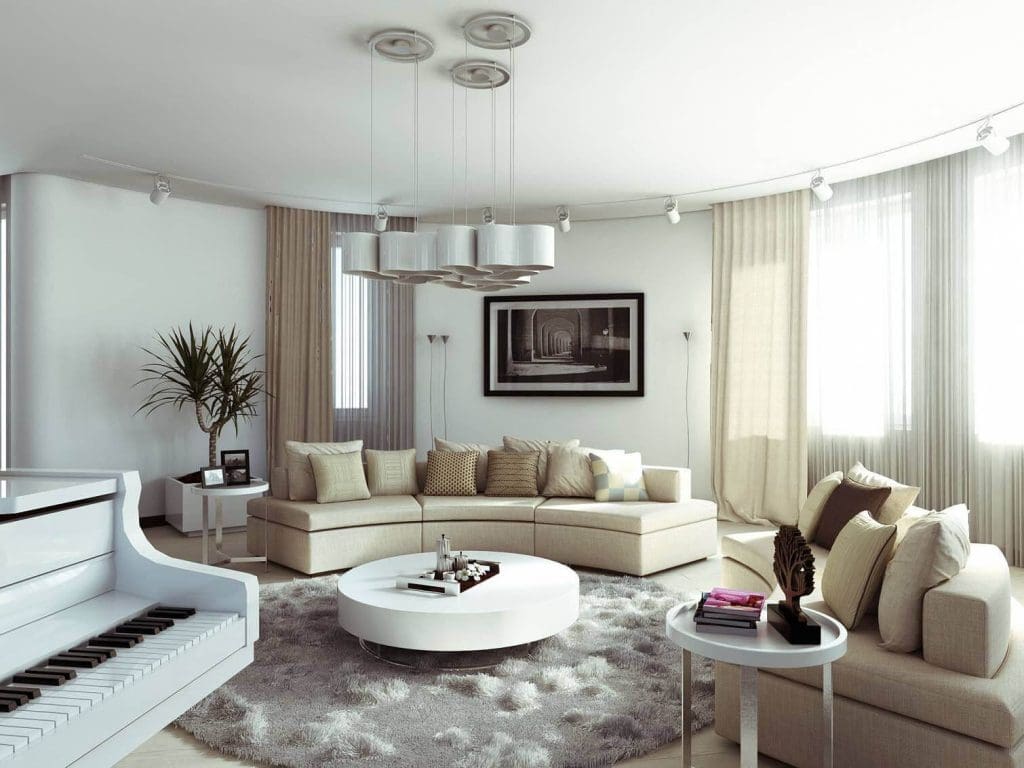 Also, the Founding Father of the United States, diplomat, and architect, Thomas Jefferson represented the "authority of nature and power of reason" through his famous design, the rotunda at the University of Virginia. He said it to be inspired by the Pantheon in Rome. Coming back to the present, the first Indian Pritzker Award winner B.V. Doshi believes circular designs to be one of the best as they provide the same elevation from all sides.
Pros and Cons of Round Room
What are the Pros of a Round Room?
A round room is a simple shape that requires very few tools for construction. They provide limitless flexibility in design, layout, and most importantly, the orientation to the sun for optimum solar gain and to take advantage of the view outside. Moreover, a circle is the most efficient space to heat, eliminating cold spots, and permitting the unrestricted circulation of air. Also, only the round shape can support the concrete roof which gives uncompromised strength and security from any kind of disaster, while providing the most interior space of all construction.
What are the Cons of A Round Room
A round room or the entire house is one of the trickiest spaces to design. One of the most common problems is the unique curves don't align with the rectangular or square furniture that is normally available in the market. Not only that but placing things against the wall is nearly impossible in a rounded space. Moreover, making changes to a concrete wall after the construction could prove to be troublesome. Therefore, clear thought-out planning and decisions are essential before the pouring of the concrete.
How to design a Round Room
Now that we have gone through the pros and cons of a round room, we know what these rooms are lacking. Nonetheless, we have a few ways to counterattack the cons with simple yet decisive planning. Below are the few methods through which you can create your pretty round room without making it an awkward space.
Planning the space according to its shape is the key element in interior design.  We cannot simply put straight furniture across a curved wall. Not only does it look awkward, but also wastes a lot of space. Since most of the furniture available in the market is designed for straight walls, finding the right furniture for your round room can be quite challenging.
Instead of buying whatever furniture you can find and create an unbalanced harmony in your room design, you can always use custom-made furniture according to your taste, and of course, room shape. You can choose rounded-edge pieces, such as curved-lined sofas, chairs, and round tables, to follow the curves of the room. This will give the maximum interior space instead of cutting it off.
2. Circular Decorative Elements
To create a round space with more harmony and balance, you can use small circular elements. For example, random painted circles on walls, circular mirrors, round ottomans, circular chairs, curved wall paintings or hangings, and so on. These elements give bold and artistic statements to your overall design and also soften the room with its smooth shape.
Not only do light-colored walls look soothing and refreshing, but they also make the space bigger. Sometimes, a circular space may look smaller than it is due to the low ceiling or dark-colored walls. So, choosing lighter colors such as whites, beiges, light blues, and sea foams create an airy and large feel to the interior space.
4. Make the curved windows a distinctive feature
A curved bay window is a natural focal point in your circular room. The key to using the bay window as an attractive feature in your round room is to accommodate its unusual shape accordingly. You can create an emphasis by using a contrasting color in comparison to the room. However, you have to thoughtfully choose what colors go together. White-colored walls give you a broader option.
For beige, you can create your feature window by painting it a shade of brown. You can also use turquoise or dark olive-colored windows for beige or cream-colored walls. These are only a few options. However, when it comes to combining colors for your interior designs, you can explore endless ideas, and choose what best suits your taste.
A round house is unique in every way. Designing and decorating a circular room can be a bit challenging, but once done nicely, it surpasses the beauty of any rectangular room. Except for the aesthetic features of the beautiful curved walls, they provide better acoustics, air circulation, and disaster resilience.
Circular living provides so many intangible qualities. Circular building architecture can reduce the environmental impact of buildings as well as the pressure on natural resources. Even though most buildings today are not circular, due to their endless benefits, we can look forward to the bright future of more circular building designs.