The kitchen is one of the most important places of the house after all. Your bed tea, morning breakfast, sumptuous lunch and lip-smacking dinner – everything finds its way back to this little, or maybe grand, space of the house, which hence needs an efficient design. Apart from being functionally efficient, the appearance of the kitchen also determines its character. A certain colour scheme, the right choice of materials and proper organisation of all elements – this is what is most needed after the functional aspect of designing of a kitchen.
Wood is a very interesting option for kitchen interiors. The rustic look which wooden interiors bring with them is something incomparable to kitchens that rely only on stone or metal. Wood works even more wonders when it is combined with white. The gorgeousness of the colour combinations is something you should definitely consider for your own home, right away
Colour patterns you can make of a White and Wood Kitchen
The White and Wood look of your kitchen could be very simple in its concept. It could be visually divided into two halves, with a horizontal separation. Simplifying this in terms of design, the floor and cabinets of your kitchen could be all in wood; the countertops, overhead cabinets, the walls and the ceiling in white. The look is very chic and very modern, and leaves your kitchen in a tidy finish. You could add lights from the ceiling, the cases of which must be white. Keep little details in mind – a pop colour to the refrigerator or the wall hangings would spoil the look. Go for white or black, and if not possible maintain neutral colours at least.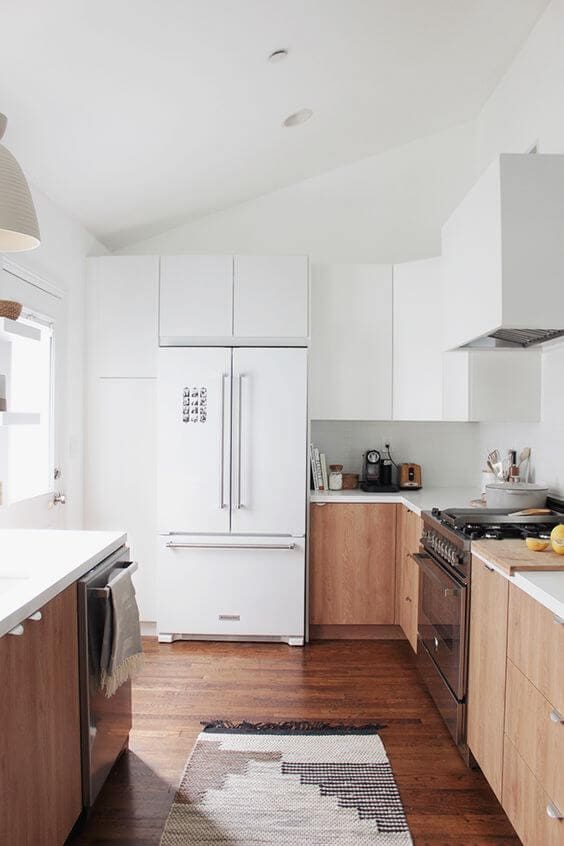 Another creative way to nail the white and wood finish for your kitchens would be this – alternate the materials in consecutive layers. For example, a floor with wooden finish should be followed up with cabinets in white. The countertops should then bear a wooden look, followed by the overhead cabinets and walls in white. For the ceiling, you could choose to keep it white too, though experiment with a wooden finish false ceiling would be a further amazing continuation of the game!
Designing The Individual Elements
Once you're done with deciding on a colour scheme for the kitchen, you would now want to focus on individual elements and further details of the design. We've discussed that you are going to go for cabinets and countertops as per the pattern. What if you have thought of including an island in the kitchen too?
The best idea would be to incorporate the same design pattern on the island too. Only, you could play with it a bit. If your kitchen follows wood on the lower half and white on the upper, the island could have a reverse appearance! Or it might even be just the same.
The stools in the kitchen must also maintain strict uniformity. We prefer a wooden finish for a more rustic appeal, and white stools for a modern design approach – whichever pleases you more!
Materials to Use to Get a White and Wooden Look
You already know about the wood – what about the whites of the design? How are you going to about the white flooring, white countertops, white walls and tiles, white cabinets and white ceiling (though not all of these together)?
For the floor, white marble is one of the best options. If you consider the damage due to wear and tear and the slippery surface associated with marble flooring, which you do not deem suitable for your kitchen, you have yet another option in the form of vitrified tiles in white. Concrete floors are okay if you want to go a bit industrial in your kitchen design and are opting for a raw rugged finish.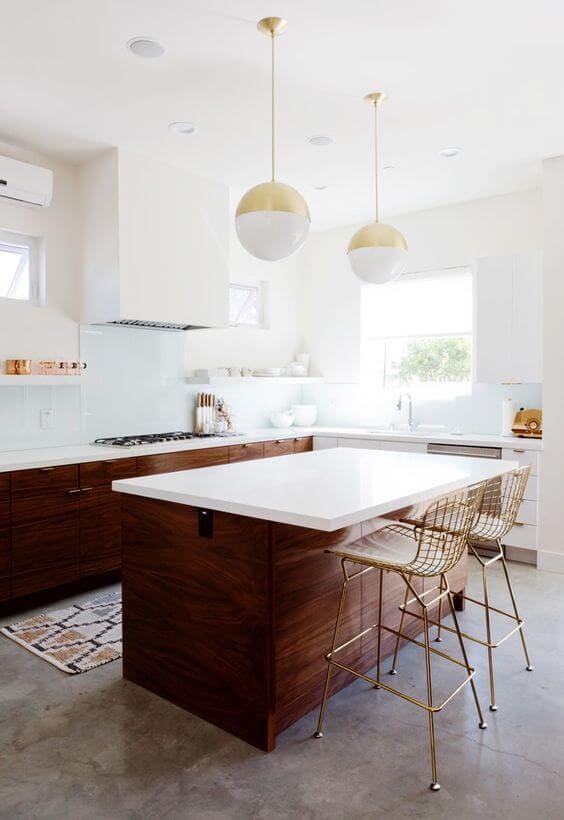 The countertops could again be white marble. Easy to clean and beautiful to look at – the marble countertops are a bit high maintenance. But the visual textures they bring along are breathtaking. For the cabinets, we must say, white cabinets are currently a rage in the market.
Trendy, classy and chic, these cabinets score really high on aesthetics. Not just this, vibrant white cabinets can also create an optical illusion to make your kitchen seem bigger than it actually is! You could opt for two-tone cabinets – cabinets on the top are coloured differently from those at the bottom. Do this if you wish to create the patterns we have mentioned to get beautiful results.
Wooden Flooring to go along with Interiors
Wood flooring is a great option to go for in case you are looking to generating patterns of white and wood for you. Wood flooring is lightfast – some varieties don't change colour even under exposure to harsh sunlight. Still, they do change colour due to exposure to UV radiations from the sun. They are also easy to clean with rugs, brooms and vacuum cleaners.
An authentic solid hardwood floor has an exquisiteness that cannot be imitated. It is long lasting and hygienic. Its durability and easy maintenance are other important factors. At the same time it is easy to install.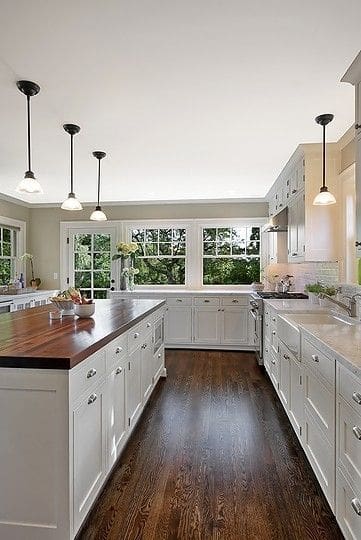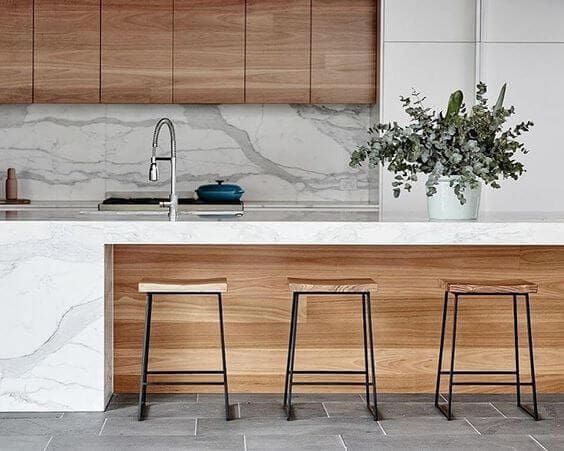 In case you are someone who loves sticking to modern ideas for interiors and doesn't want his space to look rustic because of the use of too much wood, worry not – the use and style of incorporating wood in your white and wood kitchen can take up a modern form. You can do this by choosing to not go with the conventional wood flooring or cabinets for the purpose.
Try incorporating wood in other parts of the kitchen, such as restricting it to the seats of stools and on one face of the island. All the remaining parts of the kitchen could be gorgeous in white!
Alternatively, you could go for wooden counter and island tops, and wooden frames for your cabinets. A subtle play on white and wood, we must say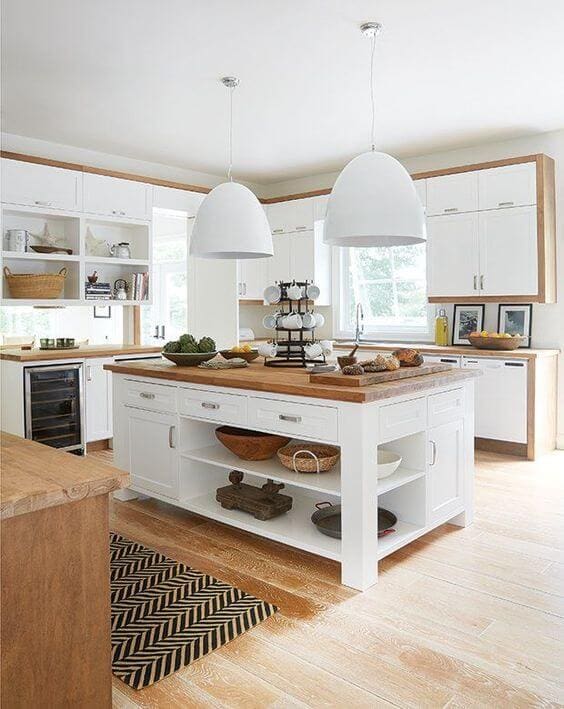 There's simply no need to be very balanced about the white and the wood in your kitchen. There is really no fixed proportion. All you need to keep in mind is that, if you want a very industrial styled kitchen, the amount of wood is to be greater than the white. While if you wish to have a very chic and modern design for the kitchen, the white needs to outshine. Happy cooking!