A Zen garden is meant to be a meditative place that is free from distractions. It should be able to convey a sense of infinity and peace. In the hectic life we live every day, having a Zen garden seems like a serene escape from all the troubles, even if it provides a temporary relaxation.
The concept of a Zen garden can be expanded upon to create a dedicated space for quiet contemplation. Here, we will cover the basics of a Zen garden and a few tips for you to design one in your home.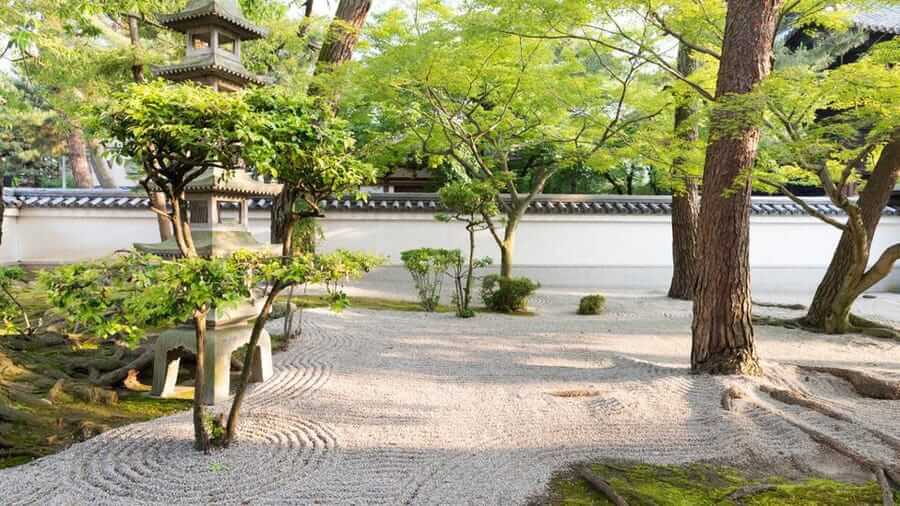 Zen gardens were originally created as places for Buddhist monks in Japan to meditate and also to the teachings of Buddha. Also known as Japanese Rock Garden, Zen garden is a minimalist dry landscape comprised of natural elements of rock, gravel, sand, and wood. The unusual thing about the Zen garden is that it includes very few plants and no water.
Instead, a Zen garden puts more emphasis on man-made components such as bridges, statuary, stone lanterns, and so on. Since the main focus of this garden is hardscaping, there is very little seasonal change and the appeal of the garden is the same at any time of the year.
What are the Main Components of a Zen Garden?
1. Adding Rocks and Stones in your garden
For a rock garden, rocks and stones are arguably the most important components. They represent the human desire for eternity and enduring elements in nature. Choosing larger rocks is crucial to a cohesive Zen garden design. Larger rocks often act as sculptural elements.
They are usually the focal point of the garden so they are installed first and the rest of the design follows according to them. The stones are laid out in accordance with strict rules, depending on their shapes and sizes; they often are twinned by pairs and by style contrast (a male stone opposed to a female stone).
2. Adding Bridges and Crossings
In Japanese culture, Bridges symbolize the path to paradise and immortality. In Zen gardens, bridges are often made of natural materials such as wood, stone, or logs covered in earth and moss. The bridges are usually arched or flat, having similarities to the bridges in the Edo period when stroll gardens first emerged.
3. Filling Gravel in Right Locations
Since ancient times, gravel was used to designate sacred grounds, as seen at some ancient shrines. It is used in patterns to resemble water or is placed near rocks that symbolize mountains and hills.
Gravel is used in neutral colors such as white, cream, or grey. Usually, instead of large pebbles, it is recommended to use finely crushed gravel, pea gravel, or small smooth gravel, which will be easy to rake into patterns.
4. Water as a Calming Element
Water gives a soothing and relaxing sound like none other. For this very reason, water is a popular choice of components in Japanese gardens. It contributes to the expression of nature and symbolizes renewal, calm, wonder, and continuity in life.
However, in Zen gardens, living water is not present. So, to make up for that, sands, rocks, and moss are used to replicate lakes, streams, and sometimes waterfalls.
5. Adding dwarf plants and succulents
Although the use of plants is minimized in a Zen garden, they are not completely absent, unlike water is. The plants are usually used according to the individual's taste and style. Zen gardens usually don't have flowers and the foliage should be in neutral shades of green to evoke serenity and harmony.
A few common plants used in Zen gardens are bonsai, topiaries, dwarf confiners, bamboo, mosses, creeping ground covers, and ferns. Low-maintenance plants such as succulents help create feelings of calmness and serenity.
6. Not overlooking the lighting part
Lighting is often overlooked in Zen garden design. However, it is an important component of landscaping. It adds aesthetic appeal and allows for time spent outdoors during the evenings. The shadows created by soft lighting transform your Zen garden into a completely new environment.
Stone lanterns are a common choice for Zen gardens as they provide a dim light that softly illuminates elements in the garden. It also represents the four natural elements – fire, water, earth, and wind.
What should be the Ideal size of a Zen Garden?
There is no need for you to cover your entire backyard with a Zen garden. You can design it according to your needs. Usually, a rectangle of 12 by 18 feet provides enough space to design a beautiful Zen garden. Most people living in urban cities don't even have outdoor spaces to convert them into a Zen garden.
Such people can choose any corner of their house, regardless of the size and place of the components of the Zen garden. Indoor courtyards are yet another alternative for Zen gardens.
Creating a Zen garden doesn't just end with placing all these components. You need to maintain it regularly as well such as regularly raking the gravel, pruning the plants, picking up the leaves, and so on. These simple things will keep your Zen garden clean, naturally evoking a sense of tranquility all the time.