Remember the times when in your childhood you could sleep on your terrace overnight with your loved ones? Or when you enjoyed winter afternoon and evenings on terrace for several hours? We all miss those times don't we?
But today all of this doesn't happen often due to our fast pace lives, and a lot of global warming; we prefer resting inside our rooms under the air conditioner. Even when sometimes we decide to hold parties or enjoy on the terrace either we do not have enough space due to the space shortage these days or we are too lazy to design it.
So in this fast paced life if we design our roofs for several purposes and can create a beautiful sit out place close to nature for our family and friends there can be nothing better than this. To design these rooftops we have several ways we just need to know our purpose and design it accordingly.
Even if you have a small terrace there are ways to design it and even if you do not have a individual house or you live in an apartment you can collectively design it. It's better if you hire a professional landscape designer for this purpose for not only a beautiful design but for also an efficient and clutter free space. Some of the ways in which we can design our rooftops are:-
This is the best way to make your roof beautiful, fun and full of greenery. Even if you have a small terrace and you cannot do gardening and stuff you can definitely install small large or small plants, different types of stones and pebbles for flooring or you can even create wooden deck flooring which is very popular these days, you must leave the circulation space in between and install these on the sides for a clutter free space.
On roof you have the opportunity to add even those plants which are longer and larger and those which cannot be installed in our balconies due to space .If you are too skeptical about maintaining these real plants then you can even decorate the roof by artificial plants. This is an easy and quick solution to instantly make a vibrant and soothing roof.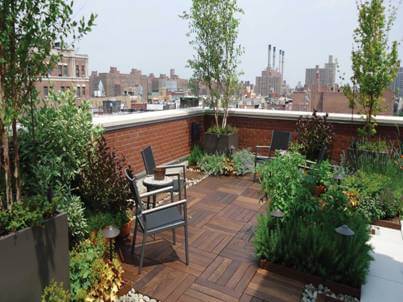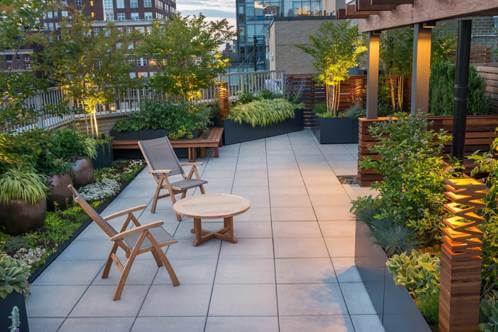 This is an extension to the point above. This can be easily done in even a average sized roof. If you do not want to disturb the whole roof and you need some free space in between you can even make small boundary areas with bricks or stone and can do gardening in them. Home gardening has a lot of pleasures like you can have your own small vegetables and fruits at home. Plus making these garden spaces on your roof can make it look very beautiful.
If you are a plant lover and you find peace in gardening this is the best way for you to fulfill your wish and have additional benefits as well. For this job must appoint a landscape designer who will look after the technicalities like seepage of water so that the roof garden doesn't harm your inside ceiling of the house.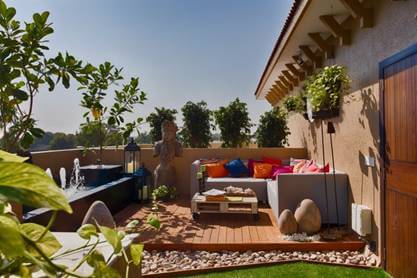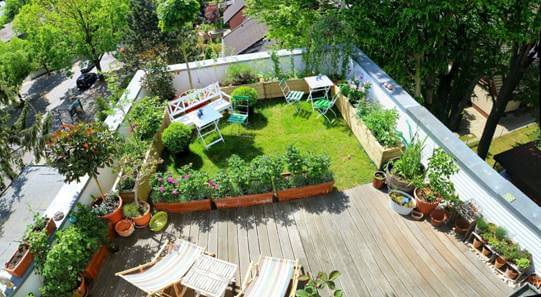 If you are privileged enough to have a big house hence a bigger terrace, or if you have a small house where you do not have enough open space to enjoy the nature then installing some furniture or the terrace is a great idea. This will give you an extra sitting space to enjoy those beautiful evenings with your loved ones. There can be a lot of ways to add furniture to your terrace.
You can add a sitting space near surrounding the wall this will save some space for circulation as well as the other parts of the terrace will also be properly visible and utilized.
You can create your own dining space in between the greenery. If you want to create a space for a lot of people then you can add multiple dining tables in a row.
You can even create a GAZEBO which is an over head shade structure this will not only give you shade for the seating but also enhance your façade design.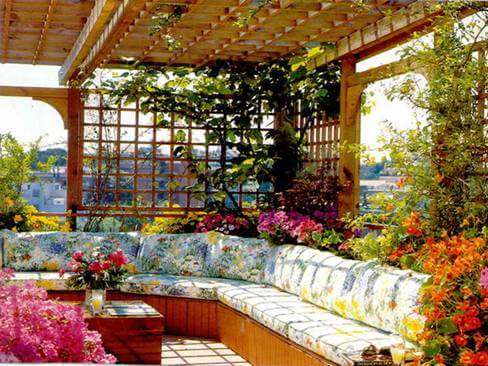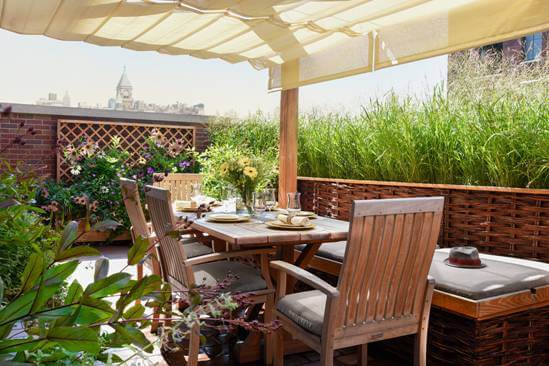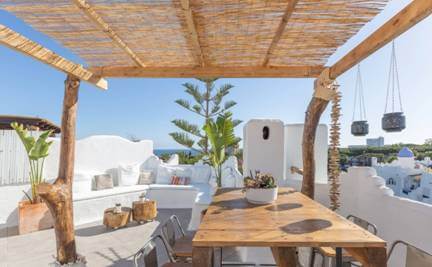 Due to the less space in our homes sometime we like to make an extra room on terrace this room is sometimes used as a kid's room or a study or just a simple guest room but this can be utilized creatively as well.
If we install additional openable sliding shutters on this room we can use it as a open sky movie bed isn't it amazing. You can install a projector screen in front of it on the wall and you have to personal open bed movie theatre.
This can even be done when you do not have any extra room on terrace just put a bed and cover it with temporary partition or just with a overhead board or fabric.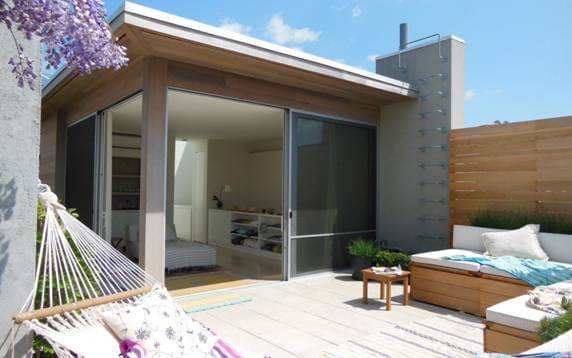 Lightning is the key to enhance any space. Heavy or light lightning creates a lot of difference. Mood lightning is the best way to achieve that desired space at night. Imagine a swing or a beautiful seating with some mood lightning's isn't it beautiful. You can even enjoy your own café type space just at your terrace. If you want to achieve that party kind of space at your terrace you can even install disco or party lights for those weekend parties that you can host at your place.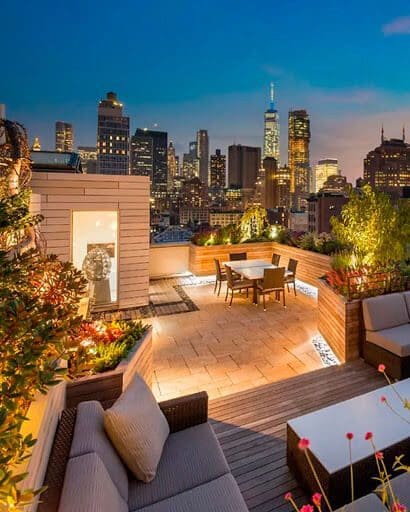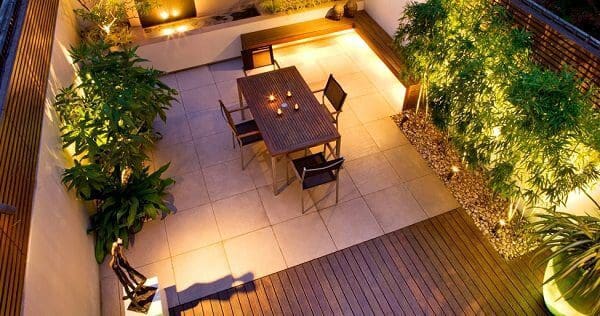 A water body brings that positive and cooling vibe at any place especially during summers. Though there are a lot of ideas to create the water body like your very own roof swimming pool, or a small pond, these large water bodies require professional help and can be done with proper planning at the planning stage of the house only.
But if you want to have these water bodies for decoration basis then you can create small fountains with mood lightning. Remember to create these fountains in a way that the extra water gets utilized in planting and gardening and nothing is wasted.