Veranda provides a way to enter your home, and if designed and decorated properly the entrance of your space can have a fabulous look. Veranda is a space in which people like to perform different activities, from enjoying different weathers together with the families, or friends to having it as a garden. It can be used in different ways according to your preferences. Sometimes a large veranda can also be used as a party space.
In this article we will see some of the ways and ideas to design, decorate and maintain a veranda beautifully. Apart from looks we will also see how veranda needs to be designed in a way so that it function properly without any hindrance on the floor space, side space as well as ceiling. So let us see some ideas below:- 
Things to Keep in Mind While Designing Verandah
The very first step is to think about the purpose that your veranda will serve you. Whether it has to be used as a parking space, a garden space or a simple get together leisure space. The purpose needs to be clear than only you can move to the further steps otherwise it can become a clutter.
Verandas are generally open to the sky, so that all the sunlight and rain can fall on it. But in the extreme summer of India it can become a problem too. So one thing that you can do to define your veranda space is installing some transparent or semi-transparent ceiling. There are many options like :-
a. Fixing a Polycarbonate Sheet
Fibre sheet or Polycarbonate sheet which is transparent so that the light can also come in without any hindrance will lighten your verandahs'
This is a great option if you need, this will just look like a beautiful pergola, defining your veranda, making it look large in size and also rich and luxurious. The louvers can be made out of plywood and veneer finish or metal with some colourful coating etc.
we all know we decorate our homes with beautiful coloured fabrics whenever we have an occasion at our home like marriage, so why do it without any occasion. Fabric not only gives that extra shade from the sunlight but also they look beautiful.
You can have fabrics installed with the support of some metal or wooden poles at three or more ends. Fabric can be of white to colourful or even the green fabric that protects you from the harmful rays of sun. The options are many you just need to decide according to your size, shape and external factors of the veranda.
Most of us have seen verandas are square or rectangular in shape. But if you make a curved veranda with curved stairs reaching on top of it isn't it look amazing? Veranda is a space in which you can experiment with the shape, you can make it curved , square but with curved edges or you can make a curved veranda with rectangular corridors on sides reaching to the backyard etc. The idea is to experiment with the shapes.
The gabled roof will look amazing on a curved veranda, protecting it from sunrays, rains etc.  Though in India we cannot always have a gabled roof house (in the northern region) that is why a gabled roof curved veranda will give a beautiful start and contrast to your modern straight house.
4. Garden Up Your Verandah
Though this is very commonly seen that people like to put different types of plants in their verandas, but most of them do not do it the right way, sometimes they face a problem of water seepage, insects and mosquitoes in the house etc. This is because they forget one most important thing which is LANDSCAPE DESIGN. Let us see some points to make a garden from the eyes of landscape design.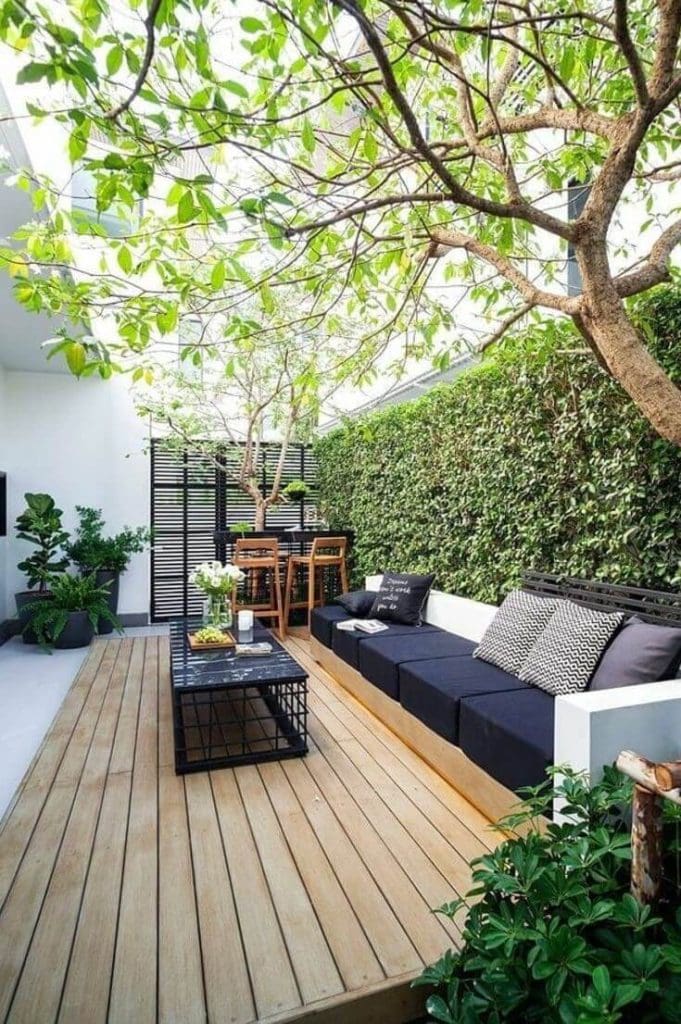 Decide where you want space for plantation and where you want space for movement around it.
Dedicate the side spaces for plantation in rows, or you can even plant in between the rows of the veranda space but make sure to leave enough space for movement around it throughout, for water to properly sit in the plantation area.
Make the movement area a few millimetres above the plantation so that the level difference won't let the water seepage.
Install beautiful natural stones, in the movement area this will give a raw and natural look to the whole garden.
You can also install strip LED lights on the edges of the flooring around the garden, it will look beautiful when lit in the night time.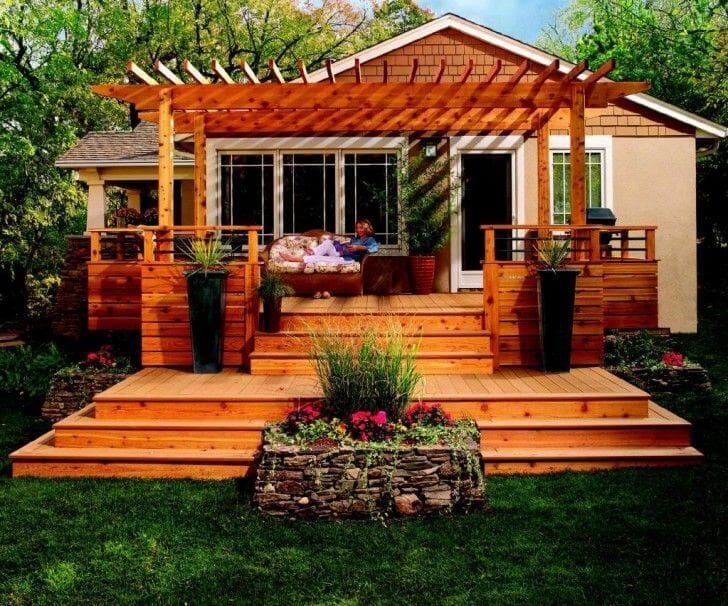 Creating your veranda in a flooring deck sort of way is in trend. Deck is basically a flat surface, as strong as a normal wooden flooring which is constructed in the outdoors at a certain level from the ground. This level can be as low as 1 feet to even 1 metres as the home owner likes it.
You can put few furniture or create an outside dining in this area. You can put a couch or a swing also to enjoy the outside weather or you can create a gazebo also on top of the deck. You can also put small or large planters on the edges to make it look more beautiful.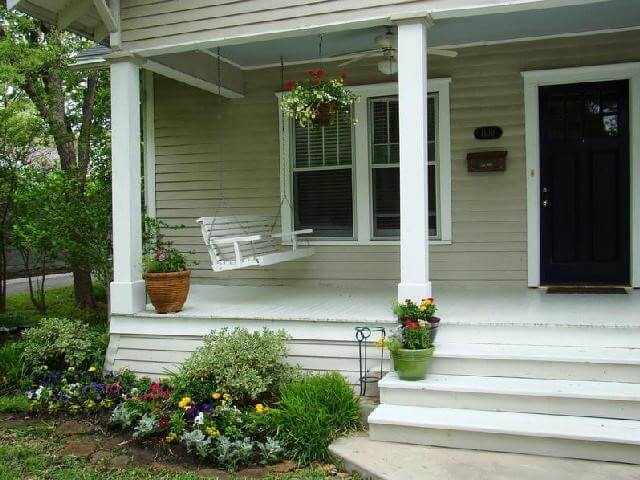 Deck is generally made from solid wood strips, so make your buy a wood which has a good strength to bear all the furniture that you will put over it. If the level of your deck is high then you can even make some additional wooden stairs to climb up and down.
Also if you do not want to use this deck as a sitting space you can even use it as a party space where you can organise small home parties , which can easily be converted to a dance floor as well  just in this case install few wooden edges on the sides as well for the safety.
So these were some of the interesting ideas to create a modern or a traditional veranda space. We know it has multiple options of usage, but when you are privileged enough to have a veranda space then make it as beautiful as possible, or at least make it a functional space.