Today, personalised dressing spaces are something that all women desire. It is something that has become one of the luxuries of every upscale house, because of the diverse ways in which they can be designed. Few of the dressing space ideas that interior designers have come up with, include customised dressing tables, walk-in closets and dressing rooms.
While deciding the features of your dressing space, the first thing that you should keep in mind is whether you want to all your accessories like make-up kit, dresses, shoes and handbags in one place, or whether you want to allot separate places for them. People who generally have a large space in their house use a walk-in wardrobe whereas in apartments with no extra space, dressing tables are preferred.
This article elaborates the kinds of dressing spaces available today for your interior, keeping both fashion and function in mind, so that you can make a wise decision while choosing how to design your most prized possession.
Walk-in Closets and Dressing Rooms
Walk-in Closets and Dressing Rooms
Walk-in wardrobes are on the first position of the wishlists of not only all women across the globe, but is also equally popular among men today. They have always been a symbol of luxury and give a new elegant look to your house besides making choosing your clothes and other accessories a lot easier.
The advantages of having a walk-in closet or dressing room are:
It makes selecting clothes, shoes, handbags and the like, easier.
It makes a great use of any extra space left in your house.
Makes your room even more grand and eye-catching.
A dressing can make better use of your home's footprint, as bedrooms do not need to accommodate wardrobes.
Choosing Dressing Space Storage
The first thing to decide when considering walk-in closet or dressing room ideas is how to create the most functional space possible.
Select the closet shape-They can be designed in three general shapes:
The "L" shaped closet
The "U" shaped closet
A straight walk in closet
All the three shapes are popular far and wide and it depends on the space available in your house as to which shape of closet can one afford. If space is not a problem, then the choice of its shape is solely the choice of the owner.
Add good storage– Choosing a large number of drawers and shelves are a benefit as it can help you keep your different set of accessories separately. If you prefer hanging your clothes instead of folding those, storage areas should be long enough. Glass cases to protect your clothes from dust can also be inserted.
Choose the various items to make your closet functional – To make your closet comfortable, you can use a seating area for dressing like an ottoman. You can introduce mood lighting to the space and improve the brightness with windows. You may add large mirrors to make the area feel a little larger. Innovative accessory displays like mannequins, racks, open bookcases and retail jewellery can be used.
Thus, while designing your dressing space, you have a great deal to think about, to get the most out of it. Wise choices, proper lighting, a good colour combination and adequate space are enough to make your closet look lavish.
Dressing Tables for Your Interiors
Having all your beauty products and other accessories in one place makes the process of getting ready all the more easier and saves a lot of time. Owning a dresser is important and a dressing table needs to complement the style of your bedroom.
Today, dressing tables are available in all possible styles and colours, consumers are sure to get confused about the one which would suit their needs.
Choosing Your Dressing table
People usually prefer their dresser in their bedrooms, and thus the primary requirement for your dressing table is to match the style of your bedroom so that it adds to its beauty. Thus, few of the basic necessities are listed as follows:
Elements of your Dressing Table: Whenever we think of any such furniture as a dressing table, the first thing which comes our mind is a Mirror, a Table with or without a few drawers and a chair or ottoman. Thus, choosing these wisely, according to the demands of your bedroom will already get you halfway through the whole procedure.

If you want to make your room look grand and you have adequate space, you can opt for a large mirror and table due to its large number of benefits. However, if you lack space, a smaller table with drawers will not fail to give a beautiful look to your room, besides being able to accommodate all your accessories.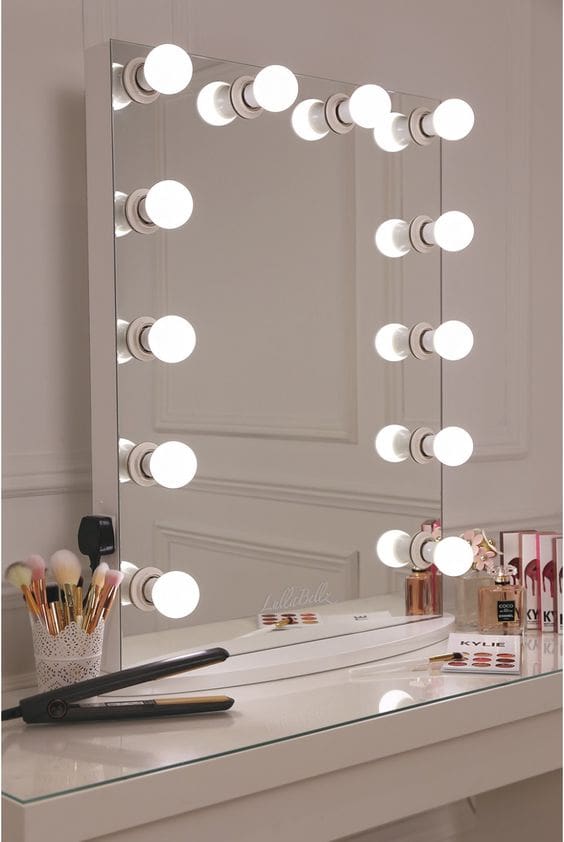 Proper Lighting: This is the most important factor for your table, as it comes with a large number of benefits if chosen properly. It not only serves the main motive of the table, but also enhances the look of the whole room.

Using yellow lights can give a royal look to your room whereas using white lights can make it look all the more classy. You can also use mood lighting as many people do.
Choosing Proper Furniture for your table: Using glass jars, tea cups, boxes and the like can increase your storage space and also enhance the look of the table. You may also create racks on the wall space for the same.
Designing a custom dressing space for you is not that difficult at all. It is more the kind of vibes you wish to associate with the space – you could make it dreamy, or you could make it chic.
Go for colour schemes and materials that go with your theme and create a space just perfect for you to deck up – whether every morning to the office, or on gorgeous evenings for special occasions.