The entrance to your house can be rightly said to be the first impression of your living to any visitor. There's no denying the fact that a stunning entrance sets an enchanting appeal, while at the same time adding tons to the charm of the exterior elevation.
It is an integral part of the identity of your house from the outside. In case of apartments, where the home entrance signifies only the front door, a lot of creativity can still be put in, and the entrance could be made to look like a million bucks. Have a look at these ideas for home entrances for all house types, and go revamp yours if you like any one of these!
1. Get inspired from the classical times
A few important elements of the Classical Architecture of Greece and Rome were triangular pediments for the top, supported by long and slender columns. An imitation of the classical forms would require a lot of in-depth understanding of proportions and motifs – what we are asking for is just an inspiration from the same.
The entrance of your house could be pushed back within an entrance porch, the roof of which could be lent the form of a pediment supported by columns – hexagonal, square or circular in cross section. This not only provides a unique look to the elevation, but also provides a beautiful porch for outdoor seating purposes.
2. Give Spanish vibes to your House Entrance
This is, to say, for a Spanish touch to the exterior of your house. Spanish country houses are known for their beautiful entrance doors – replete with pretty flowers, colourful doors, and tiled roofing. How about getting some inspiration from the country?
The entrance to your house, rather the whole elevation could borrow a few of these elements. A bright red door, surrounded by the reds, whites and greens of the landscape is a welcome sight. Half round country tiles for the roof of the entry porch would be a feather to the cap!
3. Having Intricate Grill Work
Intricately designed grillwork has lost its touch in most of the modern homes today, which are all about glass and concrete. Add a touch of the external beauty of elaborately detailed grillwork, be it on the main door of the house, or on the balcony right above it.
The grillwork would go really well with a lighter tone of the building facade. Try adding a touch of colonial architecture with plain long columns and decorative capitals – the beauty looks mesmerizing.
4. Play with Colors of your entry
If you are someone who loves to splash a little pop everywhere, why not do the same with your home entrance? The entrance to your home could be as colourful as you are.
To do this, you could possibly choose a neutral light shade for the building walls, and then go about playing with colours on other elements, The entrance door, as well as the shade atop it, could don a bright colour – turquoises, greens, oranges or reds.
The railing or fences around, if any, the outdoor furniture, the plant pots and planter beds – each element on display at the main entrance facade should spell colours and merriment.
5. Designing Panes and Panels at the Entry
The entrance door could be turned into the prime focus of attention in your design, if you wish to get rid of any additional elements for decoration. Going for a large entrance door, framed and panelled, with a polished wooden finish is a good idea. You might opt not to go for veneering.
To add to this, go for closed glass panes all around the three sides of the door. Providing a peek-a-boo into the entrance foyer, these panes add a touch of regale to your home entrance.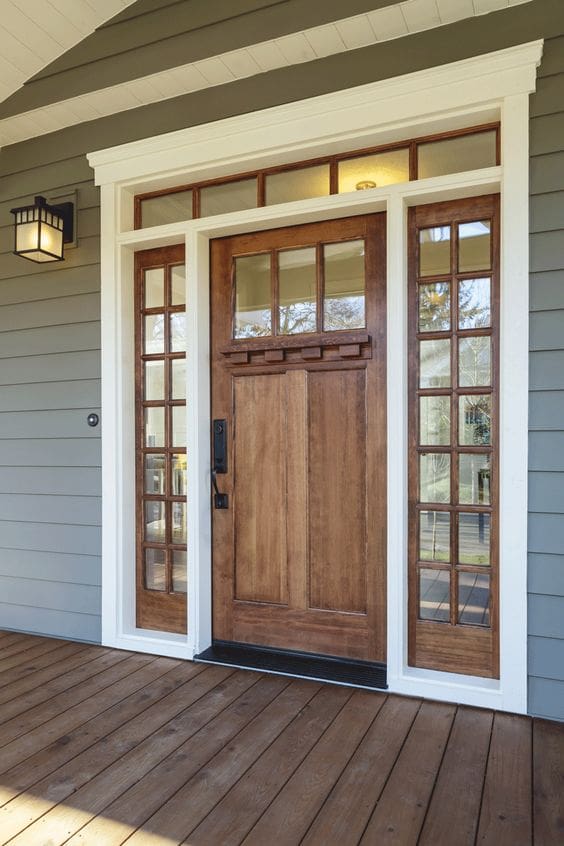 The previous idea talked about a little peek-a-boo into the entrance foyer. What we have now is a full view of it.
An all-glass entrance to your house definitely heightens the modernity and exquisiteness of your house. Add to this the beauty of convoluted lamps and chandeliers to the entry porch, paired with fine-looking furniture – and the entrance is bound to look like a dream.
Go for an entrance foyer that defines you and your space. Colourful rounder furniture, softer lighter rugs, light plain walls with suitable hangings and tiled floors are good if you want to have an easy playful foyer.
If your choice is more subtle and regal, go for dark blues and maroons for your furniture, golden and brown for the walls, darker rugs and polished marble flooring.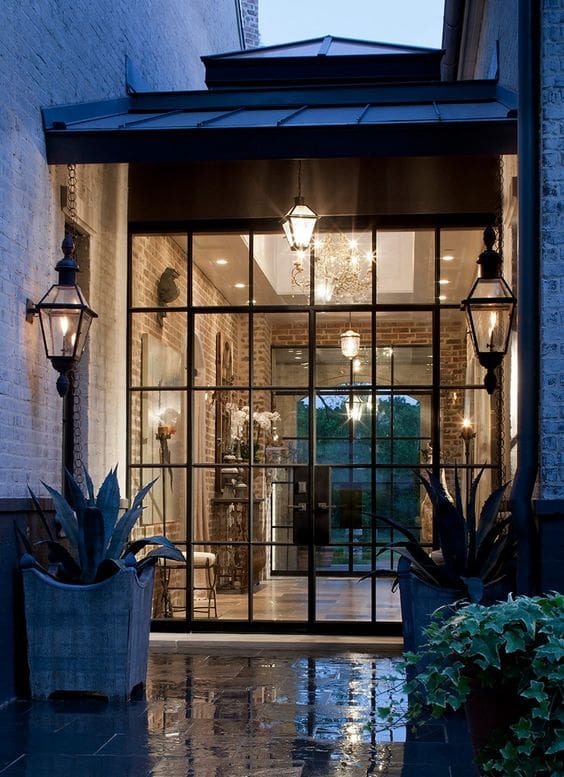 As everyone is going for modern architecture these days, you wouldn't want to be left behind. Go for some bold horizontals and verticals. Play around with solid hues, and keep in mind not to go very colourful.
Keep the landscaping to a minimum. Use gravel and low height planters. Make sure the entrance way is well-lit with small LEDs and keep decor to a bare minimum. Put to use larger windows if the orientation of your house allows it.
You might be a lover of art and the abstract. If yes, this is one really cool suggestion for you. Break symmetries and play with shapes. The door need not look the same old rectangular always; neither does it need to fit into the dictums of the ordinary. Go for outlandish and unique patterns, colours and designs, and stand out!