With our current lifestyles and degradation of the atmospheric conditions, the air quality in which we live and breathe is certainly far below expected standards. Poor indoor air quality is a result of staleness of our rooms, insufficient daylight and ventilation and several such factors. We might even say that in several situations, the air quality indoors is on a worse note than that outdoors.
Does that mean only machines like air purifiers can bring us out of this situation? Can't there be architectural and design solutions for this menace? Read on to find out how, with the help of simple and easy techniques and precautions, you can significantly improve indoor air quality of your house.
Use of natural and Solid Wood Flooring
One way to cut down on toxicity within indoors is by going for natural and solid flooring materials. 
The reason is simple; when we opt for composite materials for our floors or when we use carpet padding for ornamentation, some of these materials emit Volatile Organic Compounds, abbreviated as VOCs. These are gases which then merge with the indoor air, rendering it toxic, rather impure. Degradation in the indoor air quality is hence inevitable. 
Besides, it is known fact that the use of carpet for floors will attract millions of germs, dusts and minute organisms which are not at all beneficial for a healthy living. The suggestion is to go for more natural materials for flooring, such as wood and stone. Materials should be checked against asthma and allergy.
Positioning of Windows, Doors and Vents
It is as important to design for daylight and ventilation as it is to design for spatial and functional needs. Maximizing cross-ventilation is a very important factor in design so that the air can pass through after circulating in the entire domain. Breezeways may be designed for confining healthy fresh breezes.
With the incorporation of sliding doors, operable windows and skylights, it's not just the space that starts seeming more amiable, but also brings with it more daylight and fresh air. The sunlight that you are allowing within is a natural germicide, while fresh air leaves a space healthier. You can also get a home designed for climate control, for a shared space like a house needs to be much later and suitable from the healthy environment point of view.
Indoor Plants that Purify The Air
Several plants are known to purify indoor air like magic. Some examples are Peace Lilies, Chrysanthemums, English ivies and the variegated Snake Plant. Besides providing for excellent indoor air landscaping and taking your house aesthetics to a different level, these plants are an amazing way of filtering the air within and boosting healthy environs. These plants specialize in pollutant blocking skills and filter out toxic elements like Benzene, Formaldehyde, Trichloroethylene, Xylene, Toluene and Ammonia.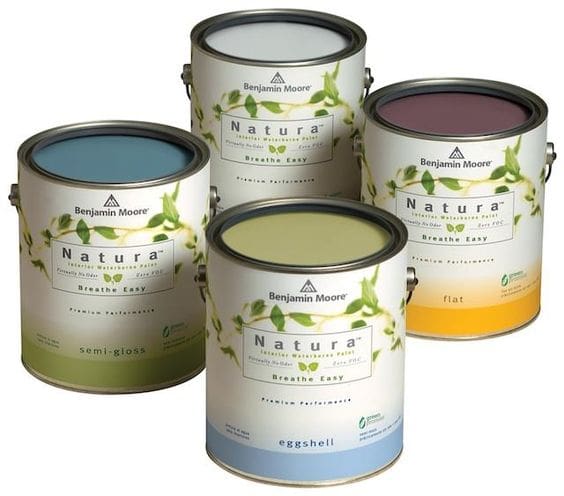 The paints we so beautifully clad our walls with can actually end up poisoning the air quality of our rooms. Potentially harmful chemicals, VOCs, are released from such paints on the walls and even furniture. 
Today, there are a number of brands which sell no VOC paints. It is therefore highly recommended that you check the qualities of the paint being used, and not just its colour and rendering. It is also necessary to apply a coat of anti-microbial paint to ensure that there's no fungal growth on walls in damp conditions.
Use of Paperless gypsum Boards
Gypsum wall boards are very common in home interiors. A lesser known fact from the user point of view is that these gypsum boards are made of layers of paper and these papers can be breeding spaces for fungal growth. 
Paper, as you already know, can quickly absorb moisture and retain it until dried out. You simply do not want fungal attacks on walls, do you? The suggestion is to go for paperless gypsum wall boards. It is also highly fire resistant and available in the market under several brand names.
Use of formaldehyde Free furniture
Most of the very attractive and glossy furniture we love purchasing for our homes are made out of formaldehyde, which is a very strong adhesive, and a very toxic element. Putting this in simpler words, just like it is obnoxious to have your nose around glue, for a matter of fact, with such furniture, we are breathing in glue the entire day.
Hence we recommend going for natural and organic materials for your furniture. Be it high quality wood, or attractive stone furniture; natural materials require considerably less participation of formaldehyde.
Keep the windows of your rooms open for a particular span of time every day in the early morning hours. This is essential for the fresh air and daylight to come in.
Check your plumbing lines for water leaks, and get them repaired as soon as possible.
Use dehumidifiers, natural air fresheners and Himalayan salt lamps for improving the indoor air quality.
Keep your house squeaky clean by mopping the floors, vacuum cleaning the furnishings and using items such as doormats.