Our homes speak our personality , our taste, our culture, and choices, so it should always have a touch of our local heritage and culture from where we come from. Remember how our old Indian homes used to have some common characteristics like a large or small verandah in between, lots of local plants, outdoor sitting spaces, a swing to play, and solid wooden doors and windows? All of that was designed in different ways in different homes but had a common purpose of interaction and being connected to our roots.
Today when we live in apartments and flats on higher floors of a building that are constructed and designed in a similar way for different people, we lose touch with our culture and personality, and that is why it is important to keep some characteristics of our culture in our home interiors that can reflect our personalities and cultures. So if you are from India or love Indian architecture and culture there are some ways in which you can reflect its vibe in your home interiors.
Let us see the ways:-
1. Add prints and vibrant colors
Sometimes we need to get rid with the trend of modern minimalism and use some contrasting colors and print instead of neutrals and solids. India is filled with different cultures and their different styles and trends so in order to bring a dash of India into your house you need to bring all the colors , fabrics and prints.
• Use different types of fabrics like cotton,khadi and silk in their purest form, you can use khadi upholstery for your sofa,lounge chair,curtains and window blinds or even as a bed linen.
• Use different prints of different states like fabrics which have warli painting art of maharashtra or phulkari work of punjab,bandhani print rajasthani motif print and many more, Though you don't need to go overboard with these and use them in the small quantity like as cushion covers, table runners, use them as paintings on the walls etc.
• If you do not want to use specifically the art and prints of a state or show emphasis on a particular region ,you can also use french or english prints like checks,stripes, geometrical print etc.
• When you want to give that vibe of India do not hesitate to use some darker and earthy colors like orange, light brown or beige into the space instead of usual white and gray.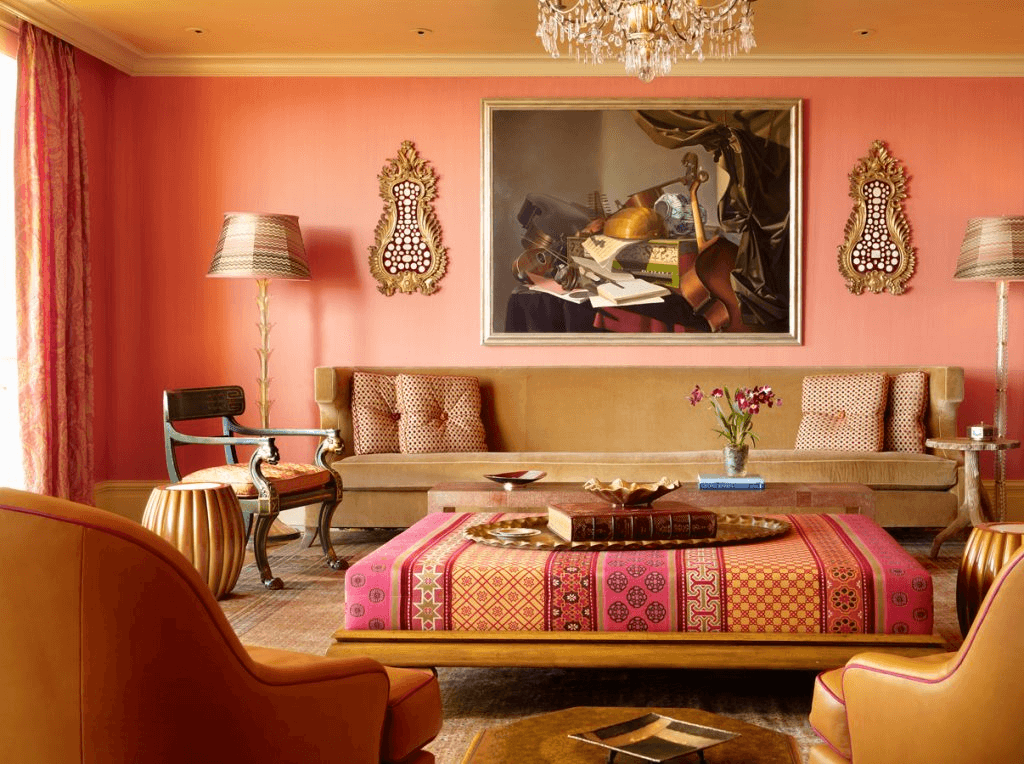 Indians have a rich art and craft culture, we have the world's best artisans and craftsmen who beautifully craft wooden moldings, carving on wood, moldings with the help of plaster of paris or cement and even modern metal CNC cutting. So why don't we use that often inside our homes? Here are a few ways to use them:-
• Wooden jali partitions – These have been used in Indian interiors from ancient times when plaster of paris and other modern materials were not invented. They were used for partitions between walls for privacy, so we can use them as a partition wall between a living and dining to define a space, we can also use them on stairs, balustrades or even on specially customized partition doors.
• Use of curves and moldings have also been an ancient indian architecture tradition, carved and molded columns, wall carvings with intricate details, moldings and curves on furniture takes us back to the mughal and Hindu temple architecture , even today we can use these in our modern contemporary homes in different manners like:-
1. Imagine a carved molded dining table with modern chairs or vice versa they can instantly add that indianness to the space. If you have a poster bed you can have carved and molded wooden members for it instead of regular straight and modern ones.
2. You can try and buy furniture which is modern from far but when you come closer it has a lot of details like the molded and intricate detailing on the legs of a chair.
3. You can also fake some detailed molded structure elements to give that indian vibe like molded columns in the entryway of home or as a partition between living room and dining.
4. You can also craft fake arches on the wall and top it with a wall art or a wallpaper.
5. You can also do a variety of fake moldings on the walls like a dado rail or french panels on the walls.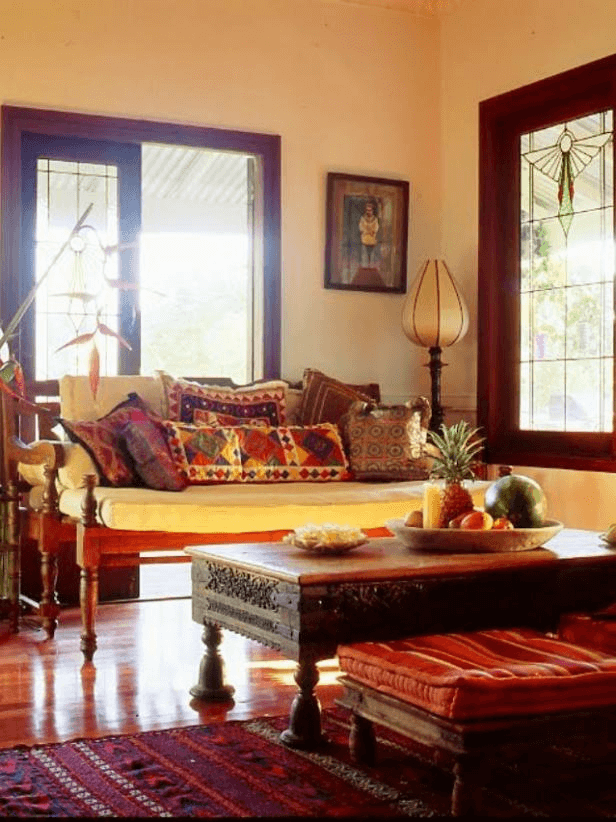 Materials are one of the most important features to differentiate any space, they can make or break any space, for that dash of Indianness in the home you need to use materials that speak and come out of India or instantly take someone down to the memory lane of India. Here are a few tips:-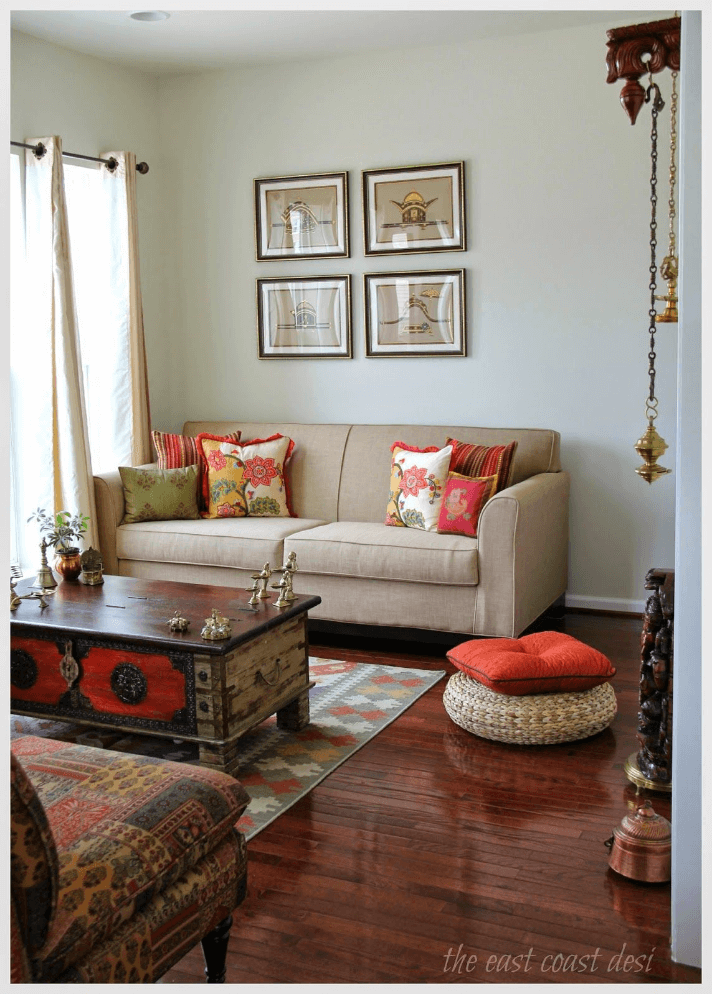 • You can use raw unpolished indian red brick as an exposed wall , or a raw cement or concrete finish wall, even a stone cladded wall like a sandstone would make a great feature wall , just don't go overboard with these and try to balance it out with rest of the palette of the space.
• Use solid wood furniture instead of modern plywood if you have the luxury to do so, as Indian is famous for its carved wooden furniture be it a sofa, a bed or even carved window frames, wood speaks out of the space.
• You can use woods like teak and sagwan or even oak wood , if you do not want to retain its natural finish you can use a variety of veneers and color it with the color of your choice.
• Cane furniture and use of cane in partitions and other parts of the home is really in trend , also it resembles Indian vintage furniture so use cane as on chairs, bed back panel or even on wardrobes , if you think it is difficult to maintain then sandwich it inside a toughened glass.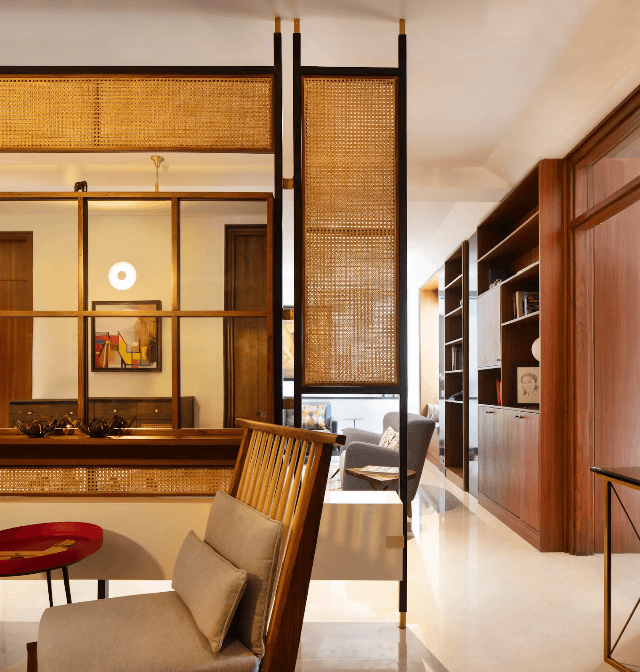 This is literally the most important aspect of adding dash of any particular theme into your home as even if you have a modern space some accent accessories can totally change its vibe. Let us see some of the most important accessories for a space:-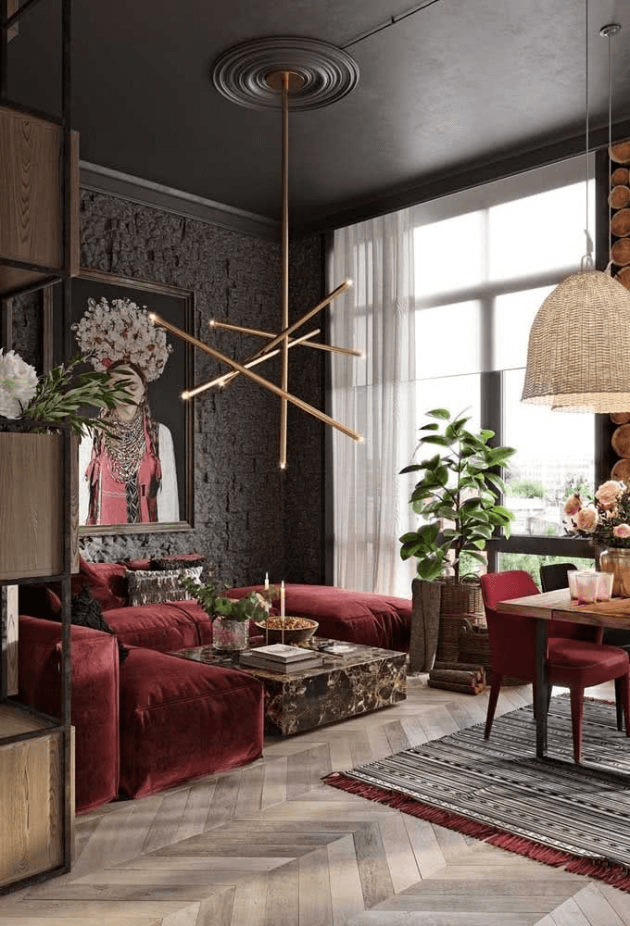 • Rug or carpet:
An accent carpet can instantly brighten up any boring space, to bring a dash of Indianness into the space one can use heavy quality indian rugs with vibrant colors and prints like the print of mughal architecture, animals , any particular indian tradition or indian motifs etc.
• Wallpaper:
The easiest way to transform any space is wallpaper , take out any boring wall plaster and finish it well and top it up with a beautiful wallpaper and the whole vibe of the space can change. For the dash indianness choose wallpapers with traditional indian print depiction art and culture of india or a vibrant scenic wallpaper.
• Wall art:
This is probably the easiest way to add that dash of indianness into the space if you do not have budget for the furniture and other parts, you can customize a wall art or buy one that influence your culture and speaks out your personality , this can easily give an idea to your guest about your personality and culture. Make this wall art in a bigger size as an accent piece that stands alone on a wall.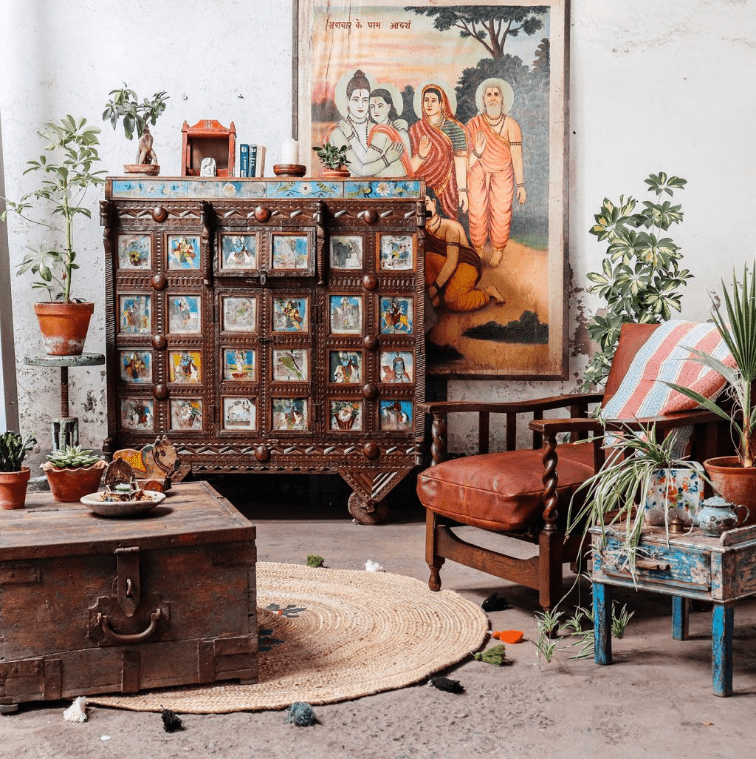 • Chandelier:
As lighting plays a very important role in any home interior we need to keep that in mind how the lighting can be more interesting and brings out a particular theme into a space . Heavy carved chandeliers have always been a part of Indian palaces and ancient Indian architecture. Similarly you can do that in your home, leave a electrical point for an accent chandelier near the entryway or on top of your dining table.